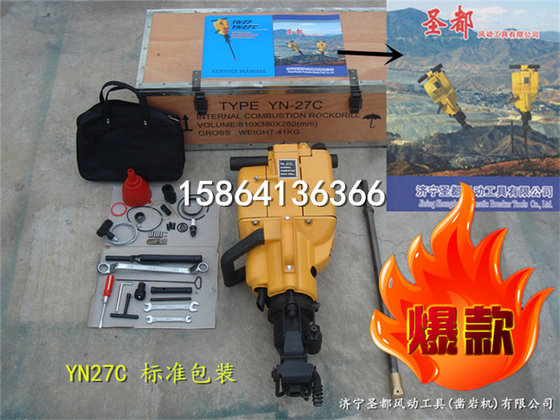 Membership

Free member

Registration Date

2009.07.17

Country/Region

China

City

Jining

Contact

Sandy Wang(Ms.)
JiNing Shengdu Pneumatic Breaker Tools Co., Ltd.is a modern corporation which develops, manufacture and sell the equipment . Our main products is rock drill which is suitable for mining and the construction work . The scope of application include the construction demolition ,perforating in the geological prospecting and foundation engineering,as well as the cement road. Asphalt surface of a variety of split, broken, ramming it, spade chisel,Fire Rescue and so on.function is more applicable to a variety of mine drilling, fracturing, blasting mining.It is liked by many people because of good performance, high efficiency, light weight
Presently there are six main series of products in our company.
<1>Internal combustion rock-drill series including YN 30A , YN30E , Double-vat YNF30 , YN27 , YN 27C ,YN 270 YN27T , etc.
<2>drill rod (drill), internal combustion rock drill bit (drill bit) Series: B22 hollow six-Rod, all kinds of pickaxe rock drill,the monowing rock drill head, the cruciform rock drill bit (Cross Bit),Button Bit.
<3>Air legged rock-drill(Pneumatic Rock Drill) series including YT24,Y26,YT28,Y24,YT27,Y19A,YT29A,etc.
<4>breaker (Break-stone equipment) series including Gasoline breaker (Gasoline Break-stone equipment ),Internal combustion breaker ,TPB- series Break-stone equipment, SK-10 type gas draft ,B47 Break-stone equipment,B67 Break-stone equipment,B87 Break-stone equipment, etc.
<5>Hillsiding cnchorage rock-cnchorage(Rock electric drill )series including KHYD40A,75A,Hollow air drill series including KQD70A,KQD100A.etc.
<6>Rock breaking (Wedge)series including 18,20,24,30,32,34 Hand split stone(Wedge),36 Machine split stone(Wedge),etc.