Knitted Mesh Fabric is normally knitted form round or flat wires ranging in various diameters. When used as filter in large surface area cleaning and air-filtration, the wire diameter of knitted wire cloth affects flow, dirt holding capacity and pressure drop. In general, knitted mesh with large wire diameter allows for higher flow but provides lower dirt holding capacity. Also larger diameter wire is less expensive.
Monel Knitted Mesh is a nickel alloy offering good corrosion resistance and strength. A kind of nickel based wire cloth, containing minimum 63% Nickel and 28% Copper. Suitable for marine and chemical environments.
Tinned Copper Clad Steel Mesh has the best shielding performance of all wires used in knitted meshes, combining low contact resistance with a small degree of permeability. It is not suitable for highly abrasive applications where the TIN plating may wear away to expose the copper. The corrosion resistance of tinned copper clad steel knitted wire is suitable for most applications.
Aluminum Knitted Mesh is mechanically weak and will readily take a compression set and this combined with its readiness to form a non-conducting oxide.
Stainless Steel Mesh Knitted finds popular uses in auto parts and other engineering applications.
SS Knitted Mesh offers excellent property such as corrosion resistance, alkali and acid resistance, rust resistance and heat resistance.
410 and 430 SS Knit Mesh is a kind of magnetic stainless steel mesh, used as main component of mesh demister and other separation engineering or electromagnetic wave shielding net.

SS 304 Knitted Mesh Processing into Vane Type Demister Pads (W type), designed for Turkey, Thailand, India and Pakistan, mainly used for separating diameter greater than 3 ~ 5 micron droplets.

Type 430ss Mesh Net, 011", 336N, 43" crimped, degreased, in rolls measuring 580 mm
Forms
Knitted wire fabrics can be processed into compressed, pleated or pad forms to allow liquid or gas flowing through.
Application:
Knitted wire mesh is made from all materials for processing of the following parts:
Filters Oil and Air Breather Elements;
Catalytic Converter Insulator Blanket Mesh;
Mufflers and Silencers;
Copper Mesh Oil-Bath Separators
Mist Elimination Pads;
Demister Filter;
Oil Filter Mesh Pad;
Cushion Blocking;
Automotive Filter Components;
Wire Mesh Breathers for Engine and Automobile Oil Filtration System;
Air Filters and Separators;
Auto Parts for Exhaust System;
EMI Shielding System Parts.
Industries Served:
Knitted Metal Nettings are widely used in gas-liquid separation device for chemical, petroleum, environmental protection, machinery, ships and other industries.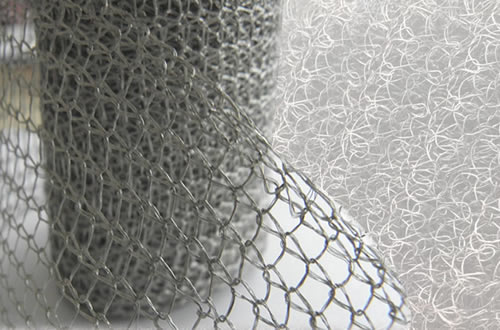 Nickel Alloy / Monel Mesh Mist Eliminator

Monel Mesh Blankets for Evaporators Parts, Type: Knitted mesh pleated, Mesh Material: Monel (Nickel Alloy 400- Copper alloy), structure: mesh fabrics assembled in multiple layer section, supported and sandwiched in monel, thickness: 6½ ( I50 mm ), Density 9 lb/ft

Micron 70-90% Compressed SS Mesh Knitted, used for auto parts exhaust system and EMI shielding system.