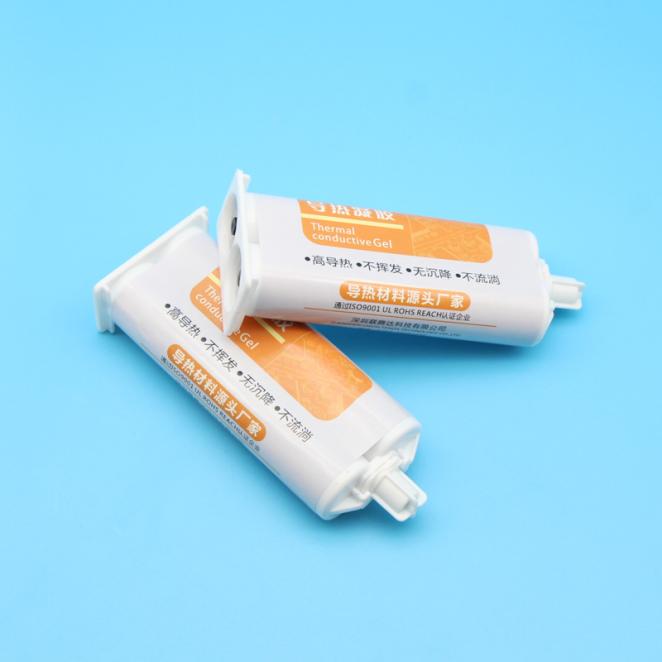 LCF series liquid gap filler is a two-component pre-formed thermal conductive material, which can react and cure under normal temperature or high temperature conditions to form soft and excellent thermal conductivity elastomer. It is shaped according to the shape of the structure and is equal to thermal silicone pad after curing completely. Mainly meets the requirements of low pressure and high compression modulus; Can realize automatic dispensing production with high efficiency; Good contact with electronics when assembled, maximize effective contact area and reduce the contact thermal resistance; Automatically fill the gap available, and the infinite compression feature is suitable for the heat dissipation modules or electronic components with large thickness variation.
Features:
l High thermal conductivity, low thermal resistance, excellent wettability
l Low pressure to electronic components
l Manageable raw material stock ,lower composite cost
l For vehicle electronic products
l Can fill any uneven gaps
l Automatic point dispensing available, any thickness or size available
l High reliability, thermal conductive gel is equal to thermal conductive silicon pad after curing, no volatility.
Unlike adhesive glue, thermal conductive gel has weak adhesion
Applications:
l Communication equipment
l Power equipment
l Medical instrument
l New energy vehicle
l Filling any gap between friable component
and shell
Physical Properties:
Typical Characteristics

Unit

LCF200

LCF300

LCF380

LCF500

Test Method

Color of A

-

White

Visual

Color of B

-

Blue

Offwhite

Pink

Gray

Visual

Adhesion of A

cps

500000

600000

800000

1000000

ASTM D374

Adhesion of B

cps

500000

600000

800000

1000000

ASTM D374

Mixing ratio

-

1:1

-

Hardness

Shore 00

45±5

45±5

45±5

45±5

ASTM D2240

Density

g/cc

2.5

3.0

3.3

3.5

ASTM D792

Thermal Conductivity

W/m·K

2.0

3.0

3.8

5.0

ISO 22007-2

Dielectric Constant

@1MHZ

6.59

7.08

7.08

7

ASTM D150

Breakdown Voltage

KV/mm

≥7.0

≥7.0

≥8.0

≥8.0

ASTM D149

Volume Resistivity

Ω·cm

1.0×1013

ASTM D257

Continue use Temp

℃

-40~200

EN344

Weight Loss

%

≤0.1

@150℃240H

Flammability

-

V-0

UL 94
Packing instructions: two types: manual operation type and dispensing type packaging. 1.Manual operation type is generally divided into
50ML AB hose packaging (A/B each 25ML), suitable for one-hand operation; The dispensing gap filler packed in 400ML AB hose, it can also be
packed with A 10KG/barrel and B 10KG/barrel according to the dispenser.
Application process: Dispensing :Syringe match up mixed needle, starting from A contacts B in the mixing head, the gel will change as below:
after 5 minutes will appear higher viscosity, dry out in 10 minutes, the product will gradually, hardening but also be flexible within 3 hours,
showing as hardness rises to no longer change.
If you have any problems , please kindly feel free to contact us rita(at)szutd.com