DEESSE Mask
Magical Lightening System
LED FACIAL MASK
DEESSE Mask, using 3 different wavelengths of LED that is effective for acne improvement, pigmentation improvement and skin rejuvenation gives you firming and glowing skin.
Features
The greatest effect of 415nm, 630nm, 830nm wavelengths is expected if the LED light is closer to skin,

Deesse is relatively easier to use, it makes users try often.
(more effective, easy to operate different wavelengths)

Available to collaboration work with other skin care of treatment.
- ALA-PDT Tx : Use LED MASK after applying ALA gel(ALA7.5%, photo sensitizer ) on the skin.
- Use Deesse with various Solutions, increasing penetration rate of solutions.
Mode
Mode1(Red)
630nm + 830nm

Mode2(Blue)
415nm + 830nm

Mode3(Red/Blue)
630nm + 415nm + 830nm
Composition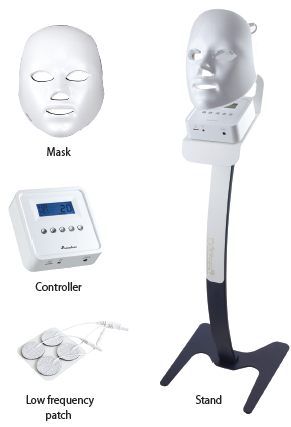 Specification
Wavelength

415nm, 630nm, 830nm + Low-frequency pad

System

mask type/controller

User

Hospital, Clinic, Spa, Salon, Aesthetic shop, Personal use

Advantage

Enlarge the effect by maximum contacting of LED to face.
Various wavelengths
Self Skin Care