Overview of Traffic Light Linked System
System Configuration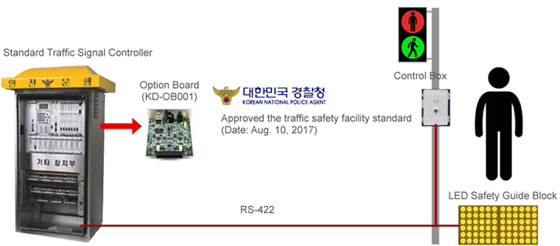 Traffic light linked system

[Korea's first and unique product, meeting the standard of and approved by the National Police Agency and the Korea Road Traffic Authority]
Approved the traffic safety facility standard by the National Police Agency (Date: Aug. 10, 2017) Approved the interchangeable parts inspection by the Korea Road Traffic Authority (Functional inspection certificate No.: B1705-0001)

KD-OB option board

This system receives the signal operation of each direction from the CPU of the standard traffic signal controller, and transmits it to the control box (Standard traffic signal controller option board)

Control box

This system receives the signal operation from the KD-OB option board and links the LED safety guide block with the traffic light to control it. In addition, it converts AC 220V to DC240.

LED safety guide block

This system links with the traffic light depending on the control of the KD-OB option board, provides the visual information to pedestrians, turns all signals on when pedestrians are waiting for crossing the street at a crosswalk, blinks the arrow when the green light is turned on, and blinks all when the green light flickers (Pressure load: 30 t, Anti-sliding: 52 BPN, Water-proof/Dust-proof: IP67, IP68)
Example of Operation of Traffic Light Linked System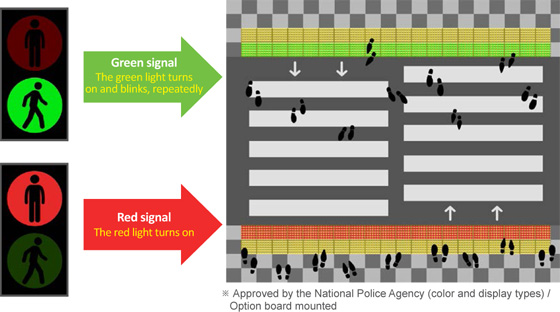 Certificates and Patents
*Products approved as a traffic safety facility by the National Police Agency, products approved by the Korea Road Traffic Authority, dive patents and three designs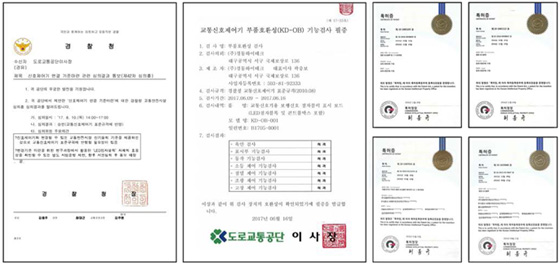 Example of Product Construction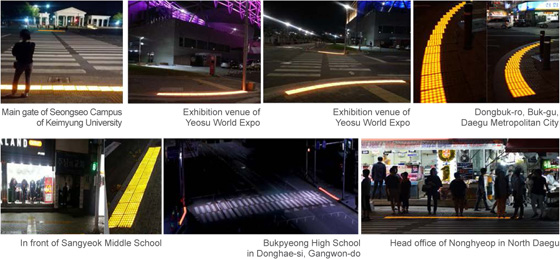 Traffic Light Link Display Type

Product Configuration
LED Safety Guide Block Traffic Light Linked System

LED Safety Guide Block

Video of LED Safety Guide Block Strength and Water-proof Test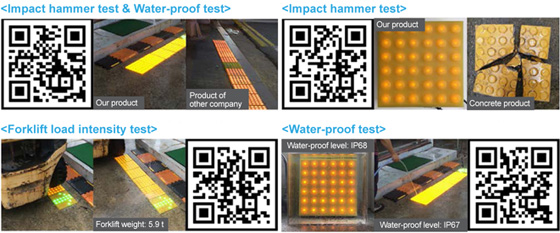 Product Specification
Standard(Same with KS)
Size

300 x 300 x 60mm(36 raised of braille)

Rated voltage

DC 24V(No risk of electric shock)

LED panel

Increases the LED lifecycle by using the AL heat sinking plane (Within 50,000 hours)

Option board

Approved the traffic safety facility standard by the National Police Agency (Date: 17.08.10.)
Approved by the Korea Road Traffic Authority (Certificate No. : B1705-0001)

Water-proof, dust-proof

IP67, IP68

Pressure load

30 ton

Anti-sliding

52BPN
Power Consumption
Power consumption

Within 1.3W. KRW 670 per month if 20 products are used for 10 hours a day (in Korea)
C alculation for a month: 1.3w × □□ea × □□hours × □□days × charges
Internal Circuit Protection
Water-proof and heat-resistant property by using the AL board
Protection of PCB circuits and LEDs by adhering to the LED panel with the epoxy resin
Removal of electric risks such as overvoltage and inverse voltage
Prevention of disconnection or short cut by constructing electric wires inside the product
Construction
Public works

Braille block (KS) / Existing blocks can be simply replaced

Electric work

Connect cables through the ready-made method.
The power can be supplied from a traffic light or a street lamp

Construction period

Minimize the obstruction of traffic by constructing this system during one day

Maintenance

Approved the traffic safety facility standard by the National Police Agency (Date: 17.08.10.)
Approved by the Korea Road Traffic Authority (Certificate No. : B1705-0001)

Water-proof, dust-proof

As this system is connected in parallel, it can be partially repaired and its maintenance
cost can be minimized. Maintenance period is 2 years
Selling price
Product Function and Effect
Prevention of traffic accidents of smombie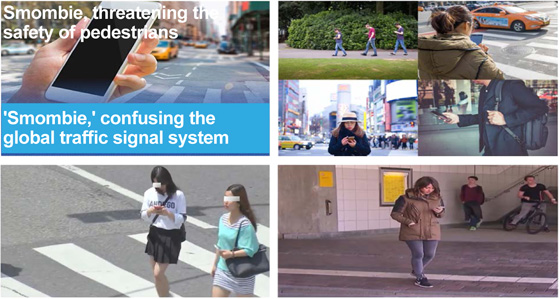 Smombie
Smombie is a compound word of smart phone and zombie, indicating the people who are walking on the street while being immersed in using their smartphone. They walk slowly and do not look around because they are glued to their phone screen. Thus, they cross a road without seeing the traffic signal, and the possibility of their traffic accidents is higher, 70% or more, than general pedestrians.
Protection of pedestrians
Prevent jaywalking / Secure high visibility / Protect and consider vulnerable users /
Improve the pedestrians' signal recognition rate through Nudge Effect.
Traffic light linked system
Its interchangeable part property of the standard traffic signal controller is approved by the Korea Road Traffic Authority.
The traffic light is linked when the option board is used.
Meeting the traffic safety facility standard (color and display types)
New technology product
High strength plastic case, 30 t of pressure load, 52BPN of anti-sliding property, and IP67, IP68 of the latest water-proof and dust-proof LED technology (epoxy self-developed)
Ref. Internal research result of product effects

Product Application

Install this product in intersections and crosswalks where traffic accidents frequently occur such as school zone and silver zone by considering vulnerable users
Installation in Overseas Nations(Similar Products)