Large Marquee Party Tent Outdoor Events with Sitting Capacity of 1000 People
CapacityDescription:
Founded in 1997, Liri Tent is an event marquee manufacturer with a full range of event marquees, which owns many years of experience in providing event marquee solutions. The clear span of the outdoor event tent can be designed from 3m to 60m. Our event marquee for sale can create a beautiful outdoor space to meet your requirement, no matter the focus is exhibitions, product launches, celebrations, banquets, or sports competitions. Website: http://en.liri-tents.com/ http://www.glamping-hotel.com
System features:
Framework: hard pressed extruded aluminum 6061/T6(15HW) which can last more than 20 years.
Fabric Cover: high quality double PVC-coated polyester textile, 100% waterproof, flame retardant to DIN4102 B1, M2, CFM, UV resistant, tear-resistant, self-cleaning ability, etc.
Connector: strong hot-dip galvanized steel Allowed Temperature Condition: -30 degree Celsius~+70 degree Celsius.
Wind Loading: max. 100km/h (can be reinforced)
Snow Loading: 30kg/sqm (snow can't stay if use big degree roof pitch design)l Easy to be assembled and dismantled, movable.l No pole inside, 100% available interior space.
Applications: Widely used for parties, weddings, events, celebrations, sports, trade shows, warehouse, Hajj, conferences, cafe shops, restaurants, corporate events, etc.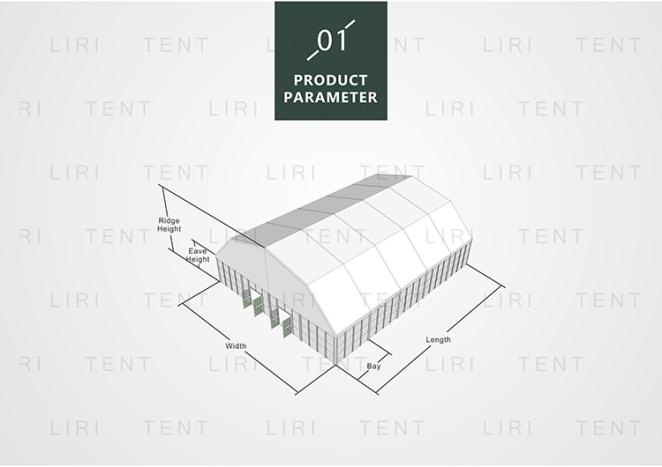 | | | | | | |
| --- | --- | --- | --- | --- | --- |
| Item | Width | Eave Height | Ridge Height | Bay Distance | Main Profile |
| PG | 10m | 4m | 7.16m | 5m | 204x120x4mm(4-channel) |
| PG | 15m | 4m | 8.75m | 5m | 204x120x4mm(4-channel) |
| PG | 20m | 4m | 9.42m | 5m | 204x120x4mm(4-channel) |
| PG | 30m | 4m | 13.2m | 5m | 256x121x5mm(4-channel) |
| PG | 40m | 4m | 15.4m | 5m | 300x120x5mm(4-channel) |
| PG | 50m | 4m | 16.0m | 5m | 300x120x5mm(4-channel) |
| PG | 60m | 4m | 17.0m | 5m | 400x120x7mm(4-channel) |
The length can be extended by 5m bay such as 15m, 20m, 30m, 40m... Customized size is available.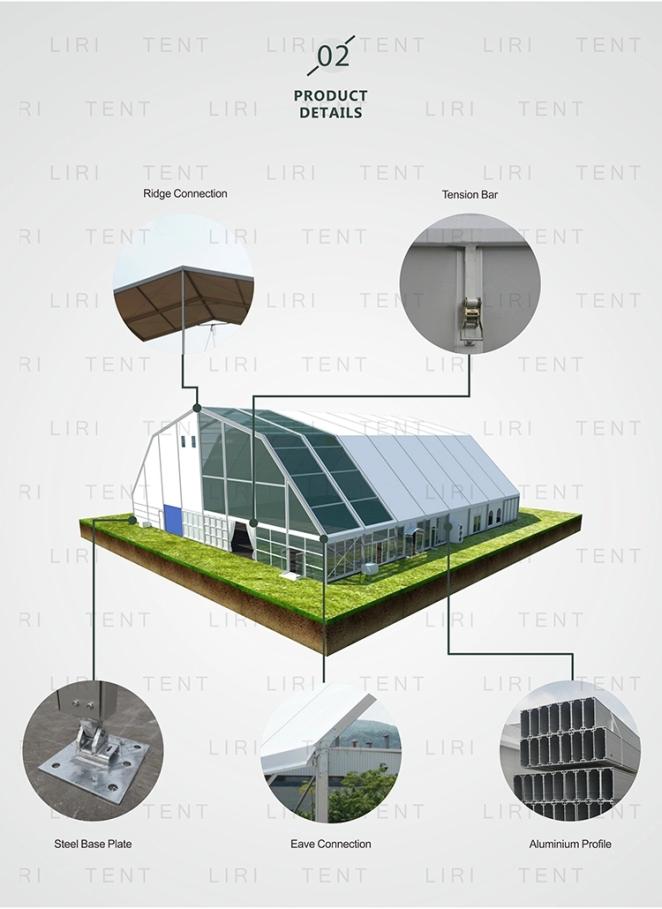 Main Profile

Material: Hard pressed extruded aluminium 6082-T6, 6061/T6

Features: Stainless

Cover

Material: Double PVC-coated polyester textile, 750g-900g/m²

Features: Waterproof, flame retardant to DIN4102 B1, M2, CFM,

UV resistant

Eave Connection

Hot-dip Galvanized twin steel plate

Wind Loading

100km/hour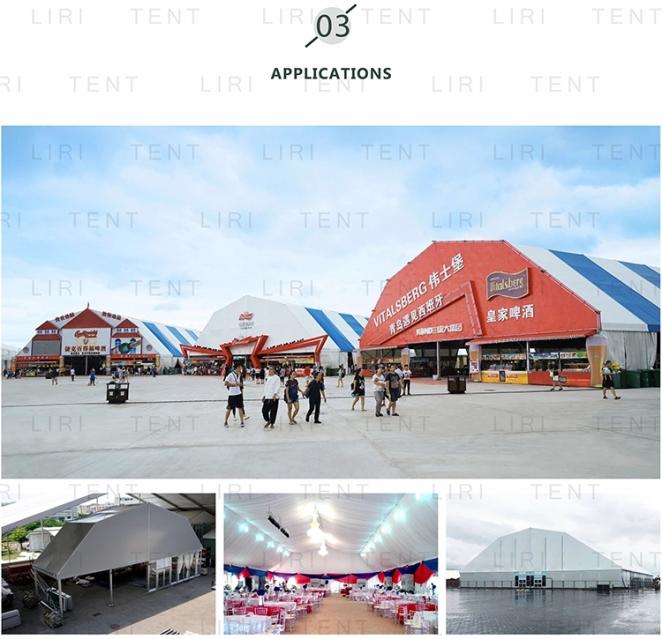 Storage Tent Banquet Tent Church Tent

Sports Venue
Concert Tent Exhibition Tent



Accessories:
Covers: colorful cover, transparent cover, inflatable roof cover
Windows: dome or square clear PVC windows, mesh window, glass window for glass wall Wooden
Flooring System: VIP cassette flooring, simple cassette flooring
Doors: double-wing glass door, single-wing glass door, glass fire door, aluminum door, rolling shutter(automatic or manual)
Wall: soft PVC fabric wall, glass wall, ABS hard wall, sandwich panel wall, steel plate wall
Fixing Methods: ground anchors, weight plate, expandable bolts
Rain Gutters: inner roof beam rain gutter or rain gutter between two similar tents
Optional Items: table, chair, lighting, AC, carpet, installation tools, booth, mobile toilet, etc
Contact us:
Zhuhai Liri Tent Technology Co., Ltd.
Tel: +86-756-6253764 Mobile&Wechat: +86-18373131503
Address: No.7 Dongfu Street,Xin Qing Science & Technology Industrial ParkDoumen, Zhuhai, Guangdong, China.