Leather waste water treatment sludge dewatering machine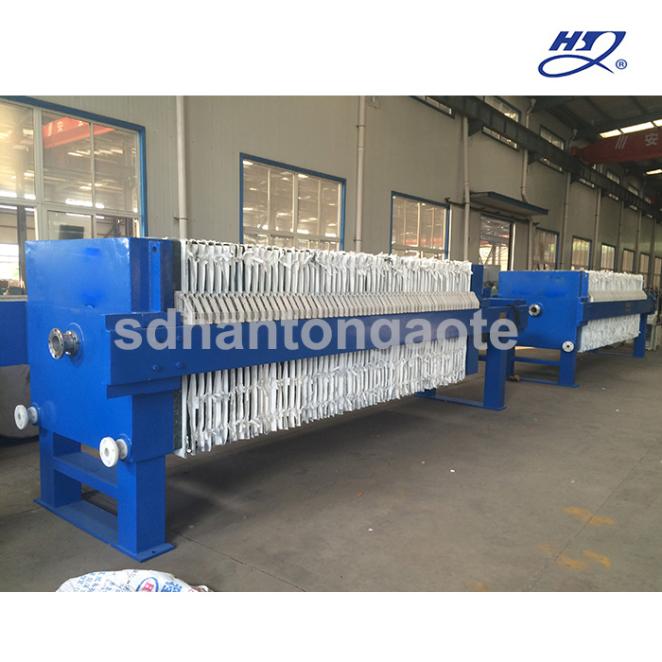 Product overview
Leather waste water treatment sludge dewatering machine is a kind of intermittent solid-liquid separation equipment.
It is widely used in many industries and has an incomparable superiority on the separation of the sticky and thin material.
Working process
Firstly, the sewage enters the filter chamber under the pressure from the pump and forms residue on the filter cloth until they fill the whole filter chamber.
Secondly, the filter liquor crosses the filter cloth, flows along the groove and is discharged.
Thirdly, the filtration the filter residue is washed and sometimes is pressed after washing in order to remove the rest washing solution.
Finally, the filter residue is removed and the filter cloth is cleaned.
Product advantages
u Easy operation and maintenance
u Larger filtration area
u Simple structure
u Small floor coverage
u Lower moisture of filter cakes
u High adjustability for all kinds of sewage
u Suitable for intermittent operation
Applicable scope
Leather waste water treatment sludge dewatering machine is widely used in the following industries:
| | |
| --- | --- |
| Food | liquor, beverage, beer, yeast, citric acid, vegetable protein, soymilk, seaweed |
| Metallurgy | beneficiation for gold , silver, copper, iron, zinc, tombarthite |
| Argil | kaolin, bentonite, activated clay, porcelain clay, electronic porcelain clay |
| Sewage treatment | sewage from chemical production, smelting, electroplate, leather, printing and dyeing, brewing, pharmaceutical, environment |
| Chemcial industry | dyestuff, pigment, fluorescent powder, sodium hydrosulfite, water purifying agent |
| Hospital | antibiotics, calcium phytate, herbal, organophosphorus, saccharifying enzyme |