V-MAFA® N90 Novel Elastic Transparent Coating for Auto Paint Protection
anti-scratch,anti-fire,self-cleaning,hydrophobic N90
1.Sample car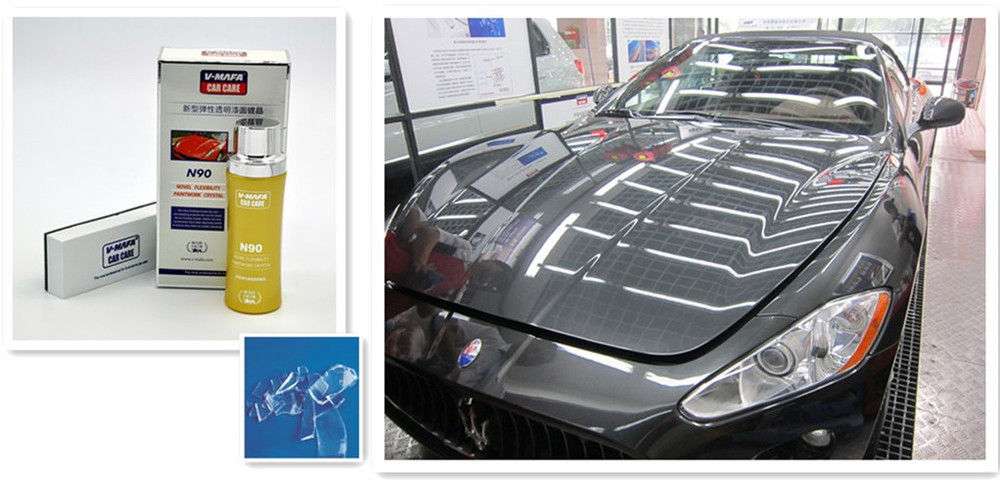 2.Function
V-MAFA® Coating, surpass waxing,applying sealant, is the one of the most advanced and newest protective car care product for your car paint.
Video:
Application effect:https://www.youtube.com/watch?v=RlHkGdXG9SI
Application:https://www.youtube.com/watch?v=E-ddXqbxUug
3.Specification:
Model
N90
Brand
V-MAFA®
Contain

Novel Elastic Transparent coating: 80ml*1pc, sponge applicator*1pc

Consume volume each car paint

Small size:8-10ml,can be applied on about 8 cars paint.(Model: Polo, Mini-mini, mini Jcw, BMW i3)
Middle size:10-12ml,can be applied on about 7 cars paint,(Model: Audi A5, VOLKSWAGEN MAGOTAR)
Big size:12-15ml,can be applied on about 6 cars paint(Model: Aston Martin Lagonda, audi Q5)

Hardness
6H(can be tested by hardness equipment)
Function

shinny gloss,anti-scratch,anti- oxidation,anti-errosion,anti-fire,self-
cleaning,hydrophobic,anti-uv,etc.

Operating temperature

any tempearture can be,suggest 26 °C be best.

Size of inner packing box
10*4.5*18.5cm
Gross Weight
300g
Quantity/Carton
4pcs
Carton size
22*19*9.5cm
Expiratin date
2 years
Origin
China

MOQ

1pc
Shippment way

FEDEX,DHL,UPS,TNT,EMS,by air,by sea,other shipment way can be negociable.

Shipment time

1-500pcs,be shipped within 3 business days.
50-2000pcs,be shipped within 7 business days
more than 2000pcs,be shipped within 15 business days.

Payment term

T/T,Western Union,Paypal, L/C,other paymetn terms can be negociable.
4.Operating Process:
Step 1: Preperation:

Wash and Polishing
Polish the car paint to remove the scrath;Degreasing to remove the oil and residue on car paint, to make V-MAFA® coating be tightly attached on car paint.
Step 2: Wipe V-MAFA® Coating:
Spray a mist of water on the area where will be wiped coating, pour some V-MAFA® coating on sponge.
Wipe V-MAFA® coating small area by are a as "T" shape on car paint.
Step 3:Wipe the coating by microfiber towel

1-2 minutes later, the finger feel coating be sticky without spare water left,then wipe by the microfiber towel which twisted from water. wipe again and again repeatedly until looks shinny.
About 1 hour later, coating solididy, the first layer of coating finished. If operating the second layer of coating,you can do same as the first layer.
Caution:
1.After coating finished on car paint, the car can be used after 3 hours later without rainy day. 72 hours later you can wash the car, 20 days later the coating get the best effect.
2. Within 72 hours after finished with coating, should better not attach water on car paint. If water attatched, wipe it be dry right away, to avoid print occur.
3.Within 72 hours,should better not drive the car too fast, if the objects such as mosquito attached on, clean the dirt right away.
Operating Process Video: http://v.youku.com/v_show/id_XODc2NDk5MjEy.html
5.Product Advantages
1. With hardness and toughness/elasticity,uneasy to crack and fall off;
2. Super concentrated,with higher viscosity;
3. Advanced formula,be researched according to the bad environment in some areas of China 6 years before,resist high and low temperature for different countries.
6.Company Info:
1)V-MAFA® , the leader of high-end Paint protection
Short introdution: Wuhan Century V-MAFA® Auto Products Manufacturing Co., Ltd. was founded in 2001.It is the fastest growing manufactures of car care and maintenance products.In the car care field, V-MAFA® provide customized products for all customers,make their cars more beautiful and Eco-Friendly.We have professoinal R&D team more than 10 people. V-MAFA® provide sereral service including brands agent,distribution,retailing,wholesaler,OEM,ODM etc.
Nowadays, V-MAFA® already being the pronoun of high-end paint protection.
2) Company Philosophy: Innovation, Responsibility, Insistence.
3) Manufacturer, R&D: Own self-dependent innovative manufacturing, R&D ability, can customize the car care product as customer's requirment.