DA-LG2100 (Data Alliance - LoRa Gateway 2100)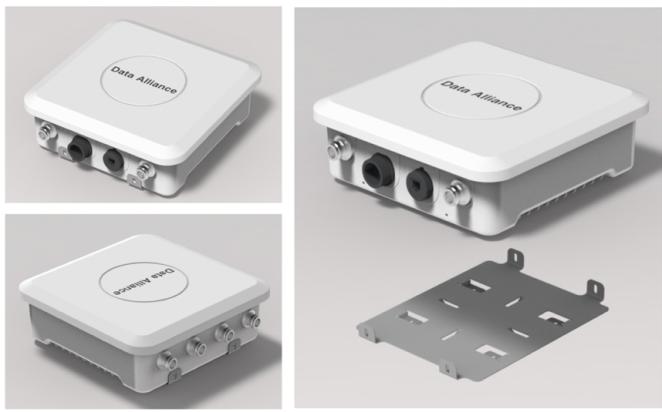 Key Features
- The first next generation LoRa gateway by a Korean manufacturer, that enables a Geolocation service
- ISM Band Support for Korea
- LoRaWAN Standard Support
Primary advantages
- LoRa Gateway for outdoor installation: IP67 for outdoor installation Waterproof and dustproof case
- High-speed large-capacity data processing: Octa-cre 654bit ARM Processor / 1GB DDR3 /4GB eMMC
- Security Enhancements: Secure Storage used for security enhancements
(DA-LG2100) specifications
* Product Components, communication method (frequency), power supply method and size, etc.
KR920 ~ 923.3 MHz ISM Band Channel Support

PoE 48Vdc 30W IEEE802.3at

Operating Temperature/Humidity

Temperature: -20 ~ +60 ℃,

Humidity: 5 ~ 90%RH

Ethernet 1 port

WiFi

USB Host 2 ports

Ethernet : 10/100/1000Mbps-T, RJ45 1 port

Wi-Fi : 802.11 a/b/g/n/ac dual-bandSISO, 2.4GHz/5GHz

USB : USB Host 2ports,
Octa Core ARM Cotex A53 1.4GHz

10/100/1000Mbps-T, RJ-45, 1port

LTE CAT4(B1, B3, B7, B8, B20 / FDD), Optional

LoRa 8 channel / LBT

Pressure Sensor, Temperature Sensor

TDOA based geolocation service

802.11 b/g/n SISO, 2.4GHz

Operation status indication

PoE 30W

Water and dust proof device
Usage
Finding a location of a LoRa end device without GPS
- For LoRa devices that require long battery life with low capacity batteries, GPS functionality cannot be used because a battery needs to be changed every few days due to the high battery consumption.
- Using four LoRa Gateways, it can be used to find the location of LoRa end devices by using a triangulation method and TDOA (Time Difference of Arrival).