MIE Scattering Winner2006A Test Metal Medicine
Particle Size and Shape Instrument 0.01-1000um
Brief Introduction:
Winner2006 is intelligent full automatic laser particle size analyzer . It enables you understand materials well, such as paiting,dyes,minerals power,calcium carbonate,kaolin,water-coal-slurry Photosensitive material,Medicine and Metal
oxide etc.Industry .
Unique Advantage:
Double Laser Orthogonal beam patent technology

Unique sample cell for sub-micron materials particle size distribution test, test limit is 0.01um.

Unconstrained free fitting analysis software,

Particle size analysis is not limited by any function,

reflected real particle size distribution.

Calibration by China certified reference materials D50 value, accuracy and repeatability is up to 0.5%.
Main Specifications:
Model Name

Winner2006A

Winner2006B

Standard

ISO13320-1:1999, GB/T19077.1-2008, Q/0100JWN001-2013

Size range

0.01-1000 micron

0.1-1000 micron

Channels

90

87

Accuracy error

<0.5% (Deviation of D50 on national standard sample)

Repeatability error

<0.5% (Deviation of D50 on national standard sample)

Laser

Main Laser : Semiconductor λ= 636.5nm, p>2mW

Auxiliary Laser: Semiconductor λ= 532nm,P=1-40MW which can be adjusted

Wet dispersion

Ultrasonic

Frequency:40KHz Power: 60W, Time can be adjusted

Agitator

Revolutions Speed: 0-3000RPM (Adjustable)

Circulation

Rated Flow:17L/min Rated Power:15W

Sample pool

Volume: 450mL

Operation mode

Manual and Full automatic

Testing speed

<2min per time

Outer dimension

L85cm*W39cm*H45cm

Net weight

40Kg
Main Features:
1) Optical light system: Adopt orthogonal double laser beam patented technology, measure range expanded from
0.01-1000μm.
2)Intelligent operation mode realize one key test, automatic water-supply,ultrasonic dispersion, circulate and drain off water, soit not only could decrease workload, but also get better repeatability after remove human-factors errors.
3) Optical light Calibration System is composed of precise four phase hybrid stepper motor, Its inching precision is reach to micron level, so light path is always in a good state.
4)Sample dispersion system: Full built-in setting mechanical stirring, ultrasonic dispersion, and circulation path in one, Big power-circulating pump and Optimization design .
Application:
1. Non-metallic powders such as calcium carbonate, talcum powder, kaolin, zirconium silicate, wollastonite, graphite, silica powder, tourmaline, mica, barite, plaster, bentonite, diamond, quartz, diatomite, feldspar, calamite,clay, garnet, vermiculite, Titanium white power, etc.
2. Metallic powder such as aluminum powder, iron powder, magnesium powder, molybdenum powder, copper powder, zinc powder, other rare metal power and varied alloy powder, etc.
3. Pharmaceutical, agricultural pesticide, grinding particle, foodstuff, scientific research, teaching, cement, ceramic, glass, chemical industry, military industry, soil, pigment, oil exploration, geological analysis, river silt and electronic particle, etc.
Related Products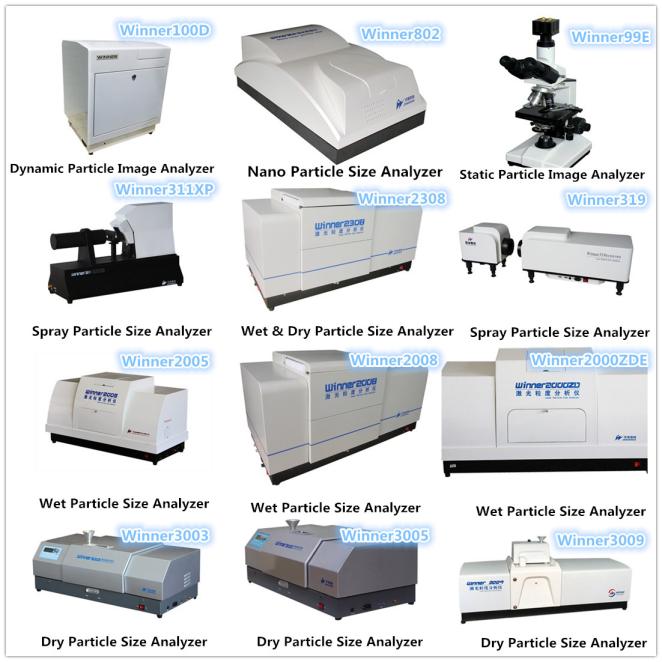 After sale service

1. We will send our technician to install instruments.( operation demo video CD will be offered also.)
2. Offer free-training service.
3. The quality assurance date is 2 years since finishing payment, Technology support in all a life. And after that, we will collect the cost if provide repair accessories.
4. Maintenance for equipment failure caused by improper handling (appropriate cost will be collected).
5. We offer the components with favorable price and perdurable maintenance.
1. How about the package ? Is it safe during the delivery ?
All Particle size analyzer is packed by standard strong wooden carton with foam inside.
It is safe when shipping.
2. What is the delivery way ? How many days will the machine
We will ship the particle size analyzer by DHL,FedEx, UPS,etc (Door to Door Service), around 5 days to arrive.
Or by Air to your airport (Door to Airport Service ), around 3 days to arrive.
Or by Sea to the seaport, Minium CBM requirement : 1 CBM, around 30days to arrive.
3. Do you provide the Warranty ? How about the after sales service ?
2 year warranty free for spare parts, Whole life technical support.
We have professional after sales team, if any question, assistant videos are also provided in after-sale service.
4, This machine is easy to use ? if I have no experience, I can also operate it well ?
Do you provide the user manual and operating videos to support us ?
Yes, our particle size analyzer is designed to use easily, computer control. Normally it will take you 2-3 hours to learn how to operate, if you are a technician, it will much faster to learn.
We will provide the English user manual for free , and the operation video is available.
5, If we come to your factory, if you will provide the free training ?
Yes, warmly welcome you to visit our factory, we will arrange the free training for you.
Please Contact Us