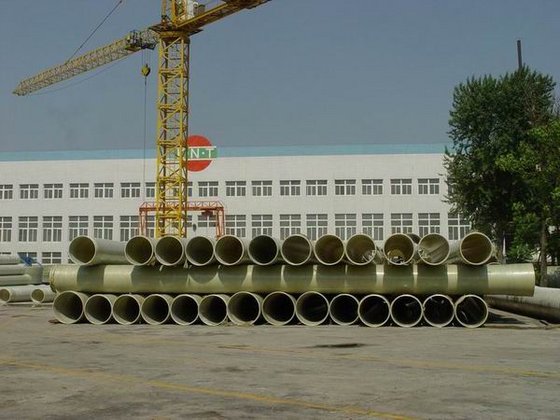 Hebei KNT FRP Co., Ltd. is the standing member of FRP Industry Association of China. It is the first enterprise in FRP Industry which passed the integral assurance of GJB9001A-2001, GB/T19001-2000, GB/T24001-2004 and GB/T28001-2001. It is a professional fabricator to produce FRP and its composite products.
The series of products have been used in many fields such as chlor-alkaline industry, pertrochemical, power, dyeing, titanium white, urban water supply and drainage, waste water treatment, metallurgy, brewery and pharmaceutical.

The main specification and types of the products as follows.

1.FRP tanks, we can manufacture the tank that the diameter is from DN600mm to DN25000mm formed by horizontal winding and vertical winding;
2.The serial FRP non-standard equipment, such as: scrubbing towers, absorption towers, ion-exchange column, stacks, rectangular tanks, composite pipes and vessels (FRP/PVC, FRP/PP, FRP/PE and FRP/PVDF), etc;
3.FRP pipes, RPM for water supply and drainage. The diameter of the pipe can fabricate is DN50~4000mm;
4.Serial FRP packing cooling tower, spray cooling tower without packing, helical chutes, fans ventilation tubes and other hand made products;
5.Whole set computer controlling filament winding machine;
6. Stack, rectangular tank, cover of acidic or alkaline reaction pot, ion-exchange column, venturi and other non-standard FRP products;
7.FRP fume pipe and spray pipe used in desulfuration system of thermal power plant;
8.The other non-standard products made by hand layup and extrusion
9.Mannheim Process Potassium Sulfate (K2SO4) technology and whole set equipment.
We developed the domestic first set computer control winding machine upon the basis of introducing the key technology and equipment from USA and Italy. Now we have developed the 6th generation and have been used in the production line successfully.
Selling Categories
- Chemicals >> Other Organic Chemicals
- Construction & Real Estate >> Other Construction & Real Estate
- Energy >> Other Energy Related Products
- Environment >> Water Treatment
- Manufacturing & Processing Machinery >> Other Manufacturing & Processing Machinery