TX-T3A Industrial Direct to Garment Printer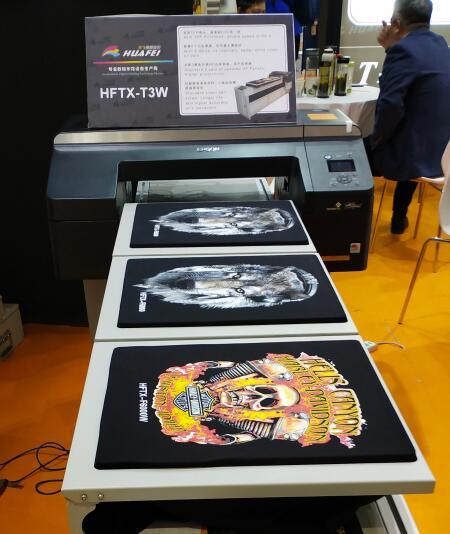 Descriptions: TX-T3A is with 3 printing platens for industrial garment printing. It is integrated screen printing with Digital printing, largely reduce the printing cost of dark garment, also expand your business range by using discharge chemical, flock, foil, metallic, glitter. This Apparel printer is mainly chosen by Screen Printing factory, Branded Clothing Company, Designer, Fashion Company etc.
1. Features:
1) Garment & Cutting Pieces & Grand Cutting Pieces, wider application. Pallets: Standard: 350mm*400mm ( women size ) Options: 380mm*480mm ( men size ) 250mm*300mm ( Children size ) Grand Pallet for T3A: 420mm*1600mm
2) Advanced Circulatory system of White Ink, easier maintenance and less waste. 6 White Channels: ensure excellent print quality of white ink. Peristaltic Pump from Japan :guarantee the stability of White ink.
3)White and CMYK printed at one pass, higher efficiency.
4) Patented Printing Platens, easy to use and higher efficiency Hydraulic hinge from Japan, you can stop the frame at any angle to put on garment quickly.
5) Quality silent ball screw, Y transmission shaft is more durable and stable
2. Specifications:
Printhead: Epson TFP 10*360 nozzle Rip software: HUAFEI RIP 10.1 ( dark garment support)
Colors: CMYK+ 6 * W for Dark Garment; Double CMYK for light garment printing.
Print Directions: Intelligent bi/single direction printing.
Speed: 5 minutes / 3 pieces (light garments) 12 minutes / 3 pieces (Dark garments) Press Weight Load: 50kg (Nondistructive of resolution)
Resolution: 2880*1440dpi Ink: Water based textile pigment ink.
Media: Cotton, Cotton/polyester Blends, Lycra, Viscose, Silk, Linen, Wool and more. Other consumables: Pre treatment solution for dark & light garments, Cleaning ink and head cleaning kit.
Height adjustment: Automatic/ manual operation Head protection: Laser sensor automatic protection system. Power: 110-220V, 50-60HZ, 500W Interface: USB2.0/1.1, 1GB Ethernet, 320M memory Computer System: Windows XP/ Win7, Mac, Linus
Working Environment: Temperature: 15-35℃, Humidity: 20-80RH
Printing Pallets: Standard: 350mm*400mm (women size) Other options: 380mm*480mm (men size) 250mm*300mm(Children size) Grand Pallet: 420mm*1600mm