Description:
Advantage:
1.Our company own the top Comprehensive strength and A long history
2.Certificate of authority
3.Excellent products
a.High quality raw materials
b.advanced equipments,
c.Reasonable production process and multiple point control
d.The product parameters
e.Packaging and shipping
f.Certificate of analysis
4.Our company provide good after-sale services
5.Our customers locally all over the world
Welcome to contact us:
Name: Emma Chen
Company: Zhejiang Huili Capsules Co,.Ltd
Whatsapp:+8618258234537
www.hlcapsule.com
Pulluan capsule, different from traditional animal capsule conforms to the current consumers in celebration of the nature. It takes starch or carbohydrate as raw materials, through microbe fermentation producing external cell pure natural high polymer polysaccharide product. This polysaccharide is easy to be dissolved in water, which is safe, of no toxicity, edible, low calorific value; It also has the function of good plasticity, good film forming characteristics, good vapor barrier of thin film, which is used in packing and has the efficacy of color-preservation, fragrance preservation, vegetable-keeping, anti-oxidation. It is widely used in cosmetics, machine, and food industry. Besides, it can be degraded and used by machine in the natural and can not lead to environmental pollution, which has the merit that other products can not replace it during application. The product is maltose and pentose under the captions of human body digestive enzyme, which has the physiological function of stimulating the growth of bifid bacterium in intestines and makes this product, can be taken as low calorific value food and health care food for diabetic and obesity patients. If it cooperates with bifid bacterium active vaccine preparation, it would have increasing effectiveness function, and obtain health and care effect.
1.Huili Capsules Co., Ltd specialize in Gelatin Capsules manufacturing since year 1985.
The total investment beyond USD5 Million and we have 12 automatic capsule production lines, having an annual productivity of 3 Billion pieces.
Our company covers a total area about 16, 000 square meters and construction area about 6, 500 square meters, with modernized 100-Thousand-Grade purification GMP workshops about 4, 800 square meters, in strict accordance with GMP standard plant design. And using of fully enclosed central air-conditioner guarantees clean production in constant temperature and humidity.
Also it has inspection devices and storage area appropriate to production scale. The annual profit and tax are
USD0.4 Million and annual revenue of USD45 Million.
2.The exhibition history
CHPI IN SHANGHAI
FDA Certification
Halal Certification
ISO9001:2008 Certification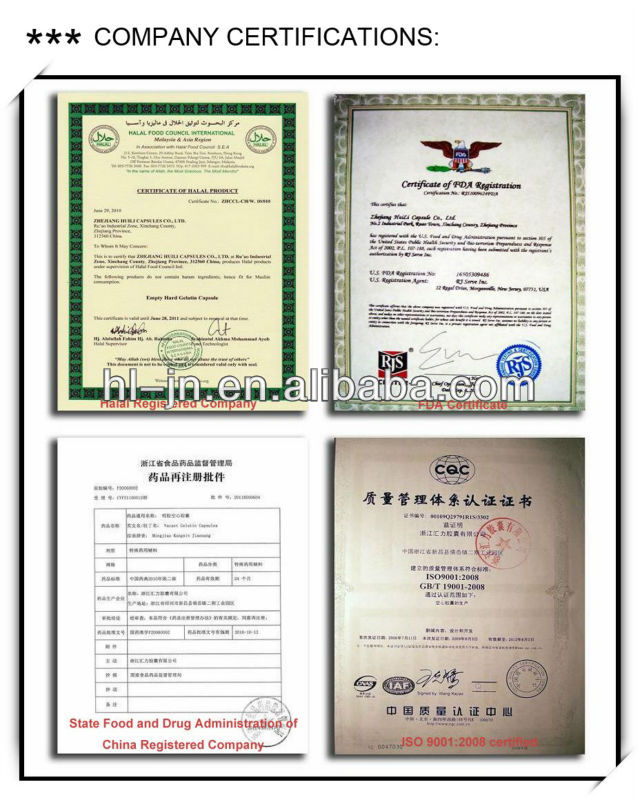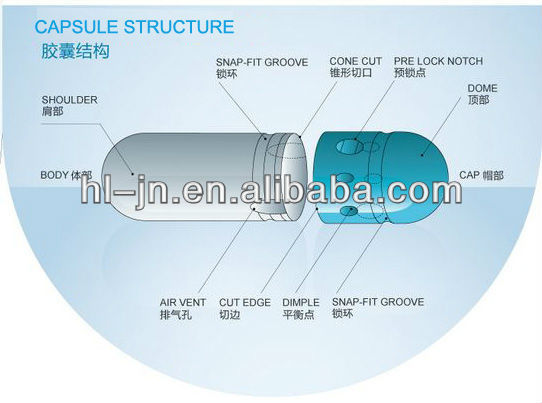 a.High quality raw materials
The Principal raw materials involved include TSE/BSE free Gelatin and Color Pigments
Gelatin
Only Bone Gelatin of Pharmaceutical Grade (as per Ch.P. 2010) is for capsule production, always free from BSE and TSE, and strictly HALAL.

We purchase gelatin from manufacturer sourcing bones. The bones are subjected to a process of Degreasing, acid demineralization, alkaline treatment, filtration, sterilization at >138℃ for a minimum of 4 sec. We purchase Gelatin only from suppliers who follow quality assurance systems and are ISO 9000, HACCP & GMP compliant.

The high-grade gelatin used to produce Huili hard gelatin capsules meets all standards and regulations imposed by both the food and pharmaceutical industries. Every Huili gelatin supplier must adhere to strict Huili regulations and quality requirements.

Delivered high-grade gelatin undergoes stringent preliminary physical, chemical and microbiological tests before it is released into production by the Quality Control Department.

Color Pigments
Only approved coloring agents and pigments cited in most pharmacopoeias and other official regulations are used at Huili. Colorants are used as per specific requirements of Customers.
Exact color shades as per their customized requirement are provided to our customers.
b.Equipments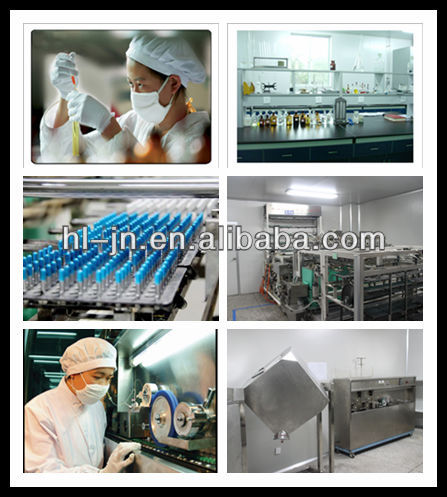 c.Reasonable production process and multiple point control
c1. Reasonable production process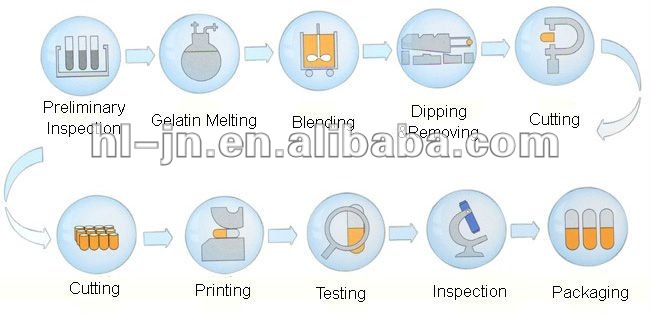 c2. multiple point control
Gelatin undergoes stringent preliminary physical, chemical and micro-biological inspections before released into production.
At Huili, Capsules are manufactured under controlled climate conditions (Class 100,000), using a dipping process on automatic capsules manufacturing machines.
At Huili, Quality Assurance plays an integral part in monitoring all critical process parameters like temp and humidity, measurable parameters like weight, length etc. . It eliminates error in every stage of production to meet customer requirement / satisfaction.
A thorough inspection and continuous monitoring of critical process and measurable parameters provides Zero Defect Capsules.
a. Intermediate station control
b. Retest control
c. Laboratory control
d.The product parameters
Size of Capsules

Length of Capsule Parts
(mm)

External Diameter
(mm)

Overall Closed Length
(mm)

Average Weight
(mg)

Weight Tolerance

00#

Cap

10.7~10.9

8.39~8.49

22.2~23.2

86.2~94.3

± 6%

Body

11.3~11.5

8.05~8.15

0#

Cap

10.9~11.1

7.53~7.63

20.7~21.7

98.0~106.4

± 6%

Body

18.4~18.6

7.23~7.33

1#

Cap

9.7~9.9

6.81~6.91

18.5~19.5

75.8~82.0

± 6%

Body

16.4~16.6

6.53~6.63

2#

Cap

8.9~9.1

6.25~6.35

17.0~17.8

64.9~69.4

± 6%

Body

15.3~15.5

5.97~6.07

3#

Cap

8.0~8.2

5.73~5.83

15.0~15.8

50~52.6

± 8%

Body

13.3~13.5

5.47~5.57

4#

Cap

7.1~7.3

5.27~5.37

13.4~14.3

38.4~40

± 8%

Body

12.1~12.3

5.00~5.10

e.Packaging and shipping
| | |
| --- | --- |
| Size | Quantity |
| 0# | 100,000 pcs/ctn |
| 1# | 125,000 pcs/ctn |
| 2# | 160,000 pcs/ctn |
| 3# | 200,000 pcs/ctn |
| 4# | 300,000 pcs/ctn |
| 00B# | 100,000 pcs/ctn |
Refrigerated container is recommended for delivery of empty capsules.
147 cartons in one 20' container.
342 cartons in one 40' container.
Capsules are in PE bag / Aluminum foil bag, and Styrofoam Sheets lined in corrugated carton, 610x390x760mm.
)
Storage of empty capsules
e1. Sealed,temperature between 15-25 °C,and RH between 35-65%;
e2. Do not store near a source of heat;
e3. Avoid wide temperature fluctuation during storge;
e4. Avoid from direct sunlight.
f.Certificate of analysis
Items

Results

Elastic Tightness

Less than 1pcs

Friability

Less than 5pcs

Disintegration Time

Less Than 10 Minutes

Loss on Drying

12.5-17.5%

Residue after Ignition (%)

Transparent: ≤2

Semi-transparent: ≤3

Opaque: ≤5

Heavy Metals (ppm)

≤40

Viscosity (mm2/s)

≥60

Micro-Organism

Total count of Bacillus: ≤1000unit/g,

Total count of Mildew: ≤100unit/g,

Total count of Escherichia: Should not be detected.
D.good after-sale services
We promise if the product have quality problems,we provide free exchange within three months.
E. customers locally all over the world