MESO BB
The effects of MESO BB Solution gives more than general daily care cosmetics and can provide visible outstanding effectiveness experience with a special effects single management that combined with professional beauty technology.
Also, this is a professional products which can be applied to various beauty treatments.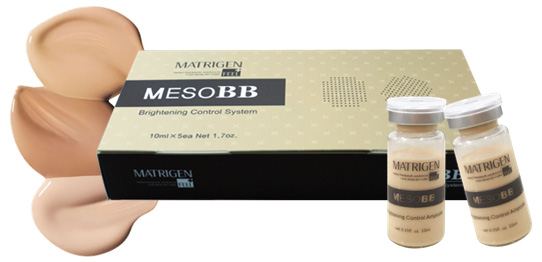 MESO BB Solution is the ampoule that designed specifically for safe, powerful skin, and whitening treatments. Acne or conspicuous blemishes and skin discoloration, such as exposure to UV light. It has been developed to make it more focused and managed securely for those patients who suffer from overall dark skin tone.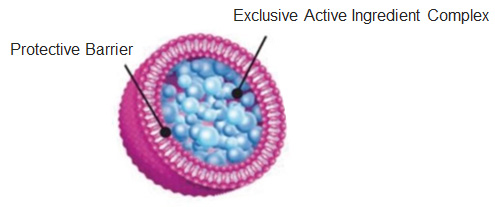 Protection of the active ingredient due to external factors such as PH effects caused by oxygen, light, surrounding environment in the air.
With each components are involved in each step leads to another cleaned up to provide synergy effects.
Penetration to the deepest skin(dermal layer) and transport layer in optimal condition.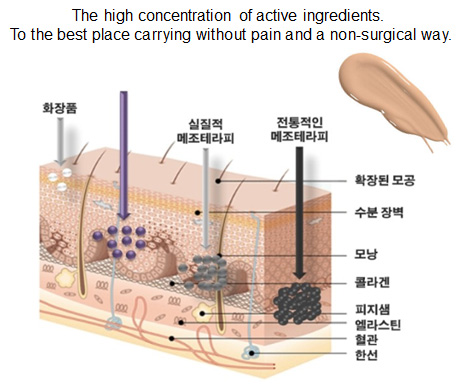 Applicable type of skin
Recommended for all ages
Colored skin
Dark & uneven skin tone
Melasma, freckles and pigmented skin
After the acne scars & pigmentation
Coloration due to UV light exposure and aging
Effectiveness
Asian, Caucasian, Black instant & gradual skin whitening to all type of skin
Restoration for regular skin tone & whitening effect
Excess melanin activity control (spots, blemishes, age spots, spots )
Free radical neutralization and activate cell renewal
Activate collagen synthesis
Before & after applying sunblock, decrease in skin melanin
Providing skin elasticity, shrink pores, improve the natural defense

Method of Use
Meso Therapy
Current Device, Ultrasonic Device, Iontophoresis(+),(-) No Ionization Effect.
This serum does not contain Ion, and it should remain neutral.
MTS Roller/ Microneedle (Max 0.25mm)
(If you use more than 0.25mm of microneedle, it should use this serum 7~10 minutes after using microneedle)
Oxygen Therapy
Photodynamic Therapy(PDT)
Use after peeling treatment
Use before Massage or Mask base
Use with suction base
Basic step for everyday use

Expect synergic effect

What is MTS?
Small needle would cause physical damage and it stimulates & leads fibroblasts to collagen remodeling.
It make a passage that can penetrate into the skin effectively for the large molecular weight drugs or the drugs that hard to polarize.
This is a treatment for effects of skin regeneration.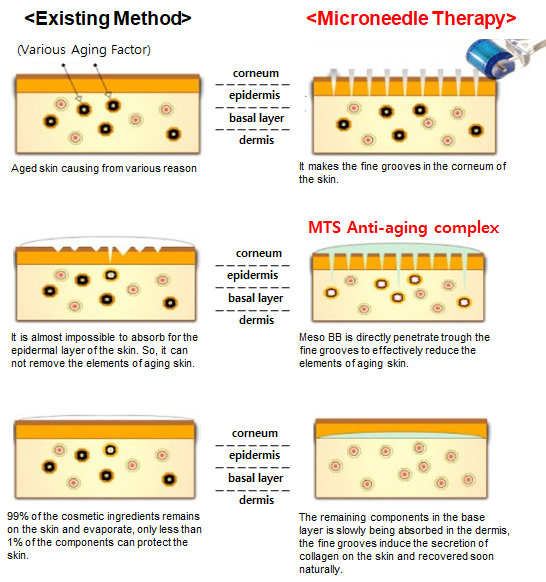 * MTS Penetration
A needle to create a passage of the active ingredient by absorption throuth the corneum.
By the accumulated active ingredient to the skin layer, it is possible to reproduce collagen with cell continuously & repetitively.

MTS Treatment Method
Apply topical anesthetic ointment. After 20~30 minutes, rolling the affected area using the MTS roller.
It is very clear therapeutic effect to give a stimulus to the skin only using a roller. Needed for skin regeneration including the effective ingredient with a growth factor or a whitening effect further enhances the effect.