Metal fabric

Details:

Metal fabric also named architectural mesh or create weave mesh, because most of them are made of stainless steel wire or cable, so we also can call them stainless steel wire cloth. These years our stainless steel architectural mesh has been enquirer and adopted more and more in the architectural decoration field, whatever on the material , good flexibility, strength with its versatility, unique texture, variety of colors and durability.

Metal fabric is a new decorative material,which doesn't only have the softness of the cloth, but also have the metallic luster. In the color surface treatment, which is through plating chromatically, and have many great characters, just as gorgeous color, not fading, corrosion resistance and so on. Generally speaking, we can produce all kinds of color of the metal fabric.If the clients have the special color requirement, you can send the samples with the color you need, the color card and so on to me , but this doesn't contain of the photo of the color, because we can't confirm which color you need.

As a new decorative material, metal fabric is not only used in architecture decorative material,but also used in the clothes design.In the architecture field, metal fabric is widely used in division,wall facade, screening , showcase and so on..
As a material of cloth design, metal fabric is used in the dress design, and designed in the shoulder,chest and the hem of the dress. And make the dress more beautiful and valuable.
We always prepare samples of metal fabric and sample card, if you have a requirement, please contact us in time.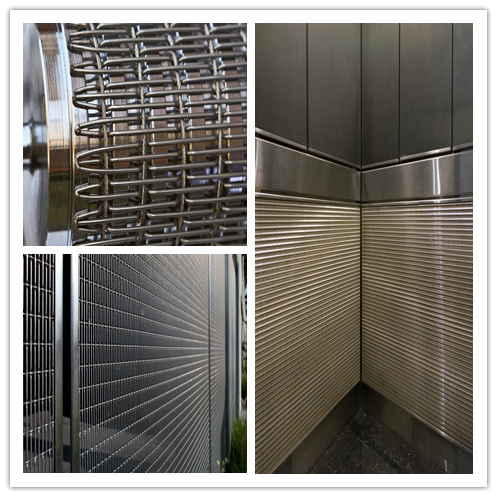 Specification of metal fabric
Item No's
Open Area
(%)
No.s of
cable
Cable Dia.
(mm)
Cable pitch
(mm)
Rod dia.
(mm)
Rod pitch
(mm)
Thickness
(mm)
Weight
(kg/㎡)

GT-405

42

4

2

50

3

6

7

11.56

GT -405S

44

4

1.5

50

3

6

6

10.67

GT -406

43

4

2

60

3

6

7

11.22

GT -408

45

4

2

80

3

6

7

10.80

GT -426

44

4

0.75

26.4

1.5

3

3

5.20

GT -426X

51

4

0.75

26.4

1.5

3.5

3

4.62

GT -436

44

4

1

36

2

4

4

7.06

GT -436S

44

4

1

36

2

4

4

7.06

GT -4036

62

4

1

36

2

6.6

4

4.55

GT -4270

51

2

2.7

50

3

7

8.4

10.02

GT -4288

51

2

0.6

5.5

0.8

2.3

2

2.60

GT -4305

42

3

0.45

3.5

0.5

1.6

1.4

2.09

GT -4311

56

3

3

40

3

11

9

9.48

GT -4312

60

3

3

45

3

12

9

8.57

GT -4185

40

1

1.8

4

1.5

5.5

5.1

6.00

GT -4252

33

1

2.5

5

2

6

7

10.90

GT -4525

44

1

2.5

6

2

8

7

8.79

GT-4525Z

44

1

2.5

6

2

8

7

8.79

GT -4510

35

1

2.5

5

3

10

8

12.46

GT -4351

28

1

3

5

3

10

9

15.43

GT -3180

74

3

2.75

180

4

18

9.5

6.44

GT -3135

51

4

1

35

2.75

6.5

4.75

8.11

GT -3150

80

3

2.75

150

3

20

8.5

3.82

GT -3154

85

3

2.75

150

4

40

9.5

3.50

GT -3160

76

3

3

160

4

20

10

6.15

GT -3125

61

4

0.75

15

1.2

5

2.7

2.78

GT -3240

62

2

2.75

40

4

14.5

9.5

9.41

GT -3245

56

3

1

45

2

5

4

5.50

GT -3250

59

4

1

50

2

5.5

4

5.13

GT -3260

55

2

1.2

60

3

7

5.4

8.47

GT -3270

40

2

1.05

36

4

7

6.1

14.90

GT -3810

65

3

2

80

3

10

7

6.67

GT -3810S

65

3

2

80

3

10

7

6.67

GT -3825

71

3

1.6

80

2.5

10

5.7

4.58

GT -3811

67

3

2.75

110

4

14.5

9.5

8.32

GT -3812

64

3

2.75

120

4.5

14.5

10

10.07

GT -1525

35

1

2

17.5

1.5

2.5

5.5

7.17

GT -1530

0

1

2

17.5

1.5

1.5

5.5

10.98

GT -1535

51

1

2

17.5

1.5

3.5

5.5

5.53

GT -1535S

51

1

2

17.5

1.5

3.5

5.5

5.53

GT -1545

59

1

2

17.5

1.5

4.5

5.5

4.63

GT -1537

62

1

1.3

17.5

1.25

3.75

3.85

3.26

GT -1537S

64

1

1.5

17.5

1.5

5

4.5

3.67

GT -1550

53

1

2

17.5

2

5

6

6.53

GT -1572

63

1

2

17.5

2

7

6

5.08

GT -1570

69

1

2

35

1.5

5.5

5.5

3.32

GT -1585

73

1

2

17.5

1.5

8.5

5.5

3.13

GT -1705

35

1

1.2

5

1.75×0.6

5

3.6

3.00

GT -1706

40

1

1.6

3.2

1.75×0.6

6

5.2

6.60

GT -1720

27

1

2

3.1

1.75×0.6

5

5.2

10.02

GT -6112

52

1

2

4.5

2

32

6

6.44

GT -6120

4

1

1.5

4.9

1.5

1.6

4.5

11.85

GT -6148

0

1

1.5

9.3

2×1.5

2.5

5

13.50

GT -6155

50

1

2.5

15

2

5

7

7.73

GT -6225

64

1

3

20

2.5

10

8.5

6.83

GT -6212

43

2

1.2

17.5

2

4

4.4

7.40

GT -6216

58

2

1.2

17.5

2

6

4.4

5.28

GT -6255

53

1

2.5

15.4

2

5.5

7

7.20

GT -6415

70

2

4

169.2

4

15.2

9

7.89

GT -6510

32

1

1.6

5.4

1.35

2.5

4.55

7.64

GT -6514

0

1

1.5

4.8

1.5

1.5

4.5

12.50

GT -6515

0

1

1.6

5

1.5

1.5

4.7

12.78

GT -6517

0

1

2

8

1.5

1.5

5.5

12.70

GT -8160

64

1

7×1

15

7×1

15

9

7.60

GT -8316

59

3

4×1

20

4×1

20

6.78

6.70

GT -8535

43

1

4×1

6.5

4×1

6.5

6.78

9.90

GT -8713

59

1

7×1

13

7×1

13

9

8.79

GT -8513

65

1

5×1

13

5×1

13

7.62

6.30