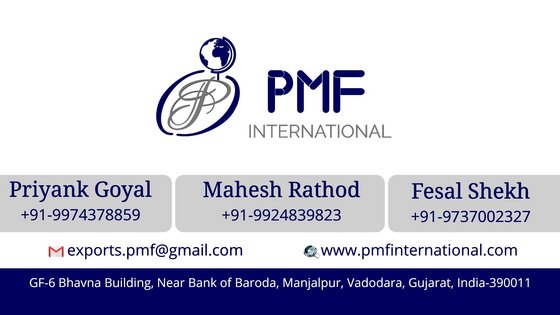 PMF International is a trading company in Vadodara. It is situated in Indias growing state of Gujarat. Because of our proximity and our major business associates from major ports like Kandla/ Mundra/ Dahej/ Mumbai are well positioned to cater our global customers.

We established longer and closer working relationships with our clients and supplier not only provide immediate and reliable service but to continually exceed expectations and goals. We create commercial flows, import and export products, arranging and managing international projects with our partners.

We have concrete plans and clearly laid down strategy to spread our arms steadily across globe with special focus on chemical, Apparel, Food & Ceramic markets of India origin products. We shall meanwhile also serve our customers' requirements at most economical basis with quality products, through our business associations and channel partners in China, Thailand, & Korea.