Introduce
CT3001S adopts brushless motor drive, high performance, low noise, stainless steel, magnetic drive pump head, can be realized without pulsation, constant velocity flow transmission. LED display, key operation, easily set parameters. Speed display, time dispensing , suitable for various experimental fields. A variety of external control way, convenient use together with other devices, support MODBUS protocol communication, simplify the difficulty of system development.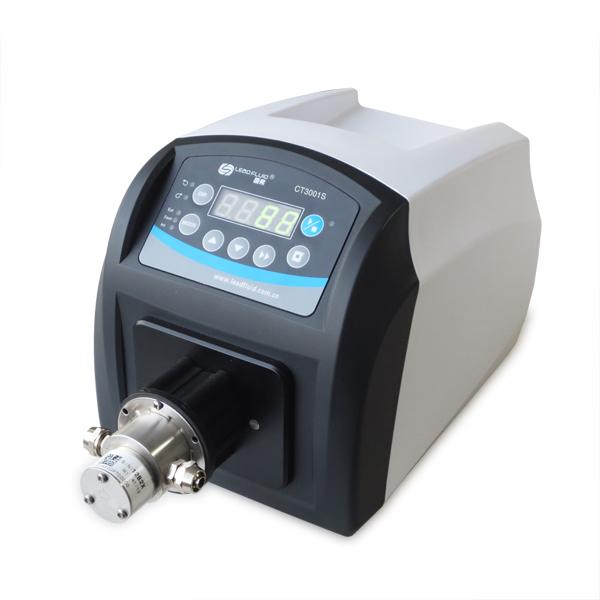 Function and Feature
• Can install various pump heads
• Suitable for transmission more viscous, high pressure liquid
• No pulsation transmission, low noise
• The magnetic coupling is designed, easy to maintain
• Brushless drive, high efficiency, maintenance-free.
• LED display, key operation
• LF-LED-OS software system
• Speed display
• Time dispensing
• External control signal control, physical isolation, analog control
• RS485 communication, support MODBUS protocol
• Wide range power input, adapted to different environments
The parameters
Technical parameters

CT3001S

CT300S

CT3001F

CF3000F

Flow range

90~2700mL/min

15~2700mL/min

Speed range

300~3000 rpm

50~3000 rpm

Speed resolution

1 rpm

Working mode

Speed-variable mode, time dispensing

Flow rate mode , time dispensing, volume dispensing, copy dispensing

Dispensing time

0.1~999 S

Transport limitation of liquid particles

particles ID ≤10μm ( recommended pre-filter)

Transmission liquid viscous

≤200cSt

Analog input signal

0~5V(Standard),0~10V,4~20mA (Optional)

Speed output Signal

—

0~5V

External control signal

5V,12V(Standard),24V(Optional)

Communication

RS485 communication,MODBUS protocol

Working environment

Working temperature 0~40℃,relative humidity<80%

Power supply

AC100-240V 50/60Hz

Power consumption

<50W

<150W

<50W

<150W

IP grade

IP31

Dimension

343×198×182mm

320×150×237mm

343×198×182mm

320×150×237mm

Shell

plastic shell

Stainless Steel 304

Plastic shell

Stainless Steel 304

Weight

3.3KG

5.5 KG

3.5KG

5.5 KG
Our Advantage