Tunnel lining trolley is a special equipment that must be used in secondary lining during tunnel construction, used for concrete lining construction of tunnel inner wall. Concrete lining trolley is an essential non-standard product of secondary lining during tunnel construction. Mainly include simple lining trolley, full hydraulic automatic walking lining trolley and lattice lining trolley. Full hydraulic lining trolley also can be divided into side top arch type, full circle needle beam type, bottom mold needle beam type, full circle walk through type,etc.
Feature: walk through moving mold, large working space, continuous operation achieved. The trolley's supporting formwork, erecting formwork, unloading formwork and walk through all use full hydraulic pressure operation. It has the advantages of flexible operation, light weight, convenient maintenance and high quality lining surface.
Characteristics
Easy to handle transfer carriage.
Hydraulic system to carry out all the movements.
Sideways movable carriage.
Design principles:
- light weight;
- simple, strong and stable structure;
- moved, mounted and stripped easily;
- strong reusability;
- small deformation under force;
- adequate space under traveler and providing a big space for bars and formwork construction operation.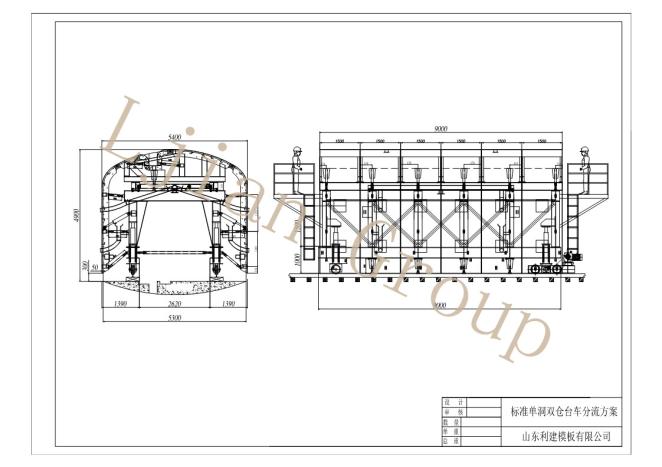 If you choose us,you will get the following services:
1. Draw up a preliminary construction solutions of the initial situation.
2. Objective evaluation of the planning\execution\cost\time risks.
3. Help you with the bid invitation.
4. In-depth analysis of your individual project situation,detailed construction scheme.
5. High-performing product systems,cost-saving solutions and professional support and assistance with everything for formwork.
6.
Formwork project scheme,manufacturing, technical consulting, remote or on site guidance.
7. After-sale service and technical support.
8. Product installation and construction service.
Lijian formwork is a specialized manufacturer which engaged in construction formwork industry for many years. Our main products include tunnell formwork systems,metro supporting construction facilities,utility tunnel,special shape formwork,fair-faced formwork,formwork traveler,precast formwork,etc.
We are a professional technical team,we can help you with consulting,planning and ancillary service. Enabling you carry out your project effectively and reliably. Our aim is to built faster,cost effectively and long-term usability.
Our group's subsidiaries company are located in Liaoning province, Shandong provice and Beijing.
All seasoned expert and engineers, are always available to assist you with any queries. Our technical team is ready for you. One of us will always be close to you. Your project is our project. Contact us!
FAQ
Q1. Are you manufacturer or trade company?
A: We are manufacturer,we have our own factory in Shandong Province and Liaoning Province in China.
Q2. What kind of products do you supply?
A: We design and manufacturer concrete construction formwork products,mould, tunnel lining trolley,metro construction supporting facilities,etc.
Q3. What can you do for us?
A: We offer our advise,technical drawings ,after-services,and everything related formwork. More details pls review above services centers.
Q4. Could we visit your factory?
A: Welcome to visit our factory at any time.
Q5. What's transportation do you have?
A: Ocean,air and courier.