LDR delivery room is a Labor, Delivery, Recovery Trinity of British family delivery rooms. Homey features, a full range of medical and living facilities, maternal from admission to discharge contacts are the same team with the same familiar warm room, always in the company of his family, in separate private room complete the delivery process. All this can make the expectant mother to eliminate tension and fear in the delivery room, and enjoy the whole family accompany and feel deep affection, contained a total of new birth! Here, your delivery will become a happy joyful dream tour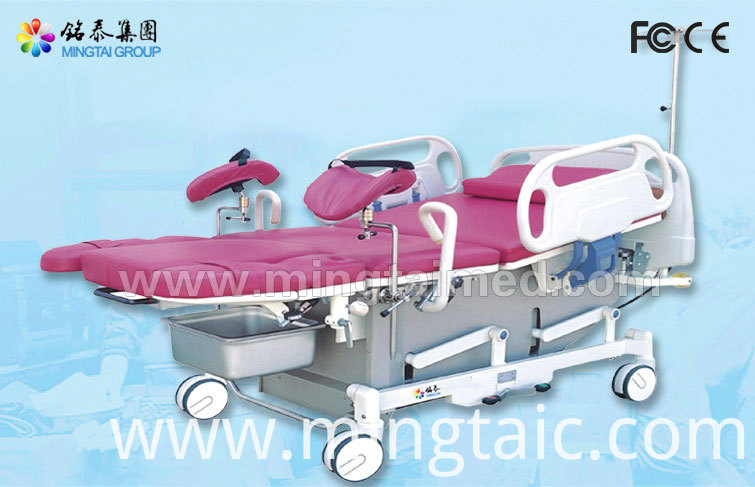 Technology Parameter:
Bed length and width
1920×840mm
The height between the floor and the bed surface
680-920mm
Back board replicate angle ≥75°
Hip board forward and backward ≥20°
Leg board outward swaying ≥90°
Foot board upward ≥45°
Guardrail folder ≥180°
Power
AC220V 50HZ
Input power
300VA
Main feature:
1. This bed motor is Denmark LINAK Linear motor , Safety voltage is DC24V, no regulator, with the electric system, safe, reliable, convenient operation, low noise, accompanied by family members and midwives are allowed to operate. Bed with optional audio, maternal psychological tension can be adjusted.
2. The head board and around guardrail is a high-strength plastic molding, the surface is very beautiful and generous, detachable and hidden. The whole set bed surface for import Achilles (PVC) composite skin, mold forming an organic whole, has antibacterial, fouling resistance, resistance to abrasion and deodorization etc. Cushion can be placed under a clean paper, use a tear once, keep permanent Operating Table clean.
3. The whole bed can up and down ; back board fold and foot board up and down is control by electric motor; sit board fold adopt aeroelastic structure ,angle can be optional within the adjustable range and good for delivery smoothly.. the leg board can be detached, there is dirt basin under the bed board. the leg board on two sides, hidded handrail used together, it is easy to delivery. the whole bed cushion can be detached, easy for cleaning.
4. The whole bed structure is closed, dustproof; easy for cleaning, truckle use wheel control, it is very steady.
Shandong Mingtai Medical Equipment Group Co., Ltd is established in 2000 year, supporting operating room and ICU medical equipment. Since company established, continue to develop, keep making progress, let people enjoy the health future with better quality and service. Mingtai products get ISO13485, ISO9001, CE & SFDA certification. Mingtai company have many Shadowless Lamp, Surgical Table, Icu Bed and Medical Bridge Pendant patents. Mingtai brand series Operating Light, operating table, Medical Pendant, Hospital Bed and air disinfection equipment meet different distributor and customer`s different requirement.