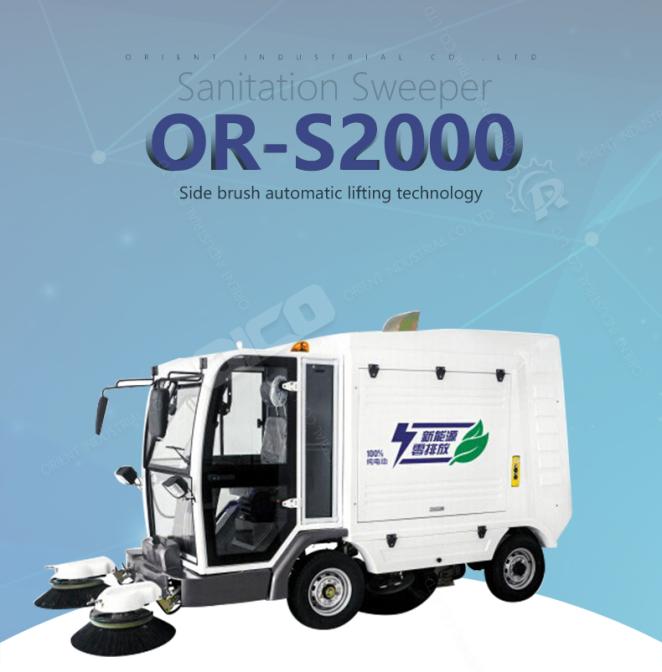 OR-S2000 is the biggest electric battery road sweeper with the special chassis overall structure of the combined mode of sweeping and vacuuming. The road sweeper is superior to the similar domestic products, which is featured by the stylish appearance and flexible operation. Hence, it is the ideal sweeper model for the occasions such as street, community, school, etc. requiring the sweeping and cleaning of large areas.
I. CHARACTERISTICS:
· The waste hopper of road sweeping truck has the ultra-large capacity of one cubic meter, and it is equipped with hydraulic dumping system, very which is convenient for emptying the waste hopper.
· With the lightweight vehicle design, two powers of lithium batteries or lead-acid batteries are optional. · High power AC 3-gear fan motor, which can adjust the fan motor speed according to the road conditions.
· The comfortable cab is equipped with reverse image and electric power steering, and the configurations such as leather damping seats, etc. are adjustable.
· 13-inch pneumatic tires are convenient for climbing along the road kerb.
· The hand brake and foot brake also increase the safety.
· This electric cleaning machine equipped with large touchable color LCD display, the side brush, main brush and fan motor can be individually controlled.
· Self discharging street cleaning equipment equipped with water tank and high-pressure spray and dust suppression system to avoid secondary dust reentrainment.
· The front is configured with adjustable disk brush, and the middle with dual-disk brush and rolling, which ensure the good cleaning effect.
· Air conditioner is optional.
II. PARAMETERS:
| | | |
| --- | --- | --- |
| NO. | ITEM | PARAMETER |
| 1 | Dimension (L*W*H) | 4230*2350*2150mm |
| 2 | Wheel base | 1900mm |
| 3 | Thread | 1400mm |
| 4 | Sweeping paths | 2000-2350mm |
| 5 | The size of main brush | 500mm |
| 6 | The size of side brush | 700mm |
| 7 | Vacuum power | 5000W |
| 8 | Working time | 5-8h |
| 9 | Filter | 24 sqm |
| 10 | Water tank capacity | 200L |
| 11 | Trash capacity | 1000L |
| 12 | Sweeping speed | 10km/h |
| 13 | Max climbing capacity | 25% |
| 14 | Power supply | 48V Li battery pack or maintenance-free battery (optiona |
| 15 | Weight | 230KG |
| 16 | Working power | 700+500+150*4+100*2+2200+1500 |
| 17 | Turning radius | 4500mm |
| 18 | Driving motor | 5500w |
| 19 | Cleaning efficiency | 20000 sqm/h |
| 20 | Maximum running speed | 25 km/h |
| 21 | Battery voltage | 48v400AhLithium battery |
| 22 | Diesel engine power | 23kw |
| 23 | Generator power | 15kw |
| 24 | Start System | Electronic ignition |
| 25 | Starting power | 3 kw |
| 26 | Start battery | 12v |
| 27 | Total weight | 2. |