ProModel Baby Blanket
Made of functional Modal fiber, it feels soft and pleasant on the skin
Having four times higher moisture absorption than cotton fabrics, it is suitable for sweat-prone and sensitive baby skin. Its moderate thickness filled with soft antibacterial cotton makes it usuable throughout the year except for midsummer.
Proper material for sensitive baby skin
Light and warm like goose down
Filled with hicare antibacterial cotton
Effective for atopy and allergic nose
Pleasant use and high durability without cotton lumps
Item

One ProModal blanket

Size

Nap Blanket 75x105cm / Padded Blanket 150x210cm

Material

Upper : cotton micro modal 100% / Lining : ProModal 100%
Filling : microfiber antibacterial cotton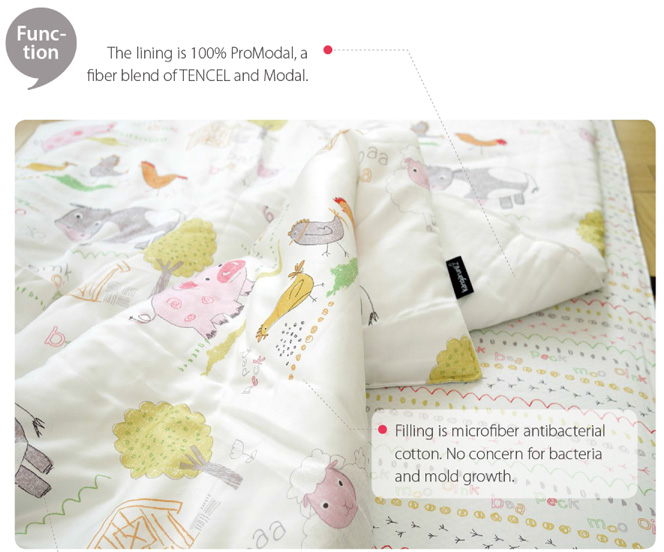 Light and cushy 'Microfiber Antibacterial Cotton that can replace goose down
Filled with Hicare cotton processed to be lighter than feathers and warmer than goose down with multiple air bearing layers, it is effective for atopy or allergic nose, preventing dust mites or bacteria from breeding. It keeps a consistent cotton condition without lumps or [ressing after repetitive washing, ensuring a pleasant and durable use.