Modern Steel Frame Villa
This spectacular house has been designed to enhance modern persons lifestyles. With a courtyard pool. huge alfresco entertainment area. and large rumpus room. WZH allows you to upgrade your quality of life without leaving home. This inspiring house features a number of open-plan living space with lounge and sitting rooms adjoining the kitchen and dining areas. Maximum flow between internal and external spaces is ensured through the careful palcement of energy-efficient doors and windows with easy access provided to and from the four bedrooms and living spaces.

This model house total 382.11m2
Four bedrooms
Three bathroom
Two garages


Standard inclusions
Solar passive design
Optimal thermal mass performance
High performance glazing and windows
Timber frame thermally broken
Slab to frame sealing for air tightness
Upgraded insulation package as standard
Water saving tapware
Led lighting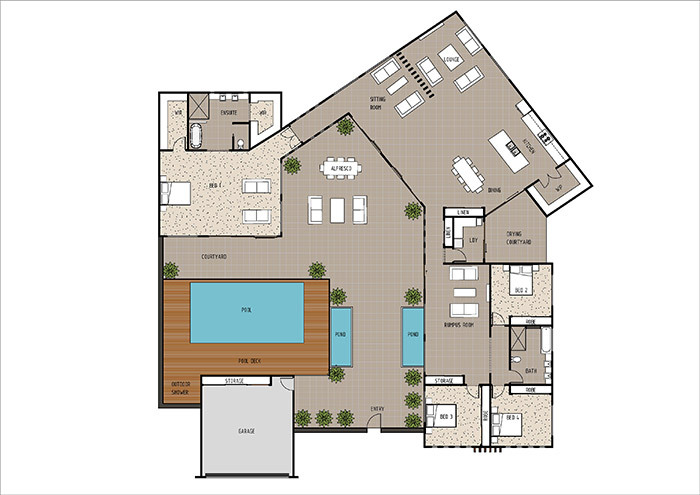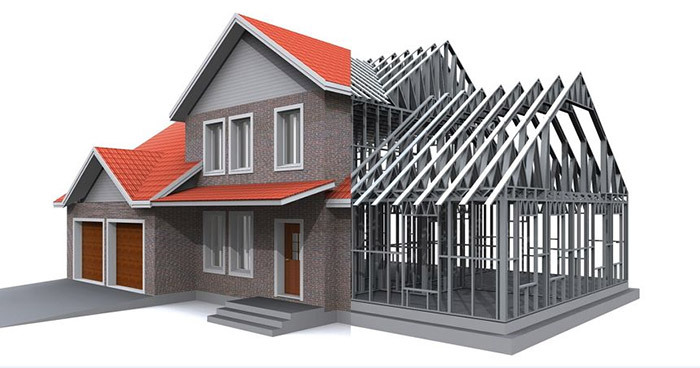 Stee structure part
Material
Item
Specifications
Light Steel Frame
LGSF
Grade: G550
Size: C89*41*11*0.8~1.0
Cold-formed C profile
Galvanized Z275G/M2
Accessories
Connector and Neils
Wall material
Bulu Board,Cement Board, Glass woll board, PE Waterproof Film, Gypsum Board, Breathing Paper, Putty powder
Roof material
Bulu board, SBS waterproof, Glass wool roll
Floor material
Bulu board, SBS waterproof, Glass wool Board
Celling material
Gypsum Board, Ceiling Keel, Aluminum Ceiling, Putty, painting,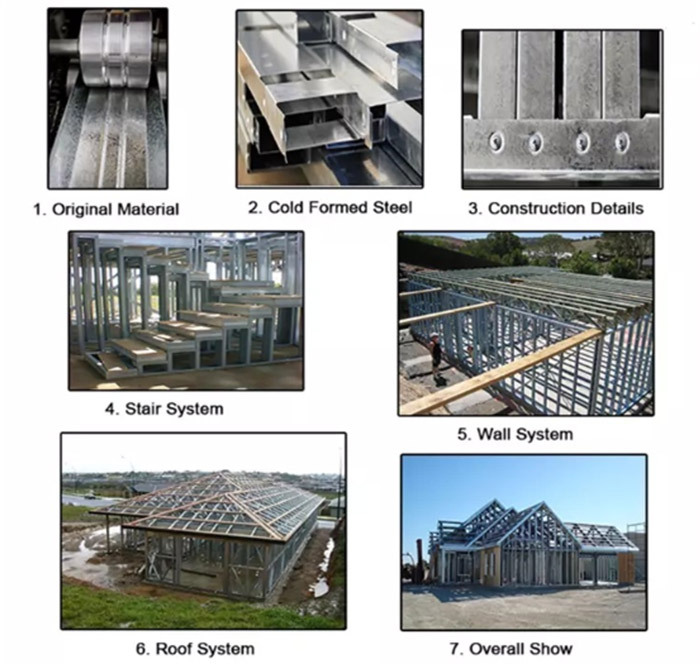 Decoration part
Wall decoration material
PVC Cladding / fiber cement cladding / pu metal cladding panel,wall tile /painted and so on
Floor decoration material
Composite floor.floor tile, plastic flooring and so on
Roof Finish
Asphalt Tile, color steel sheet, sandwich panel, clay tile, Vermiculite tile an so on
Door
Security Door, Wood door, Titanium alloys, Garage Door, sliding door and so on
Window
Aluminium alloy double glass, Broken bridge aluminum double glass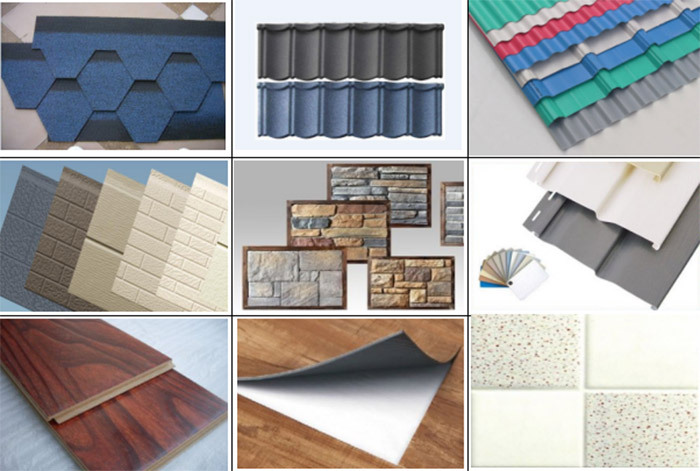 Accessories
Water
Water supply and drainage pipe
Electricity
Distribution
Distribution box, wire, switch, socket, pipe
Lighting
Ceiling Lamp
Sanitary
Toilet
Wash Basin
Shower
Cabinet+Wash basin
Advantage
1) Lifetime for structure: 70 years.
2) Earthquake resistance: mix more than 8 grades.
3) Wind resistance: max 60m/s.
4) Fire resistance: all the materials used can be fire resistance.
5) Snow resistance: max 2.9KN/m²as required
6) Heat insulation: 100 mm in thickness can match 1 m thickness of brick wall.
7) High acoustic insulation: 60db of exterior wall 40db of interior wall
8) Insect prevention: free from the damages by insects, such as white ants
9) Ventilation: a combination of natural ventilation or air supply keep the indoor air fresh and clean
10)Easy to assemble and disassemble for several times without damage,ten workers 15days can finished the house