TG-3C25P modular box making machine is a solution for flexible fully-automatic rigid box production line with flexible customization function developed by Sinotecho to meet the market demand. Sinotecho provides the solution for the whole package line and can also provide customized solution according to the customer's site conditions.
These pieces from TG-3C25P can flexibly come together as the gluing and spotter production line, the single station rigid box making production line, the two station rigid box making production line or the complete rigid box production line. In view of present situation of this industry, Sinotecho constantly improve ourselves. We have built the patent chain for our machines and applied for patent protection. We have the professional advantages to meet our customers ' demand, and we have been always upgrading our machines.
Advantages:
- Quickly to setup the rules to produce different sizes of boxes;
- Easy to learn, easy to use, easy to maintain ;
- Suitable for small batch production with various types of boxes;
- Compatible with greyboard paper and corrugated paper.
Features:
1. Modular design - According to the production process, the pieces can come together as different production line.
2. Upgrade the present production line - Help our customer to upgrade their present production line to save investment with high returns.
3. High position accuracy - We have almost 10 years of experience of research and development about CCD monitoring system. (position accuracy ±0.1mm)
4. Flexible configuration- Greyboard assembling/Corner pasting, gluing with roller/gluing with silk screening , flexible configuration to meet the customized demand.
Technical Parameter: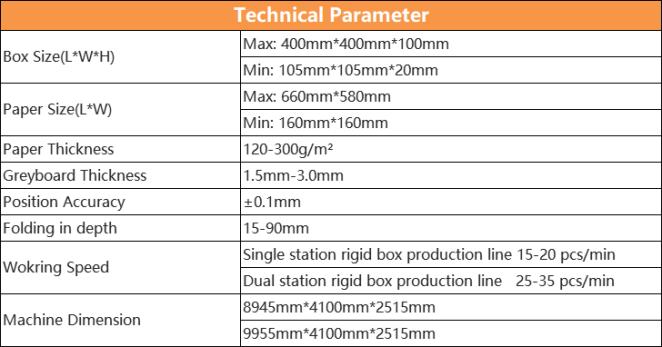 Production processes: