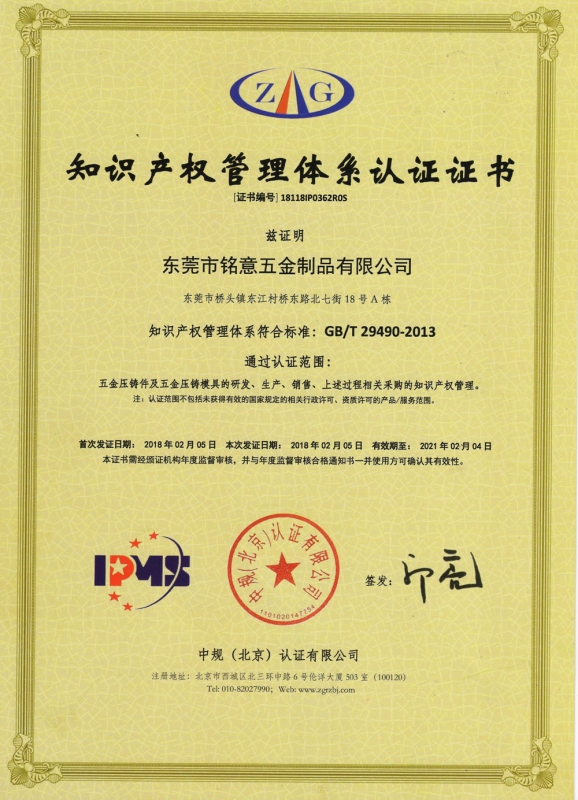 Membership

Free member

Registration Date

2019.05.21

Country/Region

China

City

Dongguan

Contact

Zard(Mr.)
Dongguan Mingyi Hardware Products Co., Ltd. is a wholly-owned enterprise that
professionally design and produce Magnesium, Aluminum and Zinc alloy die casting. Provide the service from design development of mould to molding of Casting
products and then processing. The products are mainly used on 3C industrylighting
decorationelectrical appliancesauto partsfurniture partselectric toolmedical
equipment and so on. It is exported to EuropeAmerica and Southeast Asia. The company was founded in 2010, has many years experience about development
and manufacture management. It has more than two dozen patented technologies
(including two invention patents) and was recognized as a national high-tech
enterprise in December 2017. We have obtained ISO9001:2015 Certificate in May 7th
2012. It has faith: customer-oriented, improving service and reducing the cost
continually by the means of technology and management innovation. Regardless of
the size of customers, the company will continue to provide customers with accurate
and perfect die casting process solutions, but also to undertake OEM, ODM
cooperation. Our company's production workshop consists of mould department, die-casting
department, processing department, CNC department, paint department, etc. It has 12
professional die design engineers, senior mould making technicians, die-casting
regulators, and CNC programmers. There are 8 students with bachelor degree or
above and 10 students with junior college degree. The quantity of production workers
can be reach to two hundred.
Buying Categories
- Auto Engine >> Automobiles & Motorcycles
- Electric Motorcycles >> Automobiles & Motorcycles
- Other Auto Parts >> Automobiles & Motorcycles
- Motor Parts >> General Industrial Equipment
- Other Hardware >> Hardware
Selling Categories
- Automobiles & Motorcycles >> Auto Engine
- Automobiles & Motorcycles >> Other Motorcycle Accessories
- Automobiles & Motorcycles >> Other Auto Parts
- General Industrial Equipment >> Motor Parts
- Hardware >> Other Hardware