Multi-Jet Digital Water Meter
Multi-Jet Wet Dial is one of the most common water meter types used in many different countries, including Korea. Our products are approved by KTC (Korea Testing Certification) and are proven as an effective and precise meter reading system.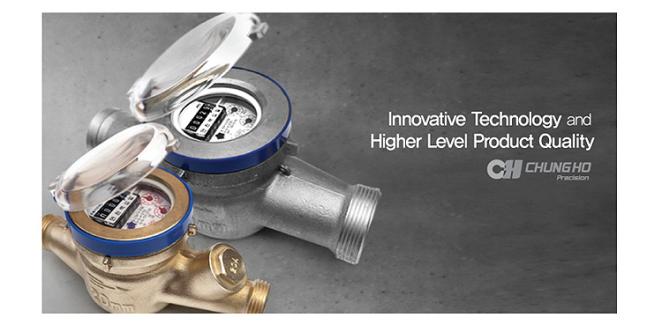 • It works well if it is installed somewhere in an area with low water pressure and good flow rate.
• The number of indicator points is arranged in a row, and you can always see the indicator clearly.
• All products use light, durable engineering plastics, so they do not change the machine's performance for a long time.
• The lid can be rotated 360 degrees, so there is no distinction between left and right, and installation and meter reading are required.
Type
Workable
Flow Range
(m3/h)
Minimum Flow
(Q 1)±5%
(m3/h)
Transitional Flow rate
(Q 2)±2%
(m3/h)
Maximum Flow
(Q 3) ±2%
(m3/h)
Indicated Amount
Minimum(L)
Maximum(L)
MW-15
(100 multiple)
0.016~0.8
0.016
0.0256
1.6
0.05
9.999
MW-20
(100 multiple)
0.025~1.25
0.025
0.04
2.5
0.05
99.999
MW-25
(100 multiple)
0.040~2.0
0.04
0.064
4.0
0.05
99.999
MW-32
(100 multiple)
0.063~3.0
0.063
0.1008
6.3
0.05
99.999
MW-40
(100 multiple)
0.1~-0.5
0.1
0.16
10.0
0.05
99.999
MW-50
(100 multiple)
0.16~8.0
0.16
0.256
16.0
0.5
999.999
| | | | | | | |
| --- | --- | --- | --- | --- | --- | --- |
| Meter Size | Meter Size | Lenght(L) | Height(H) | width(W) | Screw type | Weight(kg) |
| MW-15 | 15 | 165 | 100 | 95 | PF 3/4" | 1.1 |
| MW-20 | 20 | 190 | 109 | 100 | PF 1" | 1.7 |
| MW-25 | 25 | 225 | 114 | 100 | PF 1 1/4" | 2.0 |
| MW-32 | 32 | 230 | 116 | 100 | PF 1 1/2" | 2.3 |
| MW-40 | 40 | 245 | 130 | 117 | PF 2 | 3.0 |
| MW-50 | 50 | 305 | 155 | 138 | PF 2 1/2" | 5.1 |
Multi-Jet Wet Dial Prodcts
• Material : Brass, Stainless
• MW-Type : 15(13), 20, 25, 32, 40, 50
• MColor of Band & Cover lid can be customized