Linear Programmable DC Power Supply (OPM Series)
Linear Type Programmable DC Power Supply / High Precision, High Responsibility, High Efficiency / Dual Channels(Standard) & Multi-Channels up to 255CH
OPM Series is high precision, high accuracy programmable DC power supply with RS-232C & GPIB(IEEE-488.2, option) interface based on SCPI(Standard Commands for Programmable instrument) protocol.
In addition, It is designed to be equipped in 3U x Half of 19inch wide rack.
90~300W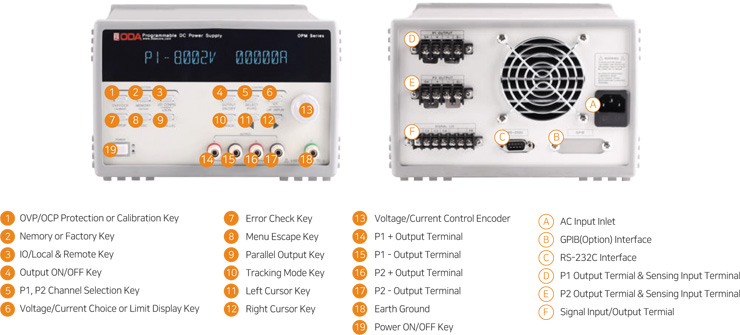 300W~600W

Product Dimension Guide
| | | | |
| --- | --- | --- | --- |
| ~300W | 213mm(W) x 132mm(H) x 370mm(D), 3U | 1.2kW~2.5kW | 426mm(W) x 265mm(H) x 650mm(D), 6U |
| 300W~600W | 300mm(W) x 150mm(H) x 465mm(D) | 2.5kW~3kW | 426mm(W) x 356mm(H) x 650mm(D), 8U |
| 600W~1.2kW | 426mm(W) x 177mm(H) x 505mm(D), 4U | 3kW ~ | Rack Mount 600m(W) x 800~200mm(D) x 900mm(D) |
TRACKING MODE
User can control two channels at the smae time by Tracking Mode function.
It enables two channels to be linked together by pressing one button and enable users set output voltage or current at the same time.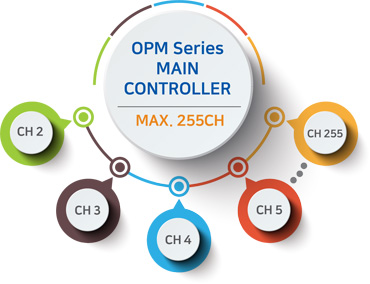 STORE / RECALL
Do you want to configure many channels with precise device?
OPM Series is designed to easily configure multi-channel outputs when it is develped. Conventional methods of simply connecting a single product in parallel and controlling it through a Windowsapplication have been costly and constructing redundant controllers, displays, and communication interfaces etc. But, OPM Series has solved these problems, built a reasonable and efficient production line and inspection line through its high-precision multi-channels.
Standard Features
5-Digit Display Resolution
16x1 Big-Character Type LCD Display
Adjustment Encoder For Voltage and Current setting
CV/CC Mode
Remote Voltage-Sensing(Voltage drop compensation)
OVP, OCP Protection Mode
Output ON/OFF Function
Panel Lock Function
Memory Save and Recall Up to 10 operation states
Save and Check up to 10 error messages
Self-Diagnosis Test Mode
Calibration Function(Manual and PC)
Factory Mode(Last state, Calibration back-up etc)
Half of 19inch wide x 3U Size(Under 300W)
RS-232C Communication(GPIB is optional)
Single Phase, AC Input 220VAC ±10%
Option
GPIB communication
GPIB cable
RS-232C cable
Output ON/OFF signal control
AC Power Cord(Other type)
AC Input 110V ± 10%, 230V± 10%, 50~60Hz
Rack Mount Support(Bracket and Shelf)
Accessories
AC Power Cord(Type F)
Operating Manual(QR Code)
Demo software program(QR Code)
Banana to Alligator DC Output Cables(+,-)
Line-Up and Specification