Multifunction OB Truck Optical Transceiver
1. Introduction
CSAV OB Truck Optical Transceiver integrated multifunction in one, which can transmit bidirectional 4 channels 3G-SDI with bit rate 2970Mbps and downward compatible with HDSDI/SDSDI with bit rate 270, 1485Mbps, bidirectional 4 channels high quality analog audio with hi-fi, 2 channels independent 1000M IP, bidirectional 8 channels TALLY, 2 channels RS422 data, unidirectional 1 channel Black & Burst simultaneously. With LEMO fiber interface, the local equipment can power the remote one, it can realize signal transmission for several hundred meters. The equipment is module-based structure, has stable performance, and meet the standard of CE certificate。
2. Rear Panel: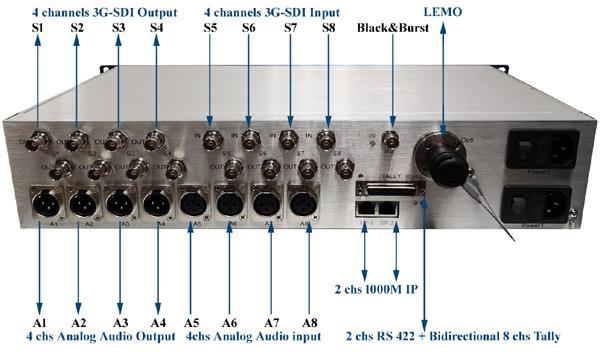 Local Equipment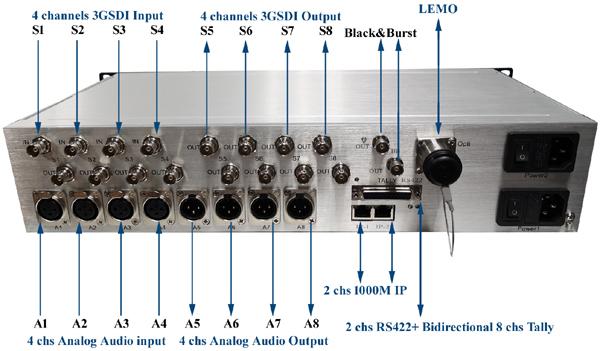 Remote Equipment
3.

Features

l

Conform to the standard of SMPTE259M

,

SMPTE297M

,

SMPTE310, SMPTE305

(

SDTI

)、

SMPTE344

l

Conform to the standard to interface standard of DVB-ASI

(

EN50083-9

)

l

Self-adapt to SDI 270,1483.5,1485,2970Mbps, with cable balance at input

,

it can make up the loss of cable transmission

l

SDI transmission has the circuit which can reduce signal jitter, it can deal with distorted signal well

l

1000M IP transmission supports the protocol of IEEE 802.3, IEEE 802.3U, IEEE 802.3X, IEEE 802.1d

l

Support self-adapting to network signal of

10Mbps/100Mbps/1000Mbps

l

The Max. bit rate of serial port RS422 is up to more than

1Mbit/S

l

Bidirectional 4 channels analog audio transmission realized high fidelity, high SNR, large dynamic output

l

LCD on both Equipment to show the equipment's working status

l

SDI supports the standard of SMPTE178

,

Passed the test of SDI pathology

l

With LED indicator for input/output signal, optical signal, and dual power supply on front panel

l

Adopted CWDM for different wavelength optical transmission method and TDM electro transmission method to realize multi-channels signal transmission
4. Working principle
The equipment adopted TDM and CWDM together to transmit bidirectional 4 channels 3G-SDI (or 1 channel 4K), bidirectional 4 channels analogy audio, 2 channels 1000M IP, bidirectional 8 channels Tally, 2 channels data, Unidirectional 1 channel Black and Burst.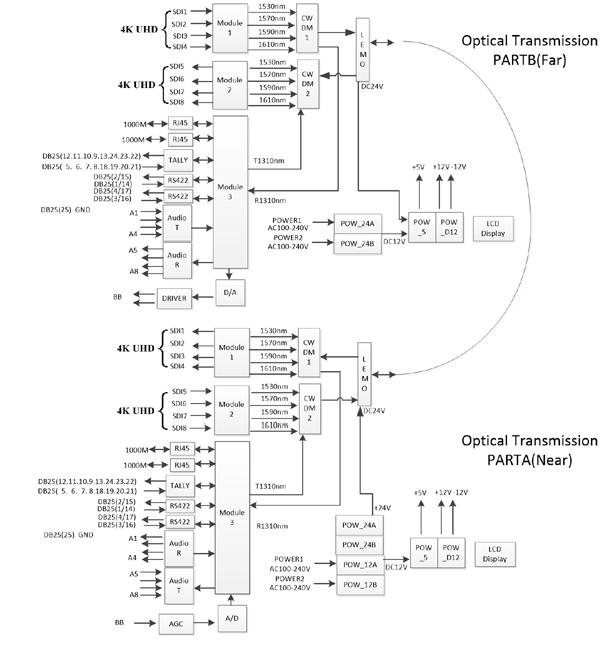 Notice: we also can add Clear-com interface according to customer's requirement.