HTL-KN95 mask machine is a fully automatic high speedKN95 mask production line newly developed by Jiangsu Haiteer Machinery Co., Ltd., including automatic raw material delivery, automatic conveying, cutting nose bridge, welding forming, nose bridge filling, ear strap welding, folding, cutting Recycling and other full-process automation, complete the entire production process from coil raw materials to finished masks.
Equipment features:1. The whole equipment is fully automated.2. The whole machine adopts aluminum alloy structure, which is beautiful and firm without rust.3. Computer PLC programming control, servo drive, high degree of automation.4. Automatic tension control of raw materials to ensure the balance of raw material tension.5. Photoelectric (optical fiber) testing materials to avoid mistakes and reduce waste.6. Adopt multiple sets of pneumatic components to achieve precise control.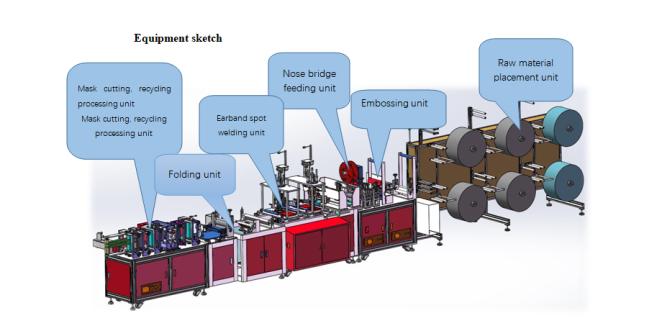 1. Equipment size:10050mm(L)×1500mm(W)×2200mm(H)
2. Appearance color: International standard warm gray 1C (DB standard color), according to this standard when no special instructions
3. Equipment weight:≤2800kg,
Ground bearing≤300KG/m2;
4. Working power: Equipment380VAC±5﹪,50HZ, Rated power 9KW;
5. Compressed air:0.5~0.7 MPa, Use flow is about20000L/min;
6. Use environment: Temperature 10~35℃、Humidity 5-35%HR, No flammable, corrosive gas, no dust(Cleanliness not less than 100,000)
7. Productivity: 25-70PCS/MIN;
8. Equipment production pass rate:99%(When the incoming materials do not meet the requirements and the employees do not operate properly)
9. Equipment failure rate:2%(Refers to the fault generated by the device itself)
Introduction of raw material selection:
KN95 is a six-layer fabric structure, the outer layer is skin-friendly non-woven fabric, built-in PP cotton and double-layer electrostatic adsorption melt-blown filter element, to filter particles with aerodynamic diameter of 0.24 ± 0.6μm (physical diameter 0.075µm ± 0.020µm) The efficiency reaches more than 95%.
After production, it shall be sterilized by ethylene oxide and allowed to stand for 7 days for volatilization toxicity. After being sealed and packed, it shall be shipped out in a box.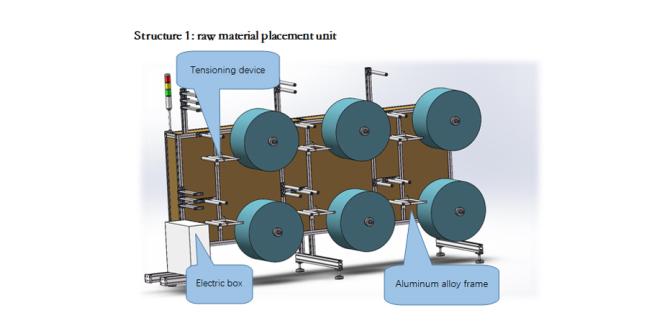 This module is a raw material placement unit. N95 masks are generally composed of 3-6 layers of fabric (see the mask picture above for details). As you can see, this mask machine can make up to 6 layers of masks. When you need to make a few layers of masks, just put a few rolls of fabric on the rack and leave the rest empty.
It mainly realizes the automatic feeding of the fabric, the integration of multi-layer fabric folding and the layered folding, and the fabric is compressed after being folded.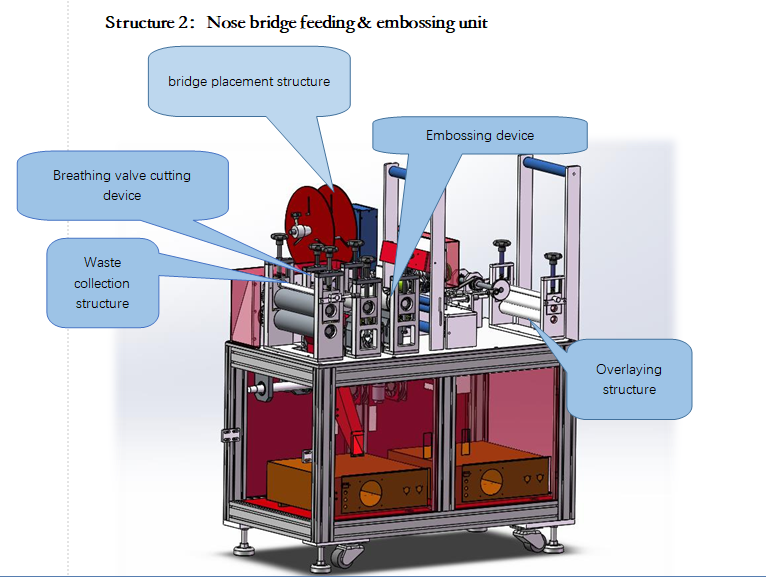 The module mainly includes a fabric stacking structure, a nose bridge line placement structure, a breathing valve cutting structure and waste collection.
The main purpose is to put the nose bridge line into the fabric of the mask after cutting, and obtain the surface contour through the embossing device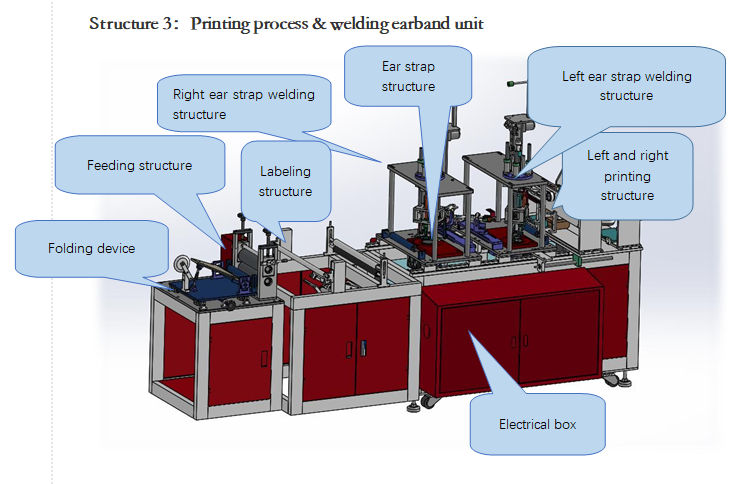 The module mainly includes left and right pad printing structure, ear strap cutting structure, labeling structure, feeding structure and folding device.
Mainly realize the functions of text printing on the surface of the mask, fixed-point shear welding of the earband, labeling and folding the mask in half.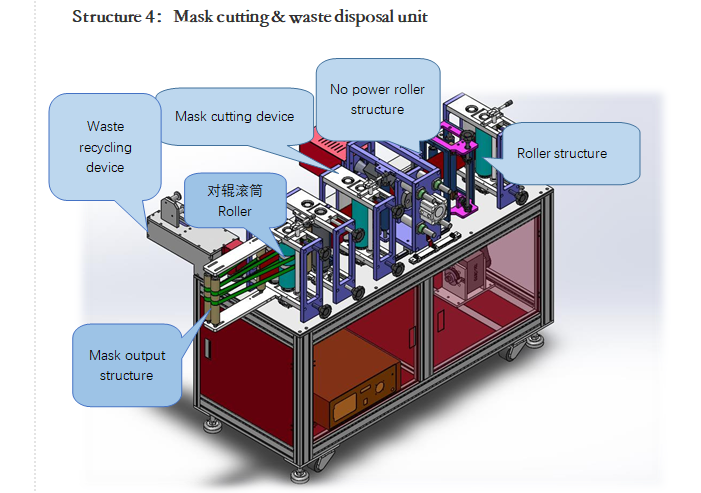 Located in Dongtai, our company is a professional manufacturer of automatic packaging machinery and machinery for producing foodstuff, candies and egg rolls. We have strong power in technology and are equipped with advanced instrument. We also have accomplished personnel specializing in developing, designing, manufacturing and sale. Our factory has got the ISO9000 certificate. We continue to enhance the quality and management levels, and have fruitful incomings by technology innovation. Our company's products have been issued many patents. In the business of its kind, we have won the titles of "China Most Preferred Packaging Machinery Product", "Customers' Most Preferred Product" and "Qualified Product of China Selective Quality". Our main products sell well and are famous in domestic and overseas markets.
The business principal of our factory is "Customer First and Faith Foremost" and what we pursue is "To meet the requirement of customers and do better for them". Businessmen from home and abroad are welcomed to our factory for business talks and work hand in hand for the prosperous future.