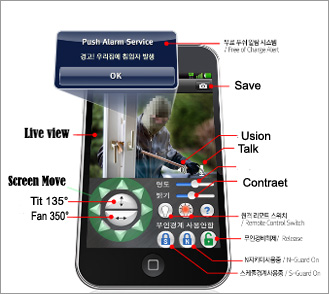 -The video is compressed by MJPEG. There are VGA/QVGA/QQVGA three video resolutions optional. User can change some parameters according to their demands to satisfy his own visual prefer.
- With built-in Microphone, and also providing a interface for external mic,it enables user to monitor the sound on the site. User can also connect this equipment to the speaker, and it supports two-way intercom function.
-it was equipped with pan/tilt function, horizontally 350°and vertically 100°. Its outlook is smart, easy and convenient to install in many sites.
-It adopts the TCP/IP network protocols and has inner web server. Users can browse video through IE and other browsers. Data is transferred through one port; it is easy for user to do the network setting.
-Support 802.11b/g/n protocol, can build up wireless monitoring.
-Supports UPNP, port forwarding automatically on the router.
-Motion detection and alarm pin can be connected to external sensors to detect environmental situation.
-Alarming record can be stored by email, FTP server. External alarm can be open when detecting unusuality.
-It also sends alarm info to the alarm server.
-Infrared LED for night vision covers 5m area, to realize 24 hours monitoring.
-Support IR and color filter change automatically, no any color difference.
-Support mobile phone to view
-Support three level of user authority.
-Support upgrading online.
-Manufacture attached a label at the bottom of each IP Camera, it include Device ID, DDNS. When IP Camera is connected to the internet, this URL can be used to visit the device.
-Manufacture provides free software, support Multi-view, Long time recording, video replay etc.
Features Smart & Intelligent
10/100Mbps Network Ethernet (automatic speed detection)
Build-in Linux OS, Build-in Web-server
High Performance in 24-7 with 'Embedded-CPU
Motion Status Display with 2 Illumination LEDs
Real-time P2P (Peer-to-peer) Streaming
High Resolution of Images and Videos without Noises
Highly Compressible files
Security & Safety
Thermo-Sensor, Door Sensor, Infrared Sensor, etc
Free Remote-security Security Service Solution
'Instant-Notification' to 7 Accounts
350° Cam Control without Blind Spot (horizontal & vertical)
FTP / E-mail File Transmission
10-Phase Image Motion Detection Sensor
Remote 'Voice-out' via Exterior Speakers
Super Performance
Freely Accessible Camera in Both Domestic and Foreign
Auto-patrol Feature
Pan/Tilt without Noises
CMOS High-Tech Image Processor
2-Way Audio Monitoring
Build-in Microphone (exterior mic. supported)
Stable AU2571 Wireless Processor
iPhone/iPod Compatible
Sensor Input, Output Relay Interface
Stable Temperature Maintenance with 'Processor Heat-Sync'
Surveillanc
Remote Video Monitoring in Real-time
Auto-adjustable Light Sensitivity (Day/Nighttime)
Horizontal Rotational Angle—PAN 350° / Vertical Rotational Angle—TILT 135°
Max 100-yard Range of Visibility
Monitor Full-size Digital Zoom Feature
Nighttime Surveillance with 8 HI-POWER IR-LED and 1 Sensor
OSD and Time & Date Display (Recording)
Simple & Easy
User-friendly Interface
Snapshot, Video/Audio Recording and Voice Out
Free 'Multi-control Program'----view and control 16 displays simultaneously.
Supporting Multilanguage Firmware
Compatible with Internet Explorer, Google Chrome , Mozilla Firefox, etc
Recipient Account Manager
A Multiple Accounts with Different Authorities (Admin / Operator / Visitor Accounts)
Save Energy & Save Money
Best Quality with Better Price Guaranteed.
No Monthly Bills. Very Economical Security System.
Low Power Consumption (10W)—100 times less than a PC
No Blind Spot Security with 1 Camera onlyConvenient Remote-monitoring and Auto-guard System
EK Certified Power Adaptor
Service- Free NETCURY DDNS (Other DDNS compatible)
Remote-Tech-Assistance Service
3 CCTV Warning Stickers Included
3 Wall-mounts Included (installable to wall and ceiling)
Easy-Install Tutorial Videos with Manuals
And Many Other 'Additional Services' Available on the Web!
Others
NETCURY IP Camera is…
Trustworthy! Perfect Security without Human Labor!
No monthly fees!
Various security methods!
User-friendly Configuration!
Freely accessible security logs!
Share videos with a multiple accounts in real-time!
Compatible with Infrared Sensor, Door Sensor, and many others!
Instant Notifications to All Registered Accounts!
Phone Call & Voice Notification
Mobile Voice Call Notification
Mobile Text Notification
Fax Message Notification
Saving images via E-mail
E-mail Notification
Instant-notification to 7 Different Places
Saving Images to FTP, Image Server
DVR Record & Saving