Product Description
Product No. XFJ14 Nano Silver Powder
Purity: >99.9% Partical Size: 60-80nm SSA: ≥3m2/g Tap Density: ≥2.5 g/cm3
Product No. XFJ45 Nano Silver Powder
Purity: >99.9% Partical Size: ~5um SSA: 0.80-1.45m2/g Tap Density: 2.45-3.55g/cm3
Product No. XFJ10 Nano Copper Powder
Diameter: 150-200nm
Applications
Nano Silver Powder can be used in:
Chemical catalysis, electronic energy, printing, electronics and biological fields etc.Keep dry at room temperature. Expiry date: 6 months before unsealing.
Nano Copper Powder can be used in:
Conductive paste: The use of nano-copper instead of precious metal powders to prepare electronic pastes with superior performance can greatly reduce costs. Conductive pastes are widely used to make conductive adhesives, conductive tapes and conductive adhesives in industry.
Lubricant Additives: Nano-copper directly acts on the metal surface of the machine parts to repair the worn surface of the metal. After the metal part releases heat due to friction, the product can be attached to the metal surface with its nano-characteristics so that the rough surface of the metal becomes smooth, and the protective film formed on the metal surface is stronger and smoother, thereby prolonging the life of metal machine part.
Enhanced heat transfer: Nano-copper is added to the heat-conducting liquid and can be made into nano-fluid to greatly increase the thermal conductivity of the fluid.
High-efficiency catalysts: Copper and its alloy nanopowders are used as catalysts with high efficiency and selectivity, and can be used as catalysts in the reaction processes of carbon dioxide and hydrogen synthesis methanol.
Company Information
Jiangsu XFNANO Materials Tech Co.,Ltd ( XFNANO) was founded in 2009, which is the earliest graphene enterprise in the world, mainly focusing on the R&D and manufacture of graphene, graphite, fullerene, carbon nanotubes, molecular sieves,etc. The production capacity of graphene powder is 50 ton yearly and graphene dispersion is 1000 ton yearly.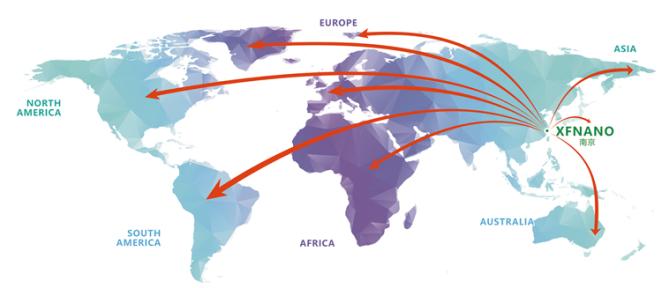 We export to all over the world and accumulated over 20,000 customers.
Certifications
We owned many patents and passed ISO9001 certification also certified by SGS. We have successfully registered Trademark "XFNANO" in US Patent and Trademark Office.