We present "great satisfaction" to customers with our innovative technologies differentiated with the previous products.
Non-skid coating material for iron(HM-ROAD S200)
In general market of non-skid coating products in the industries, the items previously depended on importing(Japan and USA) but now it is replaced with our products, supplying to POSCO, Lotte Construction, Hyundai Construction and CJ Construction.
Differentiating from the products to the conventional roads(ascon, concrete), it is a new technology product and an engineering method specializing in iron products.
Application
Section to pass automobiles with higher loads(higher than 150t)
Special vessels and heavy industrial fields such as cover plate, pontoon, Lo/Lo vessel and barge
Characteristics of the Product
Available for applying to various colors with equal thickness and beautiful appearance
With higher elongation MMA Resin, there is no falling or crack phenomenon and excellent mechanic strength provides resistance to higher loads and external impacts.
Reactive structure is 3D mesh(network) structure with excellent durability and adhesive capacities.
Excellent adhesiveness on iron(twice higher than the conventional products) : More than 3.2M.mm2
No noise due to friction when driving and parking
With quick hardening, excellent construction : *Wonderful construction : Available in working in the circumstance at lower than 0°C(in four seasons) and at night(with 50 minutes after applying the product, available to pass automobile)
Environmental Mark Certified : zero V.O.C. ad zero V.A.C), heavy metal free product
Compared to general products such as ascon and concrete, it can reduce load on the structure by 10% and it is available for construction without joining for easy maintenance and part repair.
Price competitiveness in 60% of M's product in Japan and I's product in USA for iron
Field Quality Test Certificates by PPS, Lotte Construction and DMEC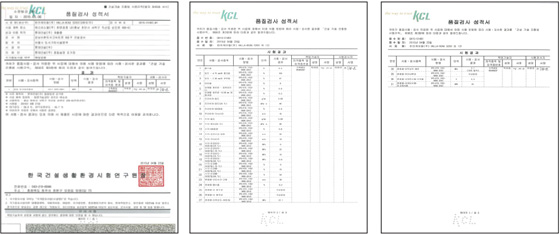 Field Application in Pontoon, Lo/Lo Vessel and Barge

Field Application in Cover Plate(for repair)

Field Application in automobiles with higher loads(higher than 150t)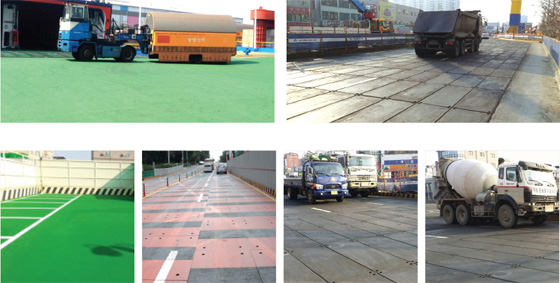 Around Lotte World Mall, POSCO Pyeongtaek Base's Ponton, Cover Plate in Gangnam CityCircular Highway and Rooftop Iron Plate Parking Lot, etc.