1. Product Description
Product Name
OEM Customized Investment Precision Casting Impeller for Pump Parts
Processed by
Silica Sol Investment Casting
Process Selection
Investment Casting
Lost Wax Casting
Precision Forging
Machining
Sand Casting
Die Casting
Metal Injection Molding
Stamping
Machining Selection
CNC machining / lathing / milling / drilling / turning /grinding / shaping / boring
Heat Treatment Selection
Normalizing / Annealing / Quenching / Tempering / Solid Solution / Quenching+Tempering / Precipitation Hardening / Nitriding / Carburizing / Carbonitriding
Surface Finish Selection
Pickling, Passivation, Shot Blasting, Sand Blasting, Grinding, Plating, E-polishing, Mirror Polishing, Dull Polishing, Zinc-plating, Black Oxide, Anodizing Powder Coating, Spray-paint, Cataphoretic, Electrodeposition, Chromeplate, Nickel plating, Teflon Coating
Material Selection
Carbon Steel, Low Alloy Steel, Stainless Steel, Duplex Stainless Steel, Heat-resistant Steel , Tool Steel, Copper Alloy, Aluminium Alloy, Nickel-base Alloy, Cobalt-base Alloy
Material Standard
Including but not limited to:
AISI,ATSM,UNI,BS,DIN,JIS,GB
for more metal selection, please contact us for the Metal Selection List
Tolerance Standard
VDG P690 D2
Please contact us for our General Casting Tolerance Standard
2. What we do

We produce customized metal products according to your drawings or samples!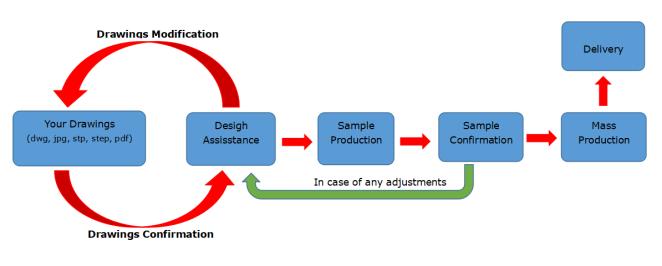 3. Overview of Factory

▪ Established in 2004, plant area covers more than square meters, with about 210 employees.

▪ Using advanced lost wax investment casting process, equipped with several modern types of energy-saving & environmentally-friendly production lines, including automatic or semi-automatic production lines of key processes: wax making, shell making, pouring, heat treatment.

▪ Annual supply capacity is 1500 tons.

▪ Equipped with complete advanced over 50 sets CNC and machining equipments.

▪ The machining facility is fully independent from the casting foundry and has an independent management team and tailored business model to suit. In addition to the casting, forging and machining, it also has the facility to machine various profiles.



4. Our Mission

Create the More Value for Customers,Contribute for Equipment Manufacturing in the World.


5. Our core values

Both virtue and ability
Efforts to struggle
Advance Bravely and never withdraw
Duteous for good results
In the same boat
6. Manufacturing Process

Process design ⇒ Tooling making ⇒ Wax injection ⇒Wax pattern assembly ⇒ Shell making ⇒ Dewax ⇒ Roasting shell ⇒ Pouring ⇒ Shot blasting ⇒ Cutting ⇒ Gate Removing ⇒ Heat treatment ⇒ Repairing Reshaping ⇒ surface inspection ⇒ Dimension inspection ⇒ Machining ⇒ Final inspection ⇒ Packing & transport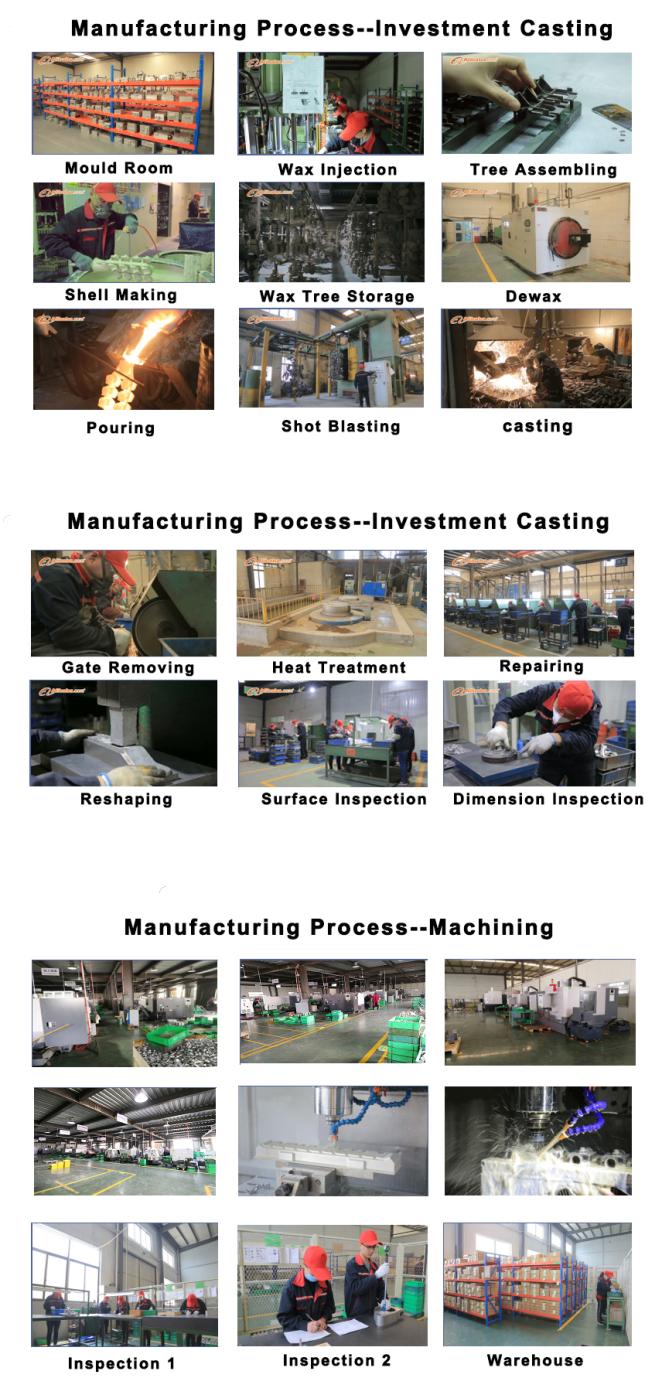 7. Key Testing equipments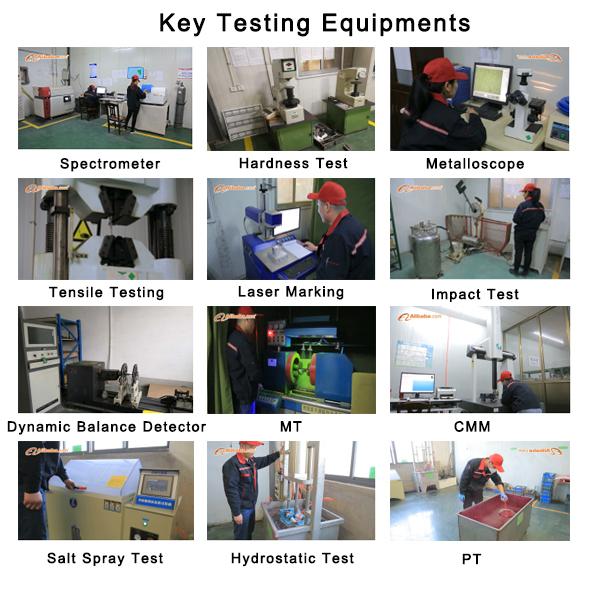 8. Competition advantages

▪ Monthly production capacity is 120 tons,and the annual production capacity is 1500 tons, staff 210.

▪ Over 14,000 types produced, super technology ,expert in difficult products.

▪ Over 300 grades, including Steel Aluminum Bronze Nickel Cobalt materials, etc.

▪ One-stop service: Tooling ,Casting ,Machining ,Surface treatment , Assembling

▪ Min wall thickness 2mm/Min weight 0.001kg/Max weight 150kg/Max length 1m

▪ Inspection: Spectrometer, Hardness Tester, Metalloscope, Impact&Tensile Test, UT, RT ,PT, MT ,CMM ,Dynamic Balance Test, Salt Spray Test, Hydrostatic Test etc.

▪ Machining capacity: over 50 sets CNC and machining equipments
9. Why Us
Competitive Price


High Quality Assured
Surely we are not saying that we can offer you the lowest price, because in China, you can always find a lower price but the quality is lost.


Quality is our culture.
We plan quality from design onwords, aiming to maintain the high quality throughout the lifetime of the product.




We are seeking for a win-win business and we believe our customers would get more from a stable & developing co-operation relationship.


Production flow records can be traced from the material incoming to the delivery. 100% full inspection is undertaked for our products.




Design Assistance


Since 2004, we have been taking part in different projects, providing our suggestions on customers drawings to meet:


We have been a trustworthy supplier for customers from United States, Canada, Germany, Italy, Switzerland, Netherlands, Finland, Russia, Australia, Japan, and so on.




the satisfied structure
a reasonable price
the production capacity
a fast production leadtime
the consistant quality


With us your money in safe, your business in safe. Between customer & us, it is a relationship of partner rather than buyer-seller.
10. Package Details

11. FAQ

Q1. Are you a manufacturer or a trading company?
A1. We are a professional manufacturer with over 15 years' export experience for designing and producing metal castings.

Q2. What is your MOQ?
A2. It is according to you, usually it is 1000 units.We accept small quantity..

Q3. What is the delivery time for the sample?
A3. It is according to the sample, usually it is 25 to 35 days.

Q4. What is the thinnest wall thickness you can cast?
A4. By special technology,like ceramic core/soluble wax,we can cast the wall thickness at 0.5-0.8mm.

Q5. What is the range of the weight you have casted?
A5. The weight we can cast from 0.001kg to unlimited.

......More questions welcome to contact with us.
12. Contact Information