OIRAN Face Lotion / Facial Soap / Hand Cream
Cosmetics made in Japan
Oiran package that reminds you of Japan
Cosmetic products that pursue oiran not only in packaging but also in functionality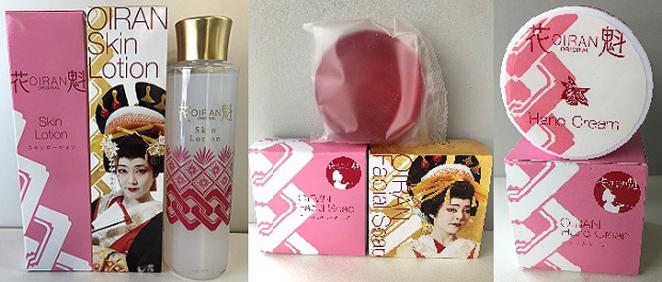 Oiran Skin Lotion [Face Lotion] 170ml

• Moisturizing + ancient anti-aging beauty water containing traditional Japanese beauty ingredients "Silk liquid (silk essence)" and "Sake lees".
• Prevents dry skin with fresh moisture.
• As the name "beauty water" suggests, the beauty essence melts into the skin from the moment you touch it, and you can feel the transparency and firmness.
• Wrapped in the fresh fragrance extracted from the orange flower, not only the fragrance but also the antioxidant effect of the orange leads to the skin without dullness.

Oiran Facial Soap [Clear Facial Soap] 80g
• This is a clear facial wash with soft foam that removes dirt from your skin and keeps it fresh after washing your face.
• Use it to wash your face in the morning, evening, or when taking a bath.
• Lightly whip it in the palm of your hand and wash it as if wrapping your face then wash it.
• High detergency but no tightness. It moisturizes after washing.

Oiran Hand Cream 50g
• Using a special manufacturing method, the cream spreads extremely thinly, and while covering, it becomes smooth.
• Permeable, forgetting to wear
• Contains ingredients that suppress the effect of ultraviolet rays and also suppress hand sweat at the same time.
• Perfumery / It starts with a citrus orange scent, which changes over time to a faint cacao scent.