ONCE Machinery - Professional Manufacturer in Producing and Designing Printing Machines
Comprehensive printing solutions can be provided by ONCE Machinery Manufacturing Co, Ltd.
Typical Features of Two Color Automatic Cosmetic Tube Screen Printing Machine OS-230
The OS-230 is 2 color automatic UV screen printer that is suitble for screen printing on flexible or rigid plastic tubes, plastic jars and lids (banding), medical vials & syringes and other cylinders up to 30mm in diameter.

The OS-230 UV cured screen printing machine offers increased productivity over any semi-automatic solutions and this system holds unrivalled value for the money.

The OS-230 is driven by a 15 station vertically mounted rotary indexing table that is equipped with a high-end European MOTOVARIO brand (Italian) main drive motor.

The OS-230 automatic screen printer is also equipped with intelligent UV curing unit which produces high intensity (3KW) curing power utilizing a mercury UV bulb.
The OS-230 is equipped with infeed belt for automatic feeding of parts onto the mandrels with a mechanical pusher-arm and the system also includes:

1) SIMCO de-ionizing station ensure the products without dust before screen print

2) Flame pre-treatment station

3) Keyence brand optical re-registration system and magnetic motor for alignment of multi-passes with precise color to color alignment

4) Mechanical indexed screen print station

5) Intelligent UV curing system and LED UV system available to install on

6) Automatic eject station onto an outfeed conveyor
Optional configuration (According to customers' requirements):
a) Automatic feeder (can save manpower and realize fully automatic production)
b) Servo & Cursor Positioning System (can achieve precise color register for offset printing and hot stamping)
C) Mechanical positioning device (can realize multi-color overprinting)
D) Transformation function between screen printing and hot stamping
Main Specifications of Two Color Automatic Cosmetic Tube Screen Printing Machine OS-230
| | |
| --- | --- |
| Model NO.: | OS-230 |
| Print product size (DiameterxLength): | Ø8mm-Ø28mm, L: 20mm-230mm |
| Max. print area: | 236x170mm |
| Max. printing speed: | 60-80 pcs/min |
| Registration tolerance: | +/- 0.2 |
| Drive: | Mechanical driven |
| Control system: | OMRON PLC & Touch Screen |
| Stations: | 15 stations |
| Deionizing device: | 1 unit |
| Flame treating system: | 1 unit |
| Print head: | 1 unit |
| UV system: | 1 unit intelligent UV system |
| UV lamp power: | 3.6 KW |
| Motor: | ITALY SITI |
| Pneumatic parts: | Japan SMC |
| Photoelectric Sensor: | Japan Keyence |
| Frequency Converter: | Japan OMRON |
| Indexer | Japan SANKYO |
| Electrical Supply: | 380V/480V 3phase 50Hz/60Hz |
| Air requirement: | 6-8 bar |
| Power consumption: | 4.5 KW |
| Machine Dimension (LxWxH): | 2600x11700x1900mm |
| Weight: | 1500 KG |
Notes: Specifications are subject to change without further notification, please contact with ONCE before ordering.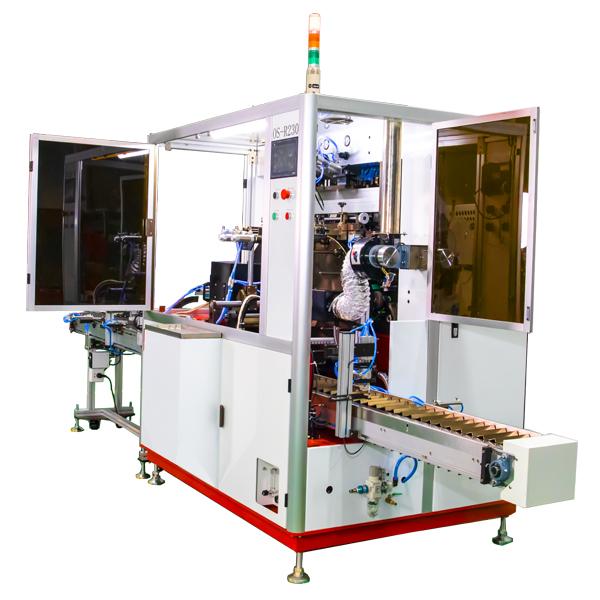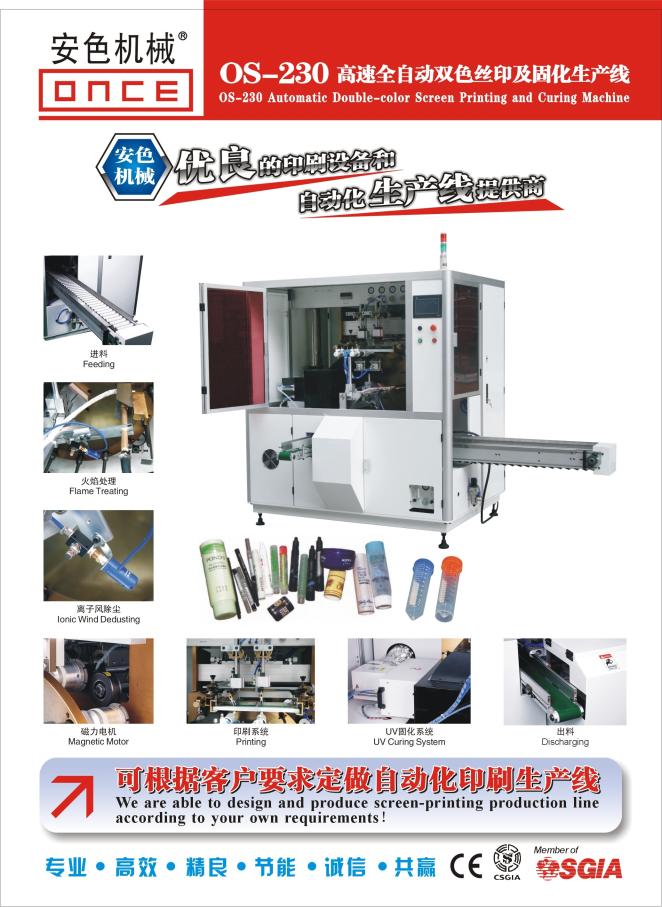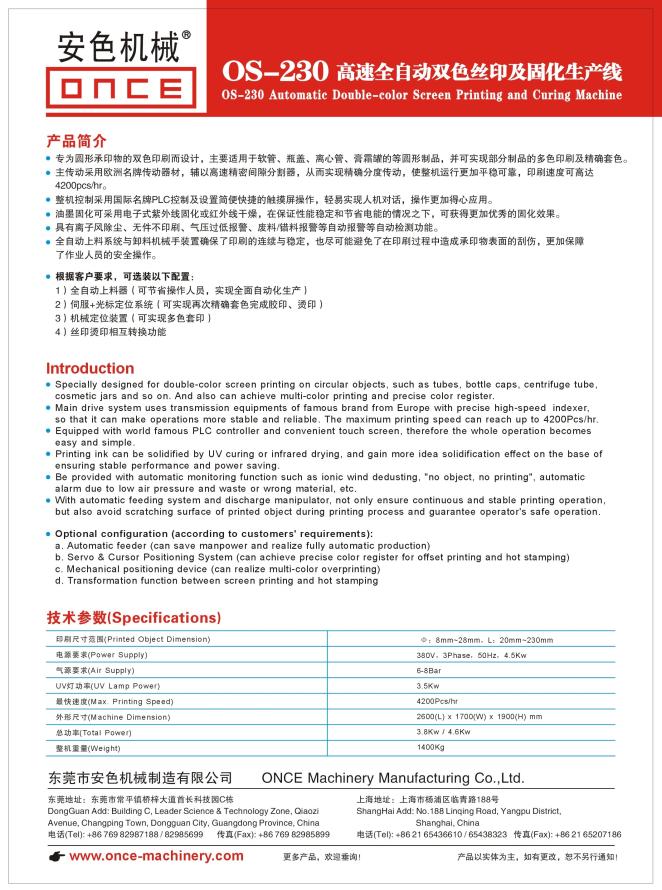 Which printing solutions are you looking for? ONCE Machinery professionally and instantly make the best offer for your choice:
Automatic Screen Printing Machine, Automatic Hot Stamping Printing Machine, Automatic Heat Transfer Printing Machine, Automatic Pad Printing Machine, Automatic Labeling Machine, Automatic Offset printing Machine, Automatic Dispensing Printing Machine...
Customized Design and Produce Screen Printing Machines
Consult more Printing Machines on http://www.oncemachinery.com/