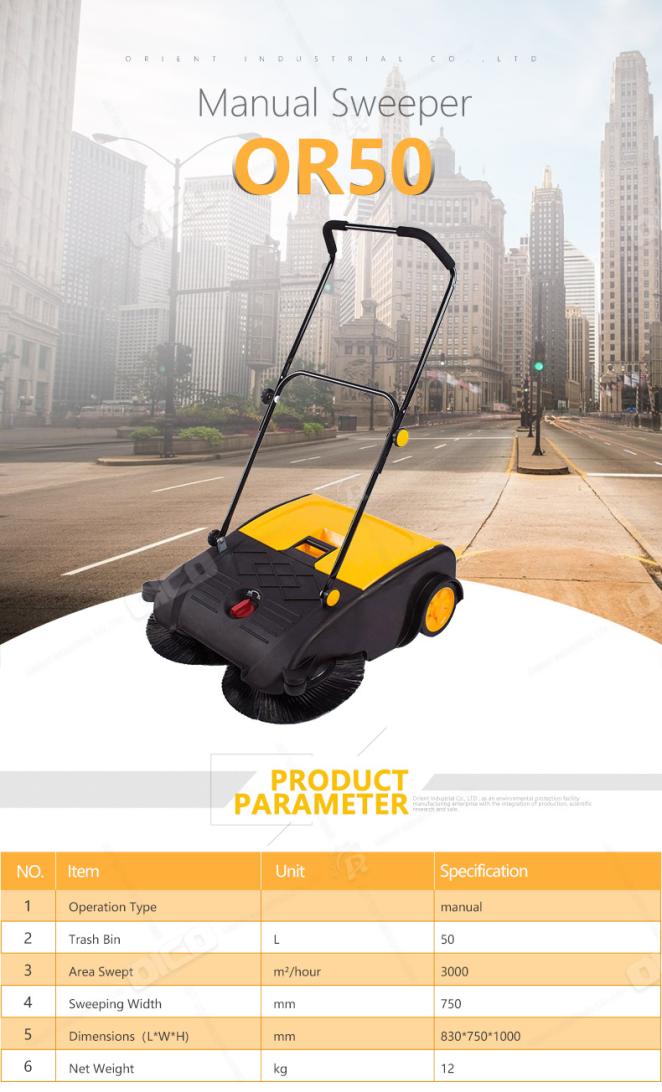 OR50 manual sweeper is with 50L garbage bin. It is a kind of unpowered cleaner and environmental protection product. The machine adopts a unique helical variable direction transmission technology design, so that the front wheel of the sweeper can automatically convert the parallel rolling force into the vertical rotating force of the brush head. When sweeping, the two side brushes cooperate with the parallel shovel close to the ground, can easily collect lump garbage into the garbage can, and the whole cleaning process is dust-free, noise-free, clean and neat. The machine is especially suitable for cleaning lump garbage, such as paper ball, peel, leaves, beverage bottles, etc. It is widely used in streets, residential areas, parks, squares, factories and so on.
Characteristics:
1. Push rod adopts adjustable folding design, which can be folded and save space. When working, it can be adjusted according to the height of the worker for easy use.
2. The use of 50L large capacity trash can, can accommodate more garbage, without repeated dumping. The handle is ergonomically designed for easy loading and unloading. Made of engineering plastics, it is corrosion-resistant, anti-aging, non-deformable and has a long service life.
3. The side brush can be adjusted to adapt to different types of garbage cleaning. When the side brush are worn, garbage can be cleaned after adjusting the gear position, which greatly prolongs the service life of the brush.
4. The wheels are made of imported rubber wheels for durability.