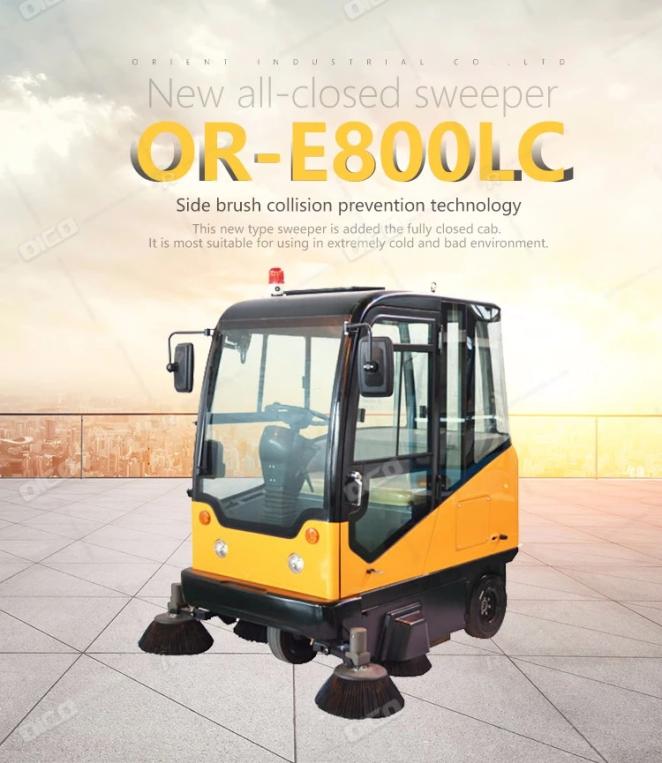 OR-E800LC All-Closed Street Sweeping Machine is featured with the enclosed cab, suitable for cold and harsh environment.
I. CHARACTERISTICS:
·Double brush, Compact and flexible, good trafficability.
·Automatic adjustment of lifting of brush handle, mechanized operation, low failure rate.
·Utilization of throwing-off principle, waste hopper capacity utilization is up to 100%.
·The street sweeping machine uses advanced high-performance maintenance-free batteries, featured by no leakage, no harmful gases and optional.
·Large dust filter screen can completely clean up the dust, the electric vibrator can automatically clean the filter screen.
·Steel chassis offers strong bearing capacity; durable tires are equipped with brake apparatuses
·Easy to disassemble all mechanical parts; easy to replace the main brush, side brush and filters.
·Optional PFC charger. Optional awning.
II. PARAMETERS:
| | | | |
| --- | --- | --- | --- |
| NO. | Item Name | Unit | OR-E800LC |
| 1 | Sweep width | mm | >1900 |
| 2 | Cleaning efficiency | m2/h | 13000 |
| 3 | Max climbing capacity | % | 25 |
| 4 | Length of main brush | mm | 800 |
| 5 | Source of power | v | 48(6pcs of 8v) |
| 6 | Continuous working hours | h | 6-8 |
| 7 | Dustbin Capacity | L | 180 |
| 8 | Diameter of side brush | mm | 500 |
| 9 | Diving power r(motor) | w | 1800 |
| 10 | Work power(motor) | w | 800+700+80*4+50 |
| 11 | Turning Radius | mm | 1200(spot turn) |
| 12 | Dimension (L/W/H) | mm | 2150*1850*2040 |
| 13 | Max working speed | km/h | 7 |
| 14 | Max running speed | km/h | 9.8 |
| 15 | Filtering area | m2 | 8 |
| 16 | N.W. | kg | 800 |