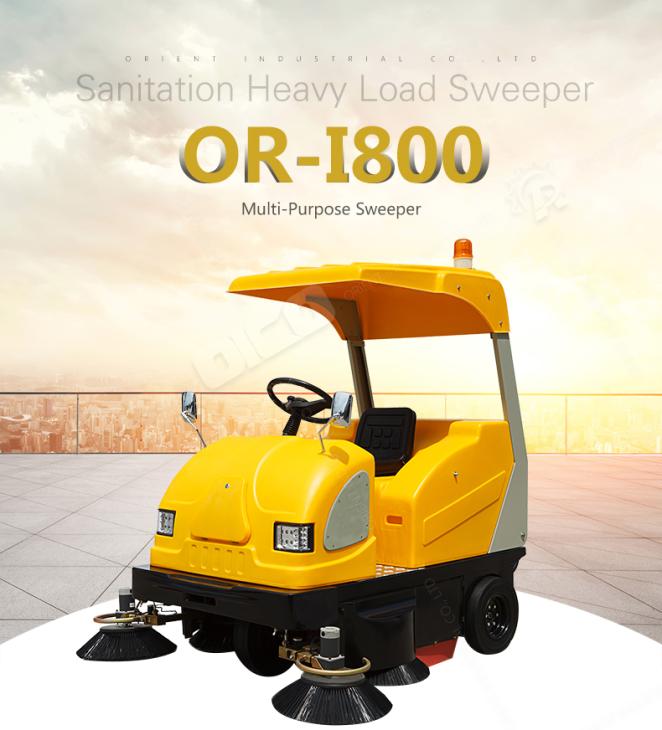 Model OR-I800 is a sweeper which combined functions of vacuum, sweeper and water spry. It is good to be used for outdoor cleaning, such as park, sanitation, cleaning company, property management company, square and university.
I. CHARACTERISTICS:
1/ Increase the chassis design, flat filter, built-in powerful dust control systems, more powerful vacuum cleaner, sweeping width up to 1750mm.
2/ The use of advanced high-performance maintenance-free batteries, no leaking, and no harmful gases.
3/ Has international advanced technology of cleaning and suction system, the theoretical utilization of dust bin is nearly 100%
4/ Reliable high-quality components reduce maintenance and repair costs.
5/ Solid tire, airport-specific, and durable.
6/High-quality electronic control system, over current, under voltage protection, more secure.
7/ Full LED headlights, high-pressure spray and dust suppression system to avoid secondary dust fly.
8/ User-friendly design, the seat can be adjusted to the most comfortable state.
9/ Optional PFC charger. Optional windshield.
II. PARAMETERS:
| | | | |
| --- | --- | --- | --- |
| No. | Item name | Unit | MN-I800 |
| 1 | Sweeping paths | mm | 1760 |
| 2 | Productivity | m2/h | 12000 |
| 3 | Max climbing capacity | % | 25 |
| 4 | Length of main brush | mm | 700 |
| 5 | Power supply | v | 36 |
| 6 | Continuous working hours | h | 6-8 |
| 7 | Dustbin Capacity | L | 150 |
| 8 | water tank capacity | L | 30 |
| 9 | Side brush Diameter | mm | 500 |
| 10 | Driving Power(Motor) | w | 1200 |
| 11 | Working Power(Motor) | w | 700+400+4*100+50mm |
| 12 | Turning Radius | mm | 1100 (spot turn) |
| 13 | Dimension (L/W/H) | mm | 2110*1760*2050 |
| 14 | Max working speed | km/h | 7 |
| 15 | Max running speed | km/h | 8 |
| 16 | Filtering area | m2 | 6 |
| 17 | N.W. | kg | 690 |