Oilfield Wellhead Christmas Tree Drilling service operation
API 6A Wellhead X-tree For Oil and Gas Well Drilling Operation
Brief of wellhead Christmas tree
The oilfield wellhead Christmas tree is used for fixing drilling wellhead, connecting wellhead casing string, sealing and controlling annular space between pupes, hanging pipe. The wellhead Christmas tree is the equipment o control wellhead pressure and adjust the flow rate of oil or gas.
Feature of the wellhead Christmas tree
-Designed and manufactured as per API 6A specficiation
-Fix the drilled wellhead, connect wellhead casing string, seal
- The Wellhead X-tree is used to control wellhead pressure, adjust flow rate,
-Applicable to all the casing and tubing programs and connection types
-Safe, reliable and easy to operate and maintain
-Can be equipped with pneumatic (hydraulic) safety valve
Technical paramter of the wellhead Christmas tree
| | |
| --- | --- |
| Product | Wellhead Christmas tree |
| Working pressure | 2, 000 psi to 20, 000 psi |
| Working medium | petroleum, natural gas, mud and gas containing H2S, CO2 |
| Material class | AA, BB, CC, DD, EE, FF |
| Specification level | PSL 1~ 4 |
| Performance level | PRI~2 |
JC petrolem machinery manufacture is specialized in manufacturing the wellhead equipments, which is strictly conformed with API 6A specification. The wellhead parts we supplied include Casing head, tubing head, Riser spool, spacer spool, Drilling spool, Double studded adapter flange, adapter flange, choke manifold, kill manifold and all kinds of high pressure integral pipe fittings.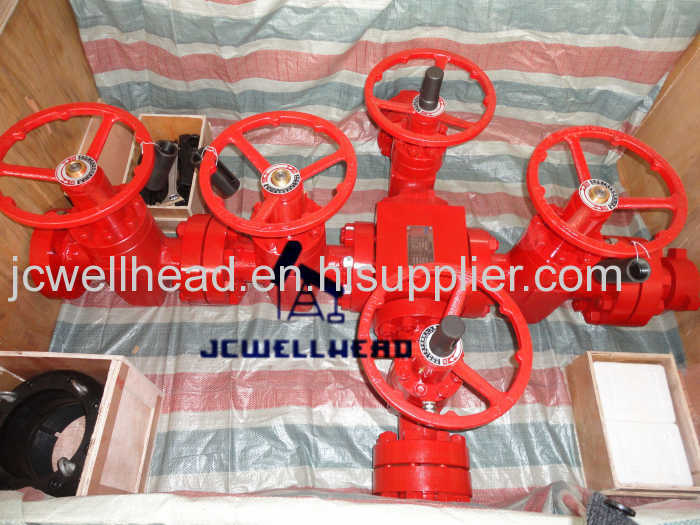 Oilfield Wellhead Christmas Tree Drilling service operation
API 6A Wellhead X-tree For Oil and Gas Well Drilling Operation