Organosilicon Mono Potassium Phosphate
Category: PK Fertilizer
Composition: Mono Potassium Phosphate (MKP ≥99%)
Usage: Foliar fertilizer
Form: White granular
Dosage: This product is used for foliar spraying.
The dilution ratio is 300-500 times.
Spray 2-3 times during the whole growth period of crops, with an interval of 7-10 days.
Shelf Life: 5 years
Storage : Store in cool and dry conditions.
Packaging: 50g/bag; 400g/bag; 5kg/bag; 20kg/bag
Brand: GUIGU
Country of Origin: China
Serving Size: 50g/bag; 400g/bag; 5kg/bag; 20kg/bag.
Test Report:
| | | |
| --- | --- | --- |
| Item | Standard | Result |
| KH2PO4 % | ≥ 99.0 | 99.6 |
| H2O % | ≤4.0 | 0.1 |
| PH | 4.3 ~ 4.7 | 4.5 |
| K2O % | ≥33.2 | 34.4 |
Product Characteristics:
GUIGU Organosilicon MKP is processed by the composition technics of special organosilicon new materials, which greatly enhances the functionality of potassium dihydrogen phosphate. The advanced patented technology (PATENT NO.: ZL2012 1 0066959.6) makes GUIGU Organosilicon MKP has super adhesion, super diffusion, super permeability, super wettability on plant leaves and the utilization rate is significantly improved.
l The nutrients P and K are absorbed effectively directly through the leaves of the plant.
l To enhance plant photosynthesis.
l To improve plant resistance to adversity, insect, disease, drought, cold and dry hot wind.
l Has the functions of keeping flowers, fruits, colouring, and sweetening.
l Suitable for flowers, seedlings, lawns and other plants.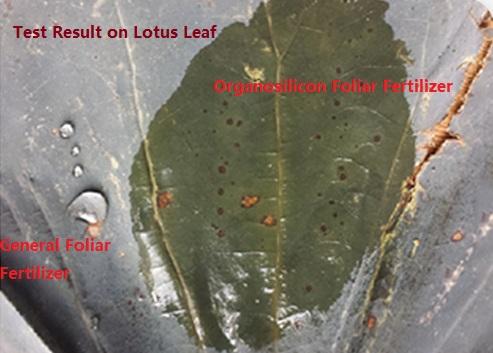 1. GUIGU Organosilicon MKP has high purity, and it is recommended to dilute it twice when the water temperature is low.
2. GUIGU Organosilicon MKP can be mixed with acidic fertilizers, and should not be mixed with calcium, magnesium and other divalent ion foliar fertilizers or pesticides.
3. GUIGU Organosilicon MKP should be applied before 9 am or after 4 pm.
4. Store in cool and dry conditions
Optional Serving Size:
50g/bag*200bags per carton
400g/bag*50bags per carton
4kg/bag*4bags per carton
20kg/bag
Besides Organosilicon MKP, we have another four choices of Foliar Fertilizers.