Detailed Product Description

1. Double doors (front and back doors)
2. with heat exchanger
3. double layer heat insulation
4. High level of protection


Outdoor Telecom Cabinet with Heat Exchanger (SK-27B)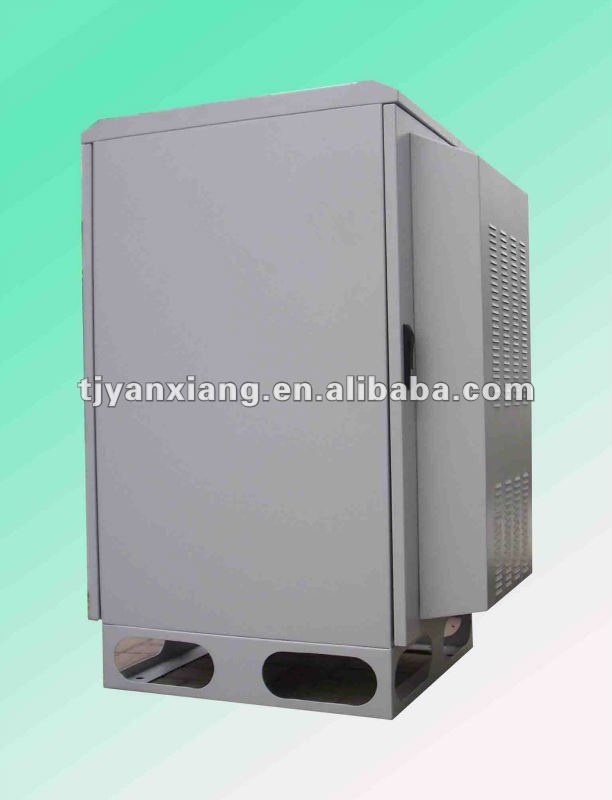 Brief Description:
Model: SK-27B
Size: 650*910*1300mm
Material: Galvanizing Iron or Steel Plate, Thickness of galvanizing iron plate is 1.0mm or1.5mm.
Color: Grey (RAL7035) Or according to customer requirements;
Cabinet Standard: IEC297-2; DIN41491: PART1
Protection level: IP55
Lock: It has Turning Waterproof Lock.
Structure: Double layer with filter to insulate heat
Internal: 19inch standard Cabinet Racks, material is galvanizing iron plate.
Power Supply: AC220V±15%,50/60Hz
Finish: outdoor epoxy powder
Painting outdoor type static powder in the outside
There are some intake wire hole in the bottom.
Weatherproof
Cooling system: can be configured heat exchanger, or air conditioner, or TEC, according to user requirements. It also could have 2PCS and 120mm spindle-flow 100CFM fan, which is AC220V, in the inner top of the cabinet, to cooling the cabinet.
And also could match with Temperature Control System and Temperature Alarm Function.
Illustrate
This manual describes the technical specifications, installation and adjustment, and maintenance of the SK-27B Outdoor Communication Cabinet. Before the installation and use of this equipment, installers and maintenance personnel must read this manual carefully please.
Outdoor Communication Cabinet handling and the installation Note.
1. A cabinet move, you should use the forklift. When using a forklift handling, you must put it into the fork transport window of the cabinet base. Note that the fork must be through the base, so that the fork lift up the entire base, in order to ensure the safety of handling.
2. The choice of installation location should ensure that the cabinet around a well-ventilated. The distance from front of cabinet to the other equipment, or to the wall should be more than 300mm.
Technology Parameter
Geometric Parameter
Outer Cabinet Dimensions: 650 × 910 × 1300mm (W × D × H), (together with heat exchanger in the door)
Equipment cabin space: 22U (19 inches); The distance from rack to the front door is 100mm, and to the back door is 200mm.
The height of cabinet base: 150mm
Bolt hole: 580 × 500mm (W× D)
Power Input Characteristics
Rated voltage: 48V DC (Heat exchanger of cabinet power supply)
Input voltage range 40 ~ 60V DC
Structural Characteristics
Sidewalls, doors and cabinet top for double insulation.
Protection level: IP55
Weight: 123 kg
Internal structure to indicate: please see Picture 1
1: Cabinet 2: 22U 19 inch rack 3: Vertical cable Manage 4: Heat exchanger in the front door
5: Bracket 6: Back door 7: Base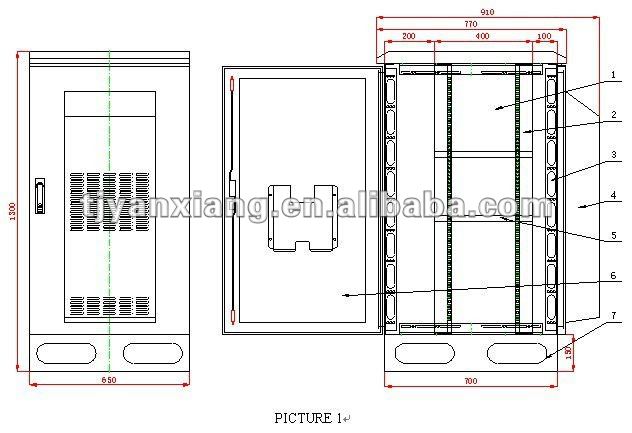 Certification: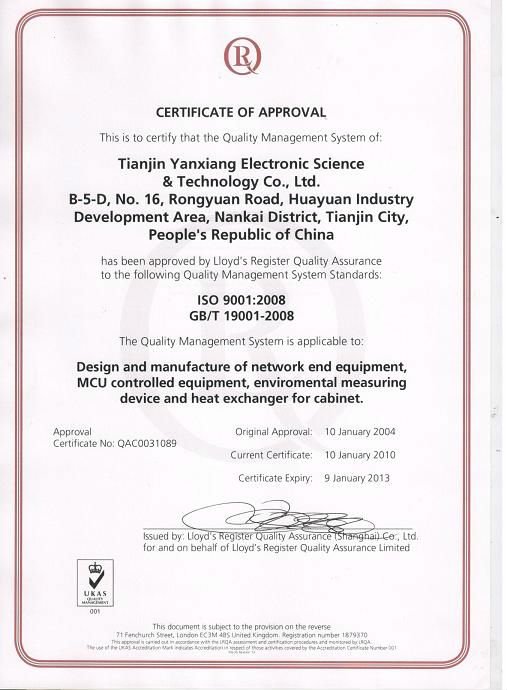 Other Pictures: