Overfill Prevention Valve
Autmatic overflow prevention valve is a self contained two-stage positive shut-off valve designed to prevent the overfill of an underground storage tank (UST) during a gravity fed product delivery. When the liquid level of the UST reaches about 92% of the tank capacity during a fill, the product in the tank raises the lower float of the valve. The primary poppet of the valve is then released and reduces flow to about 10% of normal flow. The sudden reduction in flow created by the closing of the primary poppet provides "line shock"to the fill hose notifying the transport delivery driver the tank is nearing 95% capacity.The transport delivery driver can then stop filling the tank, disconnect and drain the delivery hose. The upper float will close off the product flow when the product level reaches 95% of the tank capacity.
Features
1. Faster deliveries with less restriction
2. Can be set to 99% of tank capacity
3. Overfill protection at a field-set level
4. Two stage flow shut down provides reduced line shock compared to competitive models. First stage reduces flow by 90%,Second stage shuts off remaining 10%
5. Accommodates all tank sizes
6. Easy field installation without breaking concrete
7. Enables manual stick gauging of tank after a complete shut-off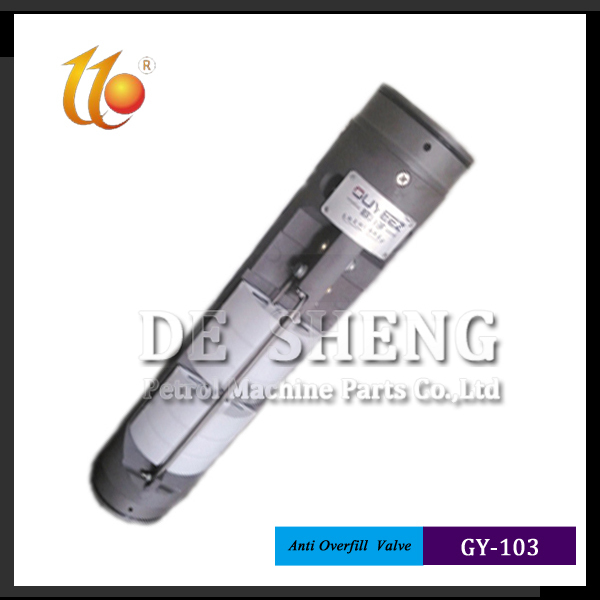 Materials:
1. Valve Body: Aluminum
2. Floats: Polyethylene
3. Upper & Lower Tube: Aluminum
4. First Stage Flapper: Zinc
5. Second Stage Flapper: Acetal
6. Guide Rod: Stainless Steel
Installer Note:
The Auto Limiter II is designed solely for use in Underground Storage Tanks. For gravity drops only.No attempt should be made to utilize this product with Above Ground Storage Tanks. The Valve wo'not function,which creates a very dangerous condition. This product is for use in tight fill application only.