PAD series is a hollow shaft planetary gearbox. It can be fast connected to any motor output shaft.The rotating output flange replaces the traditional output shaft, giving it a unique power transfer solution .
The PAD planetary gear on the shaft is supported by both ends of the full needle roller bearing, which enhances the torsion stiffness.The output shaft of PAD planetary gearbox is supported by two taper roller bearings for greater carrying capacity
The PAD hollow shaft planetary gearbox is with highest torsional stiffness, tilting moment and compactness.Backlash of PAD planetary gearbox can be to 1 arcmin.With the excellent positioning performance and high torque,PAD planetary gearbox is specially suitable for the motion occasion of high positioning precision, dynamic cyclic operations and compact solutions for motion control, automation, CNC machines and robotic.PAD planetary reducers have been used by famous manufacturing companies, such as Samsung, Canon and LG,etc.
Input size of PAD planetary gearbox is customizable,it can replace of similar models from other factories.So it is suitable for all kinds of servo motor and stepper motor.PAD inline planetary gearbox have various of speed reduction from 4-100.
PAD series planetary gearbox is with round output flange and output hollow shaft.
PAD planetary gearbox has the features of:
(1)High precision
Standard backlash is 3 arc-min,ideal for precision control
(2)High rigidity&torque
High rigidity & torque were achieved by uncaged needle roller bearings.
(3)High load capacity
Adopting taper roller bearing for the main output shaft to increase radial and axial load.
(4)Adapter-bushing connection
Can be attached to any motor all over the world.
(5)No grease leakage
Perfect solution using high viscosity anti-separation grease.
(6)Maintenance-free
No need to replace the grease for the life of the unit.Can be attached in any position.
Model selection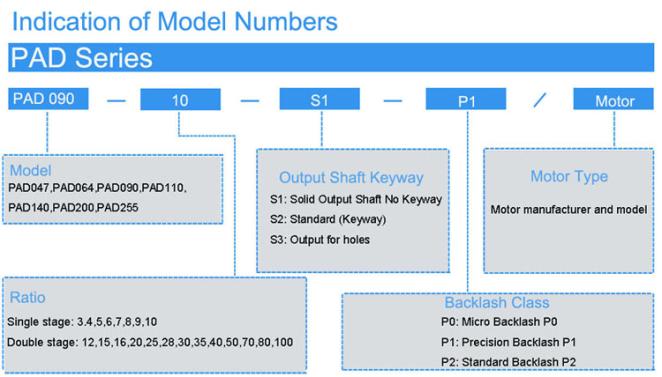 Technical Parameters


Unit
Stage
Ratio
PAD047
PAD064
PAD090
PAD110
PAD140
PAD200
PAD255
Rated Output Torque
Nm
1
4
19
50
133
278
555
1050
1700
5
22
60
160
330
650
1200
2000
7
19
50
140
300
550
1100
1800
10
14
40
100
230
450
900
1500
2
20
19
50
133
278
555
1050
1700
25
22
60
160
330
650
1200
2000
35
19
50
140
300
550
1100
1800
40
19
45
120
260
500
1000
1600
50
22
60
160
330
650
1200
2000
70
19
50
140
300
550
1100
1800
100
14
40
100
230
450
900
1500
Max. Output Torque
Nm
1,2
4-100
3 Times of Normal Output Torque
Rated Input Speed
Rpm
1,2
4-100
5000
5000
4000
4000
3000
3000
2000
Max. Input Speed
Rpm
1,2
4-100
10000
10000
8000
8000
6000
6000
4000
Micro Backlash P0
Arcmin
1
4-10
≤1
≤1
≤1
≤1
≤1
≤1
≤1
2
12-100
≤3
≤3
≤3
≤3
≤3
≤3
≤3
Precision Backlash P1
Arcmin
1
4-10
≤3
≤3
≤3
≤3
≤3
≤3
≤3
2
20-100
≤5
≤5
≤5
≤5
≤5
≤5
≤5
Standard Backlash P2
Arcmin
1
3-10
≤6
≤6
≤6
≤6
≤6
≤6
≤6
2
20-100
≤8
≤8
≤8
≤8
≤8
≤8
≤8
Torsional Rigidity
Nm/arcmin
1,2
3-100
8
13
30
80
150
450
1010
Max. Axial Force
N
1,2
3-100
990
1050
2850
2990
10590
16660
29430
Service Life
Hr
1,2
3-100
22000hrs
Efficiency
%
1
3-10
≥97%
2
20-100
≥94%
Weight
Kg
1
4-10
0.7
1.3
3.2
5.8
12.3
33
57.9
2
20-100
1
1.5
4.1
7.6
16.8
38
72.6
Operating Temperature
℃
1,2
3-100

(

-15

℃

~+90

℃)

Lubrication


1,2
3-100
Synthetic Grease
Protection Class


1,2
3-100
IP65
Mounting Position


1,2
3-100
Any Direction
Noise Level
dB(A)
1,2
3-100
≤56
≤58
≤60
≤63
≤65
≤67
≤70
Moment of Inertia
Model No.
Unit
Stage
Ratio
PAD047
PAD064
PAD090
PAD110
PAD140
PAD200
PAD255
Moment of Inertia
kg.cm2
1
4
0.03
0.14
0.48
2.74
7.54
23.67
54.37
5
0.03
0.13
0.47
2.71
7.42
23.29
53.27
7
0.03
0.13
0.45
2.62
7.14
22.48
50.97
10
0.03
0.13
0.44
2.57
7.03
22.51
50.56
2
12-40
0.03
0.03
0.13
0.47
2.71
7.42
23.29
50-100
0.03
0.03
0.13
0.44
2.57
7.03
22.51
Dimensions