Network-based CTI phone system
Intelligent Headset Phone
Ziphone system offers...
Software controllable, via USB, cost effective, smart headset phone system to replace conventional call center system(CTI server-Digital phone-Digital recording)
Performing CTI telephone functions, digital call recording solution, via USB, it offers easy, flexible way of building Network based, decentralized call center system
Superb way of system designing, interfaced with various IT system environment in the financial industry, including selective dialing system between Predictive-Preview dialing.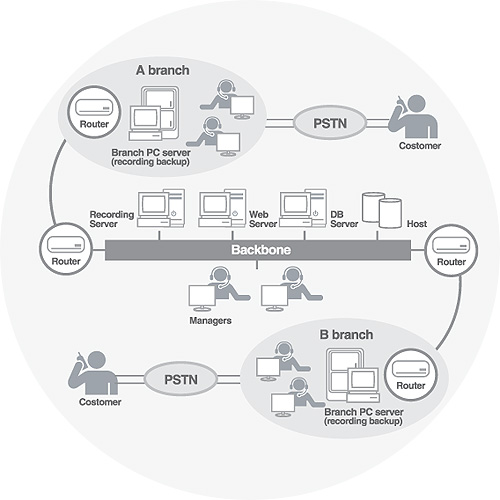 Intelligent Headset Phone
PC System Requirement
-Windows based PC(Windows 98SE/ME/2000/XP/VISTA)
-USB Port built-in PC system
Power
-Power supply : DC 5V USB PC Power
-Power consumption : 5V/1A
Recognition
-Hook On/Off, Bell, CID, REC
-LED : Ringer
Connections
-Telephone Line(RJ-11)
-WIred Headset, both RJ22 and 2.5 jack
-PC USB
Accessories
-USB cable, Telephone cable, wired headset and manual included
Size & Weight
-91(W) x 141(H) x 32(D)mm, 220g
Phone Features
Making calls
-HOOK-UP and Dialing by ZIphone keypad
-HOOK-UP and Auto Dialing(Preview Dial) by one click on the program using API
Answering calls
-Answering call by Ziphone keypad
-Answering call by one click on the program using API
Hang up
-Hang up by Ziphone keypad
-Hang up by one click on the program using API
Mute
-Microphone mute
Digital Recording
-Digital Recording using AC97 Codec
CID(Caller ID)
-Pop up CID
Strength
Recording file type
-VOX file
Saving recording file information
-Customer's phone number, name, id number and agent name
-Save information with recording file
Search and backup recording files on the TM software
-Set the stored period and delete recording files after it
-Search and play recording files
-Control recording file play speed
Sound Quality of the recording files
| | | |
| --- | --- | --- |
| Item | Compression | Note |
| Recording size a second | 900Byte/sec | using Codec |
| Recording size an hour | 3.24MByte | 900 x 3600 |
| Transfer Rate | 7.2Kbps | 900 x 8 |
| Sound Sampling | 8000 x 16Bit | High Sound Quality |
| Wave file size and hour | 57.6MByte | About 17.8 times |
Contact Link
Contact link 1.0, professional Telemarketing call center program is designed to meet growing demand for economic, decentralized TM call center system.
Based on USB communication between analog CTI phone, Ziphone2 and PC, Contact link solution provides complete ranges of professional call center functions including Preview Dial from client DB, automatic call recording, call stats, call monitoring, agent and DB administration from manager(remote host server), etc.
Contact link 1.0 is the most effective, flexible TM call center solution for building the decentralized TM call center system, uniquely powerful for financial enterprises having hundreds of remote sales or TM offices, as well the small and medium size call centers.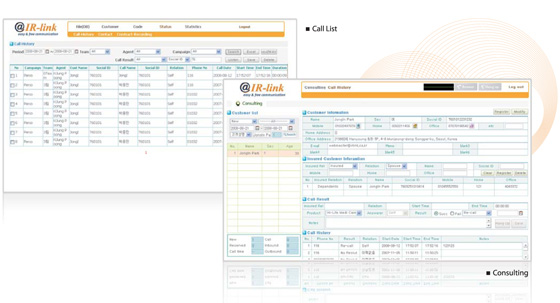 Provided API
1. Device Control OCX
2. Recording and Player OCX
Development Tools
1. All of the windows tools which are able to embed Active X Custom Control of Microsoft.
2. Visual Studio 6.0, Visual Studio 2003, Visual Studio 2005,PowerBuilder, Delphi and C++ Builder
3. asp, and jsp
Home TM
Home TM 1.0 is dedicated to Home telemarketing CTI program solution.
Working with IP headset phone, ZiphoneX, it fully supports professional call center functions such as preview dial linked to client Data base, call recording, call stats, agent administration and call monitoring, etc.
Easy, flexible system installation will help the individual, Small & Medium call centers or home office users to build up cost effective, decentralized TM call center system.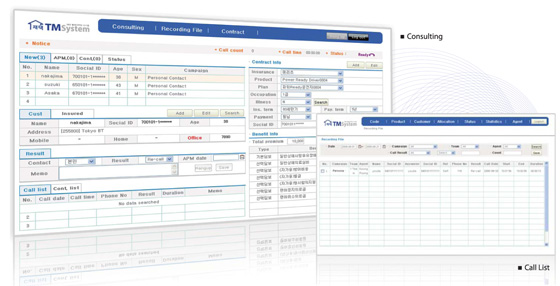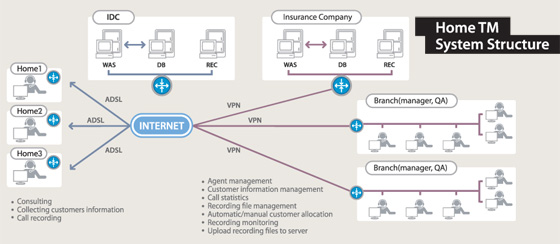 Provided API
1. Device Control and Recorrding OCX
2. Player OCX
3. Monitoring DLL(Option)
Development Tool
1. All of the windows tools which are able to embed Active X Custom Control of Microsoft.
2. Visual Studio 6.0, Visual Studio 2003, Visual Studio 2005,PowerBuilder, Delphi and C++ Builder
2. asp and jsp