Product Information
Diameter: 28mm
Thickness: 0.8~1.2mm
Color:white, black, green, blue, yellow, red, grey etc. customized color is avaliable
Length: usually 4 meter long or can cut according to customer requirement
Material: stainless steel with PE coted
Surface treatment: antistatic or not
Accesseries is avaliable

Features:

1. Variety of colors is available. Customers can select the color freely.

2. Durable and flexible systems

3. Anti-Rust paint is applied to inner surface of the plastic/ABS coated pipe for extended service life

4. In normal temperature condition, the PE/ABS outside cannot be dissolved in any kind of solution. Concentrated sulfuric acid and concentrated nitric acid just can relieve.

Products Show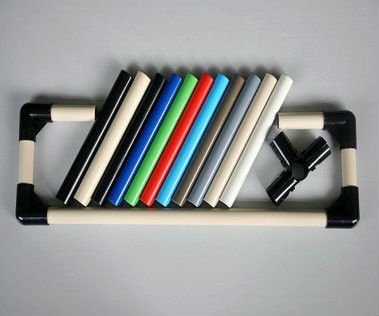 Comparison
application
In what fields lean pipe application?
1.various types of tables or combined into different units of production systems, such as lean production.

2.medium and light multilayered FIFO fluent shelves, storage shelves, the radical multi-shelf, shipping chute system, special applications shelves.

3.non-GM material distribution, staging vehicles, working, materials vehicles, GM multilayer material loading vehicles, specially designed mobile equipment.

4.station equipment, production line assembly station or input materials distribution frame systems.

5.personalized display, business applications, merchandise display stand, creative showcase.

6. planters frame, other applications, whiteboard frame, items placed frame, and creative applications.

7.materials planes, fixed-mounted non-GM material placed in storage rack.
Lean pipe system is modular production operation system. Which can be rapidly assembled. It can make any creative idea become practical solutions.
packaging
Our Company
WuXi GUJIA Hardware Products Co., Ltd. is a leading manufacturer of metal joint ,lean tube and roller track for production line and cleanroom products with well-equipped testing equipment and strong technical force. With a wide range, good quality, reasonable prices and stylish designs, our products are extensively used in semiconductors, electronics factories, cleanrooms and labs and other industries. We are committed to being the first choice of customers to insure their satisfaction. We will provide high class products and service as well as build harmonious atmosphere with customers, suppliers and employees. We are also sincerely looking for global distributors and partners. We hope to make win-win success and grow together with you.
Our Service
1.We are a leading manufacturer of pipe Products, roller track Products, metal joint for Assembly Industry.

2. We supply a wide range of products and provide one-stop service for Assembly Industry.

3. We keep a lot of stock for regular products and we can support small orders. Usually, our lead time is just 3 days.

4. We can also customize the products to fulfill different requirements.

5. Credibility: We are the 6th year Alibaba Gold Supplier. Our customers are located all over the world.

6.Gratitude: We cherish and feel grateful to every customer for the business you give us. We are your reliable partner and will return to you with good products and good support.

7.Professional: We have been in this business for more than 10 years. We have a strong professional team with various experiences.

8. We keep doing new product development. Our goal is to enhance our competitive capacity constantly.

9. Price: we always offer competitive prices and help our customers to cost down.

10. Quality: we do 100% inspection before the shipment.

11. Promise: we are always ready to shoulder the responsibility if any loss caused to our customer due to our mistakes.