Introduction
POLESTAR Automation Suite automates overall operations management of server/network/storage/virtualization configurations management, application provisioning, patching, auditing, deploying, changing settings, and complying with polices. It is an automation solution for providing rapid response and diagnosis to increased operations complexity from large-scale computing resources and virtual environments of data center, new business requirements, and rearrangement of organizational structure.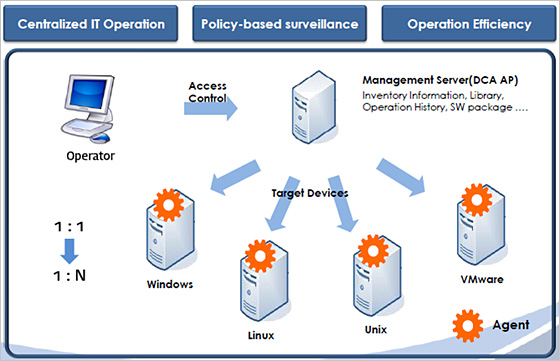 Characteristics
Support various heterogeneous servers : Support almost all existing OS Diagnosis and operations automation of IBM AIX, HPUX, SunOS, Windows, and Linux
Automation of periodic and repeated IT service operations management Increase productivity and efficiency and prevent human error : Functions for periodic diagnosis using a scheduler / Dashboard for diagnosis results
Guarantee uniformity of operation tasks via standardizations of IT service operations management : Always maintain stable service quality : Functions for task settings specific for client's environment. Guarantee uniformity unaffected by differently skilled system administrators.
Configuration Management
Virtualization management
- Combine and manage various configuration information on system hardware(CPU, memory, disk).
- Combine and manage various configuration information on operating system(version, patch, file system, parameters, and etc.).
Preventive Diagnosis
- Large-scale device diagnosis and auditing according to predefined standard policy.
- Configuration diagnosis, security diagnosis, vulnerability diagnosis, and standard diagnosis.
- OS patch diagnosis.
Deploy and install
- Deploy and execute files or scripts.
- Deploy and install software packages.
Snapshot/Audit
- Manage snapshot history of main configuration items.
- Trace system modification history via auditing function.
Ad-Hoc
- Obtain result by running batch commands and scripts on multiple servers.
Relations analysis
- Provide server-to-server application level connection in form of topology.
- Tracking function for devices related with influence analysis, task, or application of a server.