PURE ORIGIN CELL [SC150227-5]
FEATURES
Human Collagen!!
Only use high-purity materials.
Premium Solution filled with core ingredients of Stem Cell Culture Medium developed by researching root of human
Cell reproduction key ingredients only for storyderm
Containing triple helix medical collagen from human umbilical cord
- Wound-care
- Skin Damage Prevention
- Whitening
- Anti-wrinkles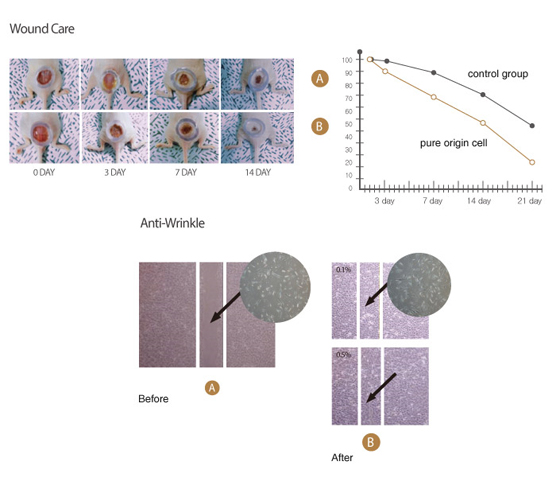 It helps superb skin whitening and anti-wrinkles by permeating active ingredients into the skin fast and safely with liposome technology.
It enhances efficacy and stability by using purity 99% of safe and freeze-dried materials, almost as drug medicine, to maximize usefulness of growth factors not using animal serum.
More than 100 various nutrition ingredients secreted during culturing Adipose-derived Stem Cell of human.
1. High-levels of growth factors cultured from stem cell exist.
2. Causing various reproductive response with interacting of many growth factors
Pure Origin Cell whitens the skin and prevents aging by including recombined stem cell culture medium and rich nutrition. Also it forms protective film thoroughly so that prevents loss of nutrition supplied from former skin care step.
Human Stem Cell total solution with Dermatology
Superb whitening, anti-wrinkles and moisturizing
Smooth recovery of skin cycle and oil-and-moisture balance regulation
What is Growth Factor?
Grow factors work for reproduction by cell injury to nourish skin cells and make the cell keep original functions. It is important material to keep healthy skin by producing collagen and elastin.
Use at home
Use after dilute 1 Bottle + Purified Water(7ml) and shake.
Take proper amount in the last step of skin care and spread on the face evenly.
Finish it with patting lightly as cover the face with both hands.
Use in the hospital
Use as base medicine with all sorts of treatment (Meso Therapie, MTS, Stamp). Improve satisfaction of customer by maximizing effect of treatment.
How to use :
Use the amount you want by using syringe after dilute 1 bottle + purified water(7ml)
Storage :
Immediate use after opened is recommended.
Keep refrigerated up to a week is possible.
EGF(Epidermal Growth Factor)
EGF, Epidermal Growth Factor, is a ingredient that promotes growth of epidermal cells by inducing cell division. It also promotes cell proliferation of epidermal cells and endothelial cells and proliferation of fibroblast which synthesizes collagen, ingredients of the corium. It has superb skin regeneration effect.
bFGF(Eibroblast Growth Factor Basic)
bFGF, Fibroblast Growth Factor, is an ingredient that induces fibroblast division of basement membrane at the corium and promotes care of wound and bruise and reproduction of tissues and recovery of aged tissues. bFGF increases collagen synthesis and enhances activation of EGF or another kinds of growth factors and forms strong collagen lattice structure with them. It enhances skin elasticity and increases synthesis of collagen and elastin which are ingredients of healthy skin.
GM-CSF (Granulocyte Macrophage Colony-Stimulating Factor)
GM-CSF, Granulocyte Macrophage Colony-Stimulating Factor, is pleiotropic cytokine which proliferates not only immune cells but also epithelial cells and stimulates progenitor cells to develop into granulocytes or macrophages. It is made of recombination at the various host cells and it is used for increasing leukocyte after anticancer therapy.