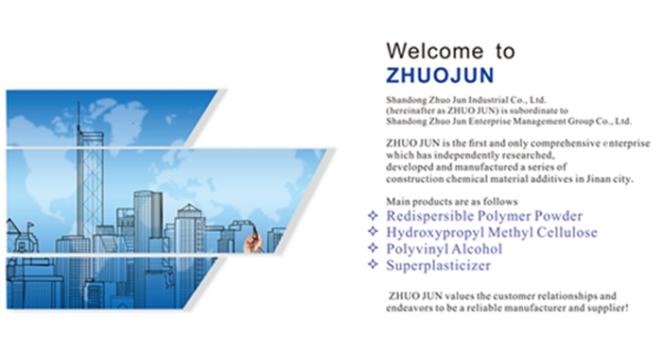 ZHUOJUN® Polycarboxylic Acid Superplasticizer (PCEs)
About ZHUO JUN
Shandong Zhuo Jun Industrial Co., Ltd. is the first and only comprehensive manufacturing enterprise , which independently researches, develops and manufactures a series of construction chemical material additives in Jinan, the capital city of Shandong Province. Main products are Redispersible Polymer Powder (RDP), Hydroxypropyl Methyl Cellulose (HPMC), Polyvinyl Alcohol (PVA) and Superplasticizer(SP's).
As an environmentally friendly high-tech enterprise, ZHUO JUN values the customer relationships and endeavors to be a reliable manufacturer and supplier. It also takes an active role in sustainability because it believes in making the world a better place for future generations.
Product Description
ZHUOJUN® Polycarboxylic Acid Superplasticizers (PCEs), also known as ZHUOJUN® high range water reducers (HRWR), are external additives, which can greatly reduce water demand and cement contents by both effects of electrostatic repulsion and entropic stabilization. ZHUOJUN® PCEs can also achieve higher strength of concrete and maintain the fluidity of concrete much longer than normally observed with Naphthalene based polymers and Melamine based polymers without excessive retardation.
They are widely applied in construction projects, like high-rise buildings, large dams, bridges, tunnels, and national defense projects.
Main Mechanism
As a surfactant, ZHUOJUN® PCEs belong to anionic surfactants. It adsorbs on the surface of cement particles to show the electrical properties of the particles. Particles are mutually exclusive due to the same charge in order to disperse the cement particles to release excess water between the particles to reduce in water content. On the other hand, After adding the ZHUOJUN® PCEs, the adsorption film is formed on the surface of the cement particles, which affects the hydration speed of the cement, makes the growth of the cement stone crystal more perfect, reduces the capillary gap of water evaporation, and makes the network structure more compact. Thus the hardness of the cement mortar is improved and the compactness of cement mortar structure is improved.
Typical Applications
- Concrete with various strength grades
- Ready-mix dry-mix mortar
- Non-shrinkage self-leveling mortar
- Cement-based non-shrinkage grouts
- Self-leveling mortar
Features
- Low dosage
- High range of water reduction efficiency
- High shrinkage-reducing capability and concrete durability
- Strong slump retention ability
- Excellent fluidity
- Stable performance
- Environmental friendly and pollution-free
- Good compatibility with base admixtures
Technical Data for ZJ-403
| | |
| --- | --- |
| Model No. | ZJ-403 |
| Appearance | flowing white powder |
| Density (g/m³) | 500-700 |
| Active Component | ≥90% |
| Water Content (%) | ≤3% |
| pH Value (10% water solution) | 7.0-9.0 |
| Water Reduction Rate (%) | ≥25% |
| Recommended Dosage | 0.1-0.5% of the cementitious materials by weight |
| Actual Dosage | concrete mixture tests beforehand according to different products and applications for perfect dosage |
| Application | concrete with various strength grades; ready-mix dry-mix mortar; non-shrinkage self-leveling mortar; cement-based non-shrinkage grouts; self-leveling mortar etc. |
Packaging
A. Standard packed in 25 KG per paper plastic composite bag
B. Big bags or other special packages are possible on request
Storage
Stored in its original packaging in a dry and place with temperature below 30℃
Warranty
It is recommended to use ZHUOJUN® PCEs within 12 months.
If not caked under prolonged storage, they can still be usable.
Notes
Please be careful not to touch your eyes or skin when using ZHUOJUN® PCEs. It is recommended to use protective gloves and glasses. If you accidentally get it, please wash it with plenty of water.
Packaging & Delivery
Weight/20' container: approx. ? metric tons with pallets, approx. ? metric tons without pallets
Weight/40' container: approx. ?metric tons with pallets, approx. ? metric tons without pallets