ISO9001 ISO22000 Certification Pea peptide
Pea peptide from Tallyho take highly purified and natural pea protein as raw material.It is refined by modern enzymatic hydrolysis, separation , purification technology and spray drying technology. which is completely and efficiently kept the bioactive components in pea protein .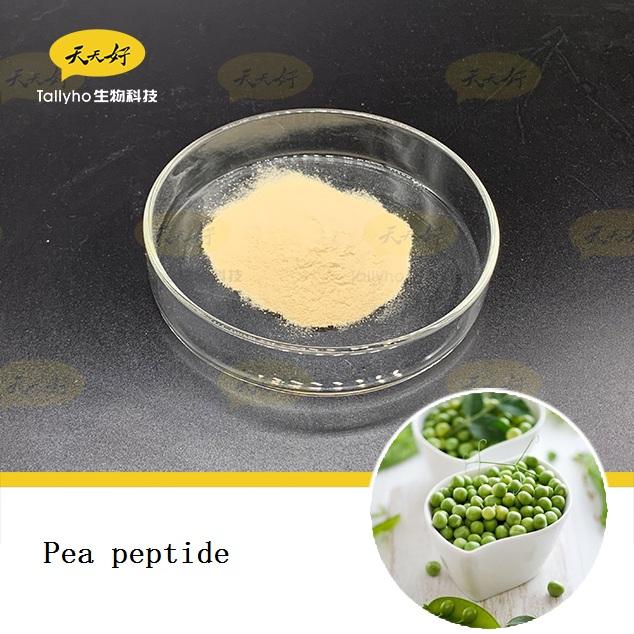 Effects
regulate the intestinal flora to promote probiotic growth
regulate the bacterial flora in small intestinal
Antibacterial ability
Anti-inflammatory effect
Immunomodulatory effect
Specifications
Project

 
Technical index
Character
 
Yellow or light yellow powder

Moisture ( g/100g)
%
≤

7.0
Ash ( g/100g)
%
≤

7.0
Protein in dry basis ( g/100g)
%
≥ 85.0
Peptide content in dry basis

( g/100g)
%
≥ 75.0
Proportion of peptides with relative molecular weight less than 2000 Dal
%
≥ 85.0
Cr, mg/kg
%
≤

1.0
Pb, mg/kg
%
≤

0.2
Cd, mg/kg
%
≤

0.2
Our factory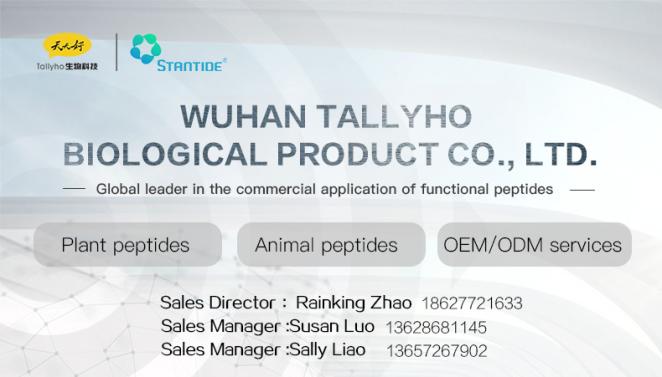 Wuhan Tallyho Biological Product Co., Ltd.(Tallyho) was established in 1996 and is the first company engaged in peptide research and manufacturing in China.Since its establishment, the company has accumulated more than 20 patented technology inventions.After more than 20 years of development, today's Tallyho has become a modern high-tech enterprise integrating scientific research, production, sales, ODM and OEM, and has always led the development of China's peptide industry.
It has provided peptide functional protein products and services to 170 million customers worldwide. Adhering to the company philosophy of "self-improvement, ethics and morality", we adhere to the modern and scarce ingenuity and always commit ourselves to the innovative research and development of peptide functional products and the global promotion of peptide health theory.
Why choose us?
- We have Professional research institute for the research, development, application and marketing of foodborne polypeptide substances
- we have get nearly 100 scientific research achievements and undertaken the research and development of key projects of the national torch program
- Always can meet the different requirements of customers