The 3D crystal laser subsurface engraving machine, usually also be called as 3D Laser machine, Crystal laser machine, 3D crystal Engraver, which is a special kind laser machine used for make 2d or 3d laser images or 2d images into crystals, this kind unique and attractive crystal gifts, the engraved image will not get fade forever, so, it's a new and great business in most countries of world.
We Crystal 3D Laser Tech, which is a professional manufacture only focus on 3d crystal laser engraving machines for more than 15 years,we offer full range crystal laser gifts for your business, if you want open this shop, contact us now....

Technical parameters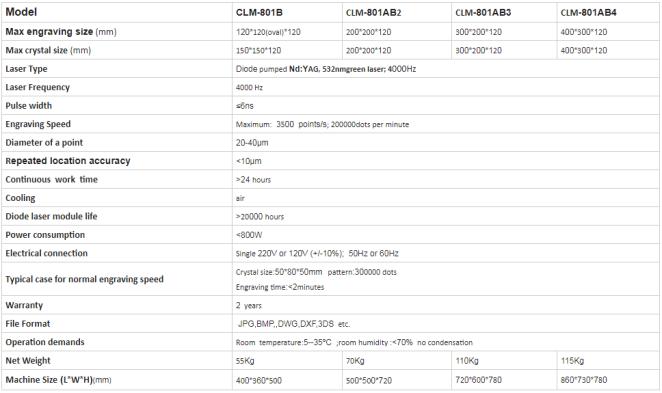 Product Composition
b. free computer for controlling the machine;
c. free software, which written by ourselves, installed in the computer for engraving process;
d. free 3d library, more than 1000pcs 3d design, including building, flowers, pets, etc.
Warranty information
A . Installation
All our machine are plug-play design, we will install and test the machine in factory, when you
Get the machine, just plug all cables, then you can use machine at once.
B. Training
Training ways:
lThe best way is customers can visit us and have the training in our factory, then engineer can training you face by face, after training you also can take a practice, any questions can ask our engineer directly.

Online training, if customers can

'

t come to us, we have manual and video to teach you how to do it.
Training time:
2-3 days basic training by Internet or in Factory for 1-2 person (Agent will according Agent Contract).
Why choose us?
With 14 years professional manufacture experience on 3D Crystal crystal laser machines, our company former name is Wuhan Syntony laser(STN Laser), different from other crystal laser machine suppliers in china market, such as the Holy laser, Aol Laser, Perfect laser, or any others, our company is the unique manufacture which only focus on one kind machine--3D crystal laser machine, only focus this small area for more than 14 years, we have own special advantages from others, detail as below:
1. Own made laser box, we use the USA imported Diode pump, and Isreal YAG, and Europe Q switch, designed the own special laser box, which make high power 532 laser beam, our laser pulse width can reach 6ns, which is smallest in China market, this can ensure the high strong laser power; We company is the unique company have the own technology of the green laser box, other factory are bought whole laser box from other chinese factory, so if any questions, we can offer faster feedback for any problem.
2. Own designed with own patent Air cooling system, to make sure the laser works at the high efficiency, the temperature control for the optical spare parts is very important,we designed own air cooling system to control it, and make the laser machine can continuous works long time.
3. Use special good quality material, pay attention to any details of the machine
4. Full ranges machines, and have OEM ability of any sizes machines you have
5.
In our company, we have different sizes machines suitable for different shop places, mall require small size machine, factory need bigger, tell us your request, you can get the best suitable for your business.
6. Special light design machine.
All our machines are designed in small size and suitable engraving sizes for business, our machines net weight is only 45 kgs to 100 kgs, compare to the 190 kgs machines from other supplier, we are more convenient design.