First recognized in Japanese food 'Natto', gamma-poly-glutamic acid (γ-PGA) is a nutural multifunctional biopolymer produced with Baccillus Subtilis by fermentation. Gamma PGA is a water soluble homo-polyamide. It consists of D- and L-glutamic acid monomers which are connected by amide linkages between α-amino and γ-carboxyl group. Freda has three series of cosmetics grade PGA products- the high molecule (HM) PGA (700-1000K Da), low molecule (LM) PGA (70-100k Da) and ultra low molecule (ULM) PGA (5-10k Da).
Below is the description of LM PGA
Synergy Effect
Moisture is a key factor to keep the skin healthy. Gamma PGA can not only efficiently increase the moisture of skin but participate in the metabolic activity of skin to improve the health condition of skin.
Increasing and maintaining HA of skin
As a basic component of skin, Hyaluronic Acid (HA) can lock the moisture of skin and maintain its elasticity, but HA can be hydrolyzed very quickly by hyaluronidase (HAase) of skin as well. Gamma PGA can increase and maintain HA in the skin. Fig.6 illustrates how gamma PGA inhibits the activity of HAase and increases and manintains HA in skin. Especially, gamma PGA (LM) can effecticely inhibit the HAase in skin. The HA content is remarkably increased for the higher concentration of gamma PGA(LM). It shows that gamma PGA(LM) and HA can improve skin moisture, elasticity and skin appearance in a synergistic manner.

Effectively Increasing NMF in Inner Skin
As a hrgroscopic material produced by skin, Natural Moisturizing Factor (NMF) provides moisture for skin in cuticle. The NMF including amino acids which are hydrolyzed from skin matrix protein (e.g. Filament aggreating protein), pyrrolidone carboxylic acid (PCA), lactic acid and urocanic acid (UCA) can retain moisture of skin. Fig.8 illustrates how PGA (LM) increases the production of NMF which further enhances the internal moisturizing ability of skin.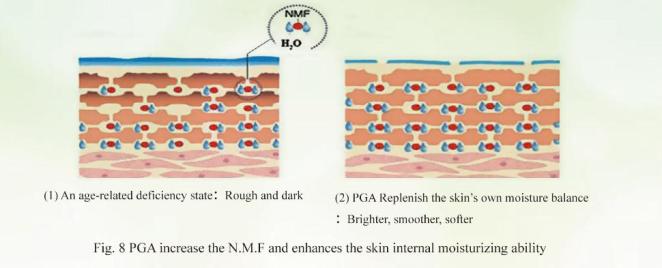 Gamma PGA is the only effective ingredient that is known till now to induce the production of NMF to 130% of the normal level. Gamma PGA can lock the moisture in inner skin by promoting the growth of fibroblast and increasing the content of NMF in horn cells.

Improving Nutrient Supply
Thanks to its controlled release property, gamma PGA can control the release of nutrients and moisture in a continuous manner. Each gamma PGA monomer has ionized groups like α-COOH,-CO and -NH, which can absorb electropositive nutrients (see Fig.10). Hence a good embedding delievery syetem is created and active ingredients in cosmetics can possibly maximize their efficacy.
Healthy Whitening Efficacy
Gamma PGA can also whiten skin by controlling melanin synthesis to prevent and reduce freckles. Ultraviolet irradiation is the main incentive of trrosinase, which in turn induces the formaiton of Melanin. Table 1 illustrates the inhibition effect of gamma PGA, Kojic acid and VA on tyrosinase. As it shows, gamma PGA, either HM gamma PGA (0.5%) or LM gamma PGA (0.5%) can effectively inhibit the formaiton of melanin. Meanwhile, gamma PGA can form a film upon surface of skin which fences out ultraviolet.